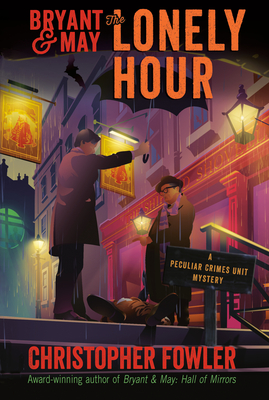 Bryant & May
The Lonely Hour: A Peculiar Crimes Unit Mystery
Hardcover

* Individual store prices may vary.
Description
"Oh, joy, a new Peculiar Crimes Unit case by Christopher Fowler . . . the best fun is running all over the city with these amiable partners."—The New York Times Book Review 

The brilliant Arthur Bryant and John May take the late, late shift in a cat-and-mouse hunt with a killer who preys on his victims at the same time every night—the lonely hour of 4 A.M.

When a man is found hanging upside down inside a willow tree on Hampstead Heath, surrounded by a baffling assortment of occult objects, the Peculiar Crimes Unit is called in to investigate. Was this a botched satanic ritual pulled off by bored teenagers, a gang initiation, or the work of a mastermind with grander intentions? Bryant and May set off in search of answers and are soon reminded that London is a city steeped in blood and magic. 

When another body is pulled from the river at dawn, it becomes clear that a killer lurks in the night. To catch him, the PCU switches to graveyard shifts, but the team still comes up short. As they explore a night city where the normal rules do not apply, they're drawn deeper into a case that involves murder, arson, kidnapping, blackmail, loneliness, and bats. 

May takes a technological approach, while Bryant goes in search of his usual academics and misfits for help, for this investigation reveals impossibilities at every turn. How do you stop a killer who appears not to exist? Luckily, impossibilities are what the Peculiar Crimes Unit does best.
Praise For Bryant & May: The Lonely Hour: A Peculiar Crimes Unit Mystery…
"The murders are certainly macabre, but the best fun is running all over the city with these amiable partners, meeting the denizens of the night and poking in this vast repository of ghoulish secrets."—The New York Times Book Review
 
"With wild twists and turns and a cast of unique characters, Bryant & May: The Lonely Hour is sure to excite fans old and new. There's no crime duo like them anywhere else, they truly are one of a kind."—Suspense magazine

"An irresistible adventure starring Arthur Bryant and John May, the oldest police detectives in London . . . The camaraderie between these two old partners is always a pleasure to behold. And, as always, Fowler offers us a king's ransom in strange, captivating facts about the hidden corners of London's geography and history."—The Seattle Times  

"The members of the Peculiar Crimes Unit settle in to another round of doing what they do best in present-day London: creating chaos while bringing an unusually single-minded killer to book. . . . Complications ensue along with the wackiest digressions in the business, at least one gobsmacking coincidence, and two deaths that will catch even the most devoted fans of this wacky franchise by surprise. . . . The devil is in the details, and Fowler's details are hilariously devilish."—Kirkus Reviews

"Exceptional . . . Fowler maintains suspense. . . . Bryant and May's decades-old partnership is tested as never before. . . . This whydunit is the epitome of an intelligent page-turner."—Publishers Weekly  (starred review)

"Fowler's seventeenth installment in the series . . . has all the idiosyncrasies and dark humor of its predecessors but stands alone well. Perfect for fans of police procedurals with nontraditional, especially older, detectives."—Library Journal
Bantam, 9780525485827, 448pp.
Publication Date: December 3, 2019
About the Author
Christopher Fowler is the acclaimed author of the award-winning Full Dark House and fifteen other Peculiar Crimes Unit mysteries, as well as the PCU story collection London's Glory. In 2015, Fowler won the coveted Crime Writers' Association Dagger in the Library Award in recognition for his body of work. He lives in London, where he is at work on his next Peculiar Crimes Unit novel.