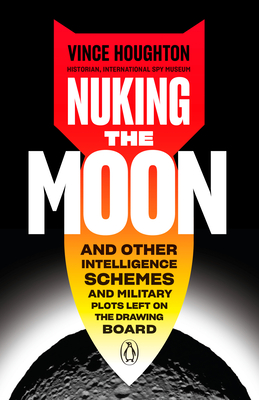 Nuking the Moon
And Other Intelligence Schemes and Military Plots Left on the Drawing Board
Hardcover

* Individual store prices may vary.
Other Editions of This Title:
Digital Audiobook (5/6/2019)
Paperback (5/5/2020)
Description
The International Spy Museum's Historian takes us on a wild tour of missions and schemes that almost happened, but were ultimately deemed too dangerous, expensive, ahead of their time, or even certifiably insane.

"Compulsively readable laugh out loud history." —Mary Roach, New York Times bestselling author of Grunt and Stiff

In 1958, the U.S. Air Force nuked the moon as a show of military force. In 1967, the CIA sent live cats to spy on the Soviet government. In 1942, the British built a torpedo-proof aircraft carrier out of an iceberg. Of course, none of these things ever actually happened.

But in Nuking the Moon, intelligence historian Vince Houghton proves that abandoned plans can be just as illuminating--and every bit as entertaining—as the ones that made it. Vividly capturing the fascinating stories of how twenty-one plans from WWII and the Cold War went from conception, planning, and testing to cancellation, Houghton explores what happens when innovation meets desperation: For every plan as good as D-Day, there's a scheme to strap bombs to bats or dig a spy tunnel underneath the Soviet embassy. Along the way, he reveals what each one tells us about twentieth-century history, the art of spycraft, military strategy, and famous figures like JFK, Castro, and Churchill. By turns terrifying and hilarious—but always riveting—this is the unique story of history left on the drawing board.
Praise For Nuking the Moon: And Other Intelligence Schemes and Military Plots Left on the Drawing Board…
"Vince Houghton's amazing book is about great imaginations—grand, bizarre and terrifying. These schemes deserved to be left behind, but not forgotten. Buckle your seatbelt."—David E. Hoffman, bestselling author of The Billion Dollar Spy

"Alternately terrifying and hilarious, this book leaves the reader wondering what bizarre schemes are in the works in today's top-secret corridors of power."—Publishers Weekly

"Houghton is a talented storyteller, and his passion for the material shines through on every page, as the stories get more and more bizarre."—Crime Reads

"Houghton explores these foibles with insightful glee. While most of these projects were deadly serious, the sheer audacity of these attempts makes for entertaining reading. Houghton's prose is breezy, punctuated by amusing asides and historical insight… As funny as it is frightening."—Shelf Awareness

"Curious [and] delightful."—BookPage

"A lot of the most successful covert actions begin life as crazy ideas, struggling to survive against entrenched opposition.  Then again, some of them really are crazy ideas and deservedly die a painful bureaucratic death.  Now Spy Museum historian Vince Houghton has catalogued the most outlandish of the latter in Nuking the Moon, a collection of tales sure to entertain as well as inform."—Gen. Michael Hayden, former director of the NSA and CIA, and New York Times bestselling author of Playing to the Edge and The Assault on Intelligence

"Nuking the Moon is the most fun I've ever had reading about the human capacity for self-destruction. This book begins with that one time the CIA turned cats into covert listening devices, then somehow gets more amazing. With the eye of a storyteller and the knowledge of a historian, Vince Houghton explores the surprising logic behind some of the military's worst ideas." —Jason Fagone, bestselling author of The Woman Who Smashed Codes

"No one is better qualified to uncover America's most hapless spy programs than Vince Houghton, and I had an atomic-sized blast reading this book about exploding Mexican free-tail bats, nuclear mines heated by live chickens, and the many extremely dumb ways we tried to kill Castro. Never has the word "intelligence" seemed like more of a misnomer."—Josh Dean, author of The Taking of K-129

"America's rejected national security plans and programs have never been described so fully, nor been made so fun to read, as here in the talented hands of Vince Houghton. You'll never look the same way at the US military, the CIA, or Cold War history—not to mention your neighborhood's stray cats."—David Priess, former CIA officer and author of How To Get Rid of a President and The President's Book of Secrets

"Outlandish, informative, hilarious, and deeply terrifying, this book makes Dr Strangelove feel like a heavily-censored documentary"—Robert Wade, co-screenwriter of Casino Royale and Skyfall

"Dr. Vince Houghton is smart - really smart - and doesn't suffer fools (or foolish plans) kindly. In Nuking the Moon he hilariously skewers some of the military and intelligence community's weirdest, wackiest, and most outlandish plots, plans, and covert operations! From the story of the CIA's bugged kitty cat to tales of arming Chinese call girls with poisons, and blowing up the moon, it's a great read and highly recommended!"—H. Keith Melton, intelligence historian and co-author of Spycraft

"Houghton mixes humor and irony with an espionage historian's eye for detail to make Nuking the Moon both entertaining and informative. The litany of bizarre schemes and harebrained ideas had me continually asking, 'what were they thinking?' From ideas like the acoustic cat to synthetic goat poop, and so many ideas related to the use atomic weapons, I would laugh out loud if it weren't so scary. As a CIA veteran, I'm just glad that my name can't be found in its pages."—John Sipher, former CIA Chief of Station and lead instructor at CIA's clandestine training school

"Vince Houghton is a fresh new voice that will have you laughing out loud at some of the serious yet hysterical false starts in the history of the intelligence community." —Jonna Mendez, former CIA Chief of Disguise

"These are amazing tales, and readers may, despite Houghton's research to verify each project, be left pondering whether the book will be shelved among works of history or science fiction novels. Possibly, however, Nuking the Moon best belongs with political science to remind us that when national survival is believed threatened, desperation and innovation become kindred spirits that can make the otherwise unimaginable become real." —Robert Wallace, former director of the Office of Technical Services and co-author of Spycraft

"The Cold War wasn't just dangerous, it was also often bizarre, and sometimes even hilarious. Vince Houghton has put together an amazing compendium of schemes and plans that were once top secret - and for good reason. This is a compelling book, not only because of the light it sheds on a half-century of American secrets, but because it is a reminder that when human beings go to war - hot or cold - they can often be too clever for their own good."—Tom Nichols, author of Winning the World and The Death of Expertise
Penguin Books, 9780525505174, 320pp.
Publication Date: May 7, 2019
About the Author
Vince Houghton is the historian and curator of the International Spy Museum in Washington, DC. He is also the host and creative director of the Museum's podcast, SpyCast, which reaches a national and international audience of over 2.5 million listeners each year. He is a veteran of the US army and served in the Balkans before receiving his Masters and PhD in Diplomatic and Military History from the University of Maryland. He has appeared on CNN, NBC News, Fox News, NPR and other major outlets as an expert in intelligence history.
or
Not Currently Available for Direct Purchase