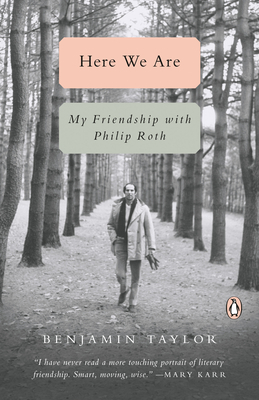 Here We Are
My Friendship with Philip Roth
Hardcover

* Individual store prices may vary.
Other Editions of This Title:
Digital Audiobook (5/18/2020)
Paperback (9/7/2021)
Description
Finalist for the National Jewish Book Award

A deeply felt, beautifully crafted meditation on friendship and loss in the vein of A Year of Magical Thinking, and a touching portrait of Philip Roth from his closest friend.

I had a baseball question on the tip of my tongue: What was the name of "the natural," the player shot by a stalker in a Chicago hotel room? He gave me an amused look that darkened in-to puzzlement, then fear. Then he pitched forward into the soup, unconscious. When I entered the examining room twenty minutes after our arrival at Charlotte Hungerford Hospital, Philip said, "No more books." Thus he announced his retirement.

So begins Benjamin Taylor's Here We Are, the unvarnished portrait of his best friend and one of America's greatest writers. Needless to say, Philip Roth's place in the canon is secure, but what is less clear is what the man himself was like. In Here We Are, Benjamin Taylor's beautifully constructed memoir, we see him as a mortal man, experiencing the joys and sorrows of aging, reflecting on his own writing, and doing something we all love to do: passing the time in the company of his closest friend.

Here We Are is an ode to friendship and its wondrous ability to brighten our lives in unexpected ways. Benjamin Taylor is one of the most talented writers working today, and this new memoir pays tribute to his friend, in the way that only a writer can. Roth encouraged him to write this book, giving Taylor explicit instructions not to sugarcoat anything and not to publish it until after his death. Unvarnished and affectionately true to life, Taylor's memoir will be the definitive account of Philip Roth as he lived for years to come.
Praise For Here We Are: My Friendship with Philip Roth…
"If you never met Philip Roth, you can now, for Ben Taylor's new book enacts a kind of resurrection. In addition to bringing a mastery of the writer's work, Taylor has somehow managed to conjure the living man—someone I found wholly at odds with his public persona. Here is the Roth I knew rendered at his most antic, hilarious, rancorous, tender.  Forget the work of Boswell's Johnson, I have never read a more touching portrait of literary friendship. Smart, moving, wise—Taylor's page-turning book sets a new standard for both memoir and literary biography." —Mary Karr, author of The Liars Club

"A poignant and frequently poetic tribute to a friendship abundant with laughter, erudition, generosity, devotion, and grace." —Lisa Halliday, author of Asymmetry

"Benjamin Taylor and Philip Roth lived for a time in friendship -- that rare, true element.  Like that friendship, this account is unsparing, yet loyal and kind.  It is also funny.  Here We Are made me laugh until its last pages.  I was in tears when I closed the book.  I had to read it over again, immediately.  I'm grateful to have it." —Louise Erdrich, author of The Night Watchman

"...a loving, yet knowing, memoir." —David Remnick, The New Yorker

"Rare and remarkable. A pleasure to read as a revival of Philip's presence, of course, but also as a beautifully novelistic study of two very different men converging on a shared set of obsessions and mutual comforts. Taylor preserves his hero without entombing him. It's Roth to the life." —Adam Gopnik

"...fond and eloquent..." -- Michael Gorra, The New York Review of Books

"A great friendship, that chaste but ardent love, is perhaps also the great undertold story of human passion.  Ben Taylor's memoir of his friendship with Philip Roth changes all that.  This beauty of testimony, spangled with humor and edged with abiding grief and gratitude is a classic on first reading." —Patricia Hampl, author of The Florist's Daughter

"Roth died in 2018, leaving 31 books behind; like other Roth lovers, I will always want more.  Benjamin Taylor's new memoir, Here We Are, temporarily eases the loss by giving us more of Roth's voice in conversation: brilliant, profane, and so very funny. . . There's an appealing quality of randomness to this slim memoir that makes it feel like we're tagging along with the two friends on their constant walks, talks and dinners in the dive restaurants Roth preferred on the Upper West Side, where anything could come up, sometimes even big revelations." —Maureen Corrigan, NPR's Fresh Air

"Here We Are is permeated with love. Taylor writes masterfully about his best friend (as they called each other) and readers get to witness a kinder, more generous and loving Roth than they might have imagined. It's a story of real life, or as Roth called it, 'the unwritten world.'"—Jewish Week

"[A] gorgeous new memoir...Taylor's concise volume is a deeply loving, occasionally irreverent portrait of the artist. It's also something of a paean to friendship itself. At this time of disconnection and disorientation, Taylor, president of the Edward Albee Foundation and a trustee of the John Simon Guggenheim Memorial Foundation, reminds us of the anchoring power of human connection." —The Forward

"Taylor's book is essential reading, an affectionate but never sentimental portrait of the furious, divisive, and comic personality who produced a handful of the past century's finest novels." —USA Today

"Beautifully written...Like Roth, Taylor is a terrific raconteur, and readers are likely to be as entertained by his opinions as those of the Pulitzer Prize winning novelist. An eloquent and touching account that should appeal to all who appreciate the value of true friendship." —Library Journal (starred review)

"A brief but enjoyable journey through the life of a legendary author that seamlessly moves from discussing Roth's works to relationships with such fellow writers as Saul Bellow and John Updike. This is not ponderous literary analysis, but a light and thoughtful examination of a great writer and how he performs his craft. More than anything, Taylor has produced a book about conversations and companionship." —Bookreporter

"Affection burgeons from these pages." -- Le Figaro (Paris)

"This tender-hearted and eloquent paean to long-term friendships will hold special appeal among Roth fans." —Publisher's Weekly

"Enchanting...Personal recollections and literary criticism animate this affecting homage to literary giant Philip Roth." —Shelf Awareness

"[I]n this slim, affectionate memoir, Taylor perfectly captures the essence of Roth's charmingly enigmatic humor and complex behavior. He generously shares memories of their somewhat unexpected friendship, honing in on their quiet, often amusing moments together…A touching and entertaining portrait of Roth that is sure to delight his many readers." —Kirkus Reviews

Penguin Books, 9780525505242, 192pp.
Publication Date: May 19, 2020
About the Author
Benjamin Taylor's family memoir, The Hue and Cry at Our House, received the 2018 Los Angeles Times/Christopher Isherwood Prize and was named a New York Times Editors' Choice; his Proust: The Search was named a Best Book of 2016 by Thomas Mallon in The New York Times Book Review; and his Naples Declared: A Walk Around the Bay was named a Best Book of 2012 by Judith Thurman in The New Yorker. He is also the author of two novels, Tales Out of School, winner of the 1996 Harold Ribalow Prize, and The Book of Getting Even, winner of a Barnes & Noble Discover Award. He edited Saul Bellow: Letters, named a Best Book of 2010 by Michiko Kakutani in The New York Times and Jonathan Yardley in The Washington Post, and Bellow's There Is Simply Too Much to Think About: Collected Nonfiction, also a New York Times Editors' Choice. His edition of the collected stories of Susan Sontag, Debriefing, was published by Farrar, Straus & Giroux in 2017. Taylor is a founding faculty member in the New School's Graduate School of Writing and teaches also in the Columbia University School of the Arts. He is a past fellow and current trustee of the John Simon Guggenheim Memorial Foundation and serves as president of the Edward F. Albee Foundation.
Coverage from NPR