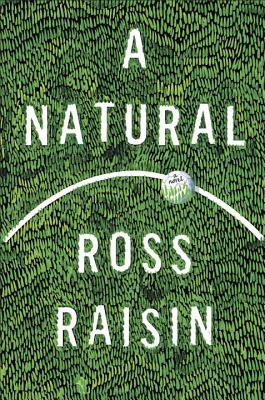 A Natural (Hardcover)
A Novel
Random House, 9780525508779, 400pp.
Publication Date: October 17, 2017
Other Editions of This Title:
Compact Disc (10/17/2017)
Pre-Recorded Audio Player (1/17/2018)
* Individual store prices may vary.
Description
From dreams of soccer glory to the realities of the minor leagues, the high-stakes world of English football comes to life in this vivid coming-of-age novel for fans of Nick Hornby and The Art of Fielding.

After his unceremonious release from a Premier League academy at nineteen, Tom feels his bright future slipping away. The only contract offer he receives is from a lower-level club. Away from home for the first time, Tom struggles on and off the field, anxious to avoid the cruel pranks and hazing rituals of his teammates. Then a taboo encounter upends what little stability he has, forcing Tom to reconcile his suppressed desires with his drive to succeed.

Meanwhile, the team's popular captain, Chris, is in denial about the state of his marriage. His wife, Leah, has almost forgotten the dreams she once held for her career. As her husband is transferred from club to club, and raising their first child practically on her own, she is lost, disillusioned with where life has taken her.

A Natural delves into the heart of a professional soccer club: the pressure, the loneliness, the threat of scandal, the fragility of the body, and the struggle of conforming to the person everybody else expects you to be.

Praise for A Natural

"This is a bold novel. [Raisin has a] deep and unwavering empathy for others, and an ability to find flashes of beauty in life's unforgiving ugliness. His language might be spare, but his turn of phrase is strikingly elegant. . . .  The way is lit by his keen perceptions; the novel suggests the frustrations that arise when lived experience fails to align with what was imagined, and analyzes the gap between spectatorship and participation. . . . If Raisin has chosen to focus on that which stifles rather than frees us, he has done so to demonstrate precisely why we need all the things that society and circumstance suppress. . . . The confidence and skill with which he pursues his vision is not just persuasive, it's powerful."—The New York Times Book Review
 
"Raisin's transporting and acutely observed novel speaks to us all. First-rate."—Booklist (starred review)
 
"An intimate picture of life in the lower reaches of professional British football . . . a bold theme . . . is rendered with restraint and sympathy. . . . [A Natural] is a sensitive treatment of very different kinds of solitude and pain."—Kirkus Reviews
About the Author
Ross Raisin was born in West Yorkshire. His first novel, God's Own Country, published in 2008, was shortlisted for nine literary awards, including the Guardian First Book Award. In 2009, Raisin was named the Sunday Times Young Writer of the Year. In 2013, he was selected as one of Granta's Best of Young British Novelists. Ross Raisin lives in London.
Praise For A Natural: A Novel…
"This is a bold novel. [Raisin has a] deep and unwavering empathy for others, and an ability to find flashes of beauty in life's unforgiving ugliness. His language might be spare, but his turn of phrase is strikingly elegant. . . .  The way is lit by his keen perceptions; the novel suggests the frustrations that arise when lived experience fails to align with what was imagined, and analyzes the gap between spectatorship and participation. . . . If Raisin has chosen to focus on that which stifles rather than frees us, he has done so to demonstrate precisely why we need all the things that society and circumstance suppress. . . . The confidence and skill with which he pursues his vision is not just persuasive, it's powerful."—The New York Times Book Review

"Raisin's transporting and acutely observed novel speaks to us all. First-rate."—Booklist (starred review)

"An intimate picture of life in the lower reaches of professional British football . . . a bold theme . . . is rendered with restraint and sympathy. . . . [A Natural] is a sensitive treatment of very different kinds of solitude and pain."—Kirkus Reviews

"A worthwhile sports novel with winning characters . . . The author skillfully interweaves both characters' feelings of isolation, setting up a number of strong reveals with impressive restraint and control."—Publishers Weekly

"Admirable . . . genius . . . amazing . . . vertiginous."—The Sunday Times

"Not since Annie Proulx's Brokeback Mountain has there been a better portrayal of a conflicted male sexuality."—The Guardian 

"A powerful evocation of repressed emotion—The Remains of the Day as told by Match of the Day."—The Daily Telegraph

"Supremely accomplished and moving . . . a masterful performance . . . This is a gripping, mature, important novel. It would be a travesty if it doesn't win prizes."—The Observer

"A believable glimpse into a closed world, from a writer whose outlook is formidably open."—Esquire

"Most novels about football aren't really about football. . . . They tend to avoid describing the game itself, with its strange mixture of pelting energy and exquisite boredom. Instead they shunt it into the background or repackage it as a metaphor, allowing the simple whacking of a ball into the net to be used as a way of writing about far less tangible goals. . . . Ross Raisin's latest novel is refreshingly different. Following the fortunes of two lower-league footballers, it is a bold attempt to capture sport in the raw. . . . Pitch-perfect."—The Times

"Ross Raisin has done his homework so well that I spent much of the novel wondering which club had let him inside the changing-room for a season. . . . This may be the most naturalistic rendering of professional football in British fiction since Brian Glanville's 1971 children's novelGoalkeepers Are Different."—Financial Times
or
Not Currently Available for Direct Purchase