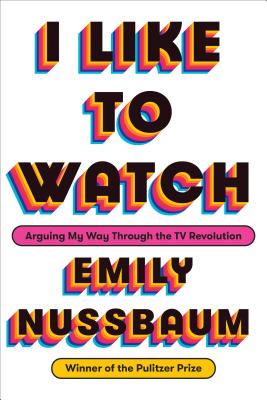 I Like to Watch (Hardcover)
Arguing My Way Through the TV Revolution
Random House, 9780525508960, 368pp.
Publication Date: June 25, 2019
* Individual store prices may vary.
Description
From The New Yorker's fiercely original, Pulitzer Prize-winning culture critic, a provocative collection of new and previously published essays arguing that we are what we watch.

From her creation of the first "Approval Matrix" in New York magazine in 2004 to her Pulitzer Prize–winning columns for The New Yorker, Emily Nussbaum has known all along that what we watch is who we are. In this collection, including two never-before-published essays, Nussbaum writes about her passion for television that began with stumbling upon Buffy the Vampire Slayer—a show that was so much more than it appeared—while she was a graduate student studying Victorian literature. What followed was a love affair with television, an education, and a fierce debate about whose work gets to be called "great" that led Nussbaum to a trailblazing career as a critic whose reviews said so much more about our culture than just what's good on television. Through these pieces, she traces the evolution of female protagonists over the last decade, the complex role of sexual violence on TV, and what to do about art when the artist is revealed to be a monster. And, she explores the links between the television antihero and the rise of Donald Trump.

The book is more than a collection of essays—with each piece, Nussbaum recounts her fervent search, over fifteen years, for a new kind of criticism that resists the false hierarchy that elevates one form of culture over another. It traces her own struggle to punch through stifling notions of "prestige television," searching for a wilder and freer and more varied idea of artistic ambition—one that acknowledges many types of beauty and complexity, and that opens to more varied voices. It's a book that celebrates television as television, even as each year warps the definition of just what that might mean.
About the Author
Emily Nussbaum has written for The New Yorker since 2011. She is the winner of the 2014 ASME for Columns and Commentary and the 2016 Pulitzer Prize for criticism. Previously, she was the TV critic and editor of the Culture Pages for New York magazine, where she created the "Approval Matrix," the playful culture charticle that to this day closes out each issue of New York. Nussbaum has written a regular column for the Arts and Leisure section of The New York Times and for Slate, and she has contributed writing to The New York Times Magazine, Nerve, and Lingua Franca.