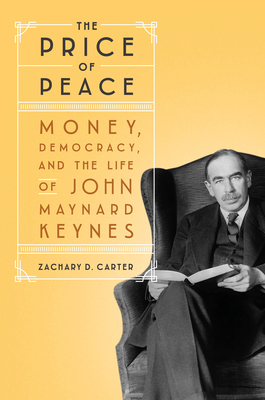 The Price of Peace
Money, Democracy, and the Life of John Maynard Keynes
Hardcover

* Individual store prices may vary.
Description
NEW YORK TIMES BESTSELLER • An "outstanding new intellectual biography of John Maynard Keynes [that moves] swiftly along currents of lucidity and wit" (The New York Times), illuminating the world of the influential economist and his transformative ideas

"A timely, lucid and compelling portrait of a man whose enduring relevance is always heightened when crisis strikes."—The Wall Street Journal

At the dawn of World War I, a young academic named John Maynard Keynes hastily folded his long legs into the sidecar of his brother-in-law's motorcycle for an odd, frantic journey that would change the course of history. Swept away from his placid home at Cambridge University by the currents of the conflict, Keynes found himself thrust into the halls of European treasuries to arrange emergency loans and packed off to America to negotiate the terms of economic combat. The terror and anxiety unleashed by the war would transform him from a comfortable obscurity into the most influential and controversial intellectual of his day—a man whose ideas still retain the power to shock in our own time.

Keynes was not only an economist but the preeminent anti-authoritarian thinker of the twentieth century, one who devoted his life to the belief that art and ideas could conquer war and deprivation. As a moral philosopher, political theorist, and statesman, Keynes led an extraordinary life that took him from intimate turn-of-the-century parties in London's riotous Bloomsbury art scene to the fevered negotiations in Paris that shaped the Treaty of Versailles, from stock market crashes on two continents to diplomatic breakthroughs in the mountains of New Hampshire to wartime ballet openings at London's extravagant Covent Garden. 

Along the way, Keynes reinvented Enlightenment liberalism to meet the harrowing crises of the twentieth century. In the United States, his ideas became the foundation of a burgeoning economics profession, but they also became a flash point in the broader political struggle of the Cold War, as Keynesian acolytes faced off against conservatives in an intellectual battle for the future of the country—and the world. Though many Keynesian ideas survived the struggle, much of the project to which he devoted his life was lost. 

In this riveting biography, veteran journalist Zachary D. Carter unearths the lost legacy of one of history's most fascinating minds. The Price of Peace revives a forgotten set of ideas about democracy, money, and the good life with transformative implications for today's debates over inequality and the power politics that shape the global order.
Praise For The Price of Peace: Money, Democracy, and the Life of John Maynard Keynes…
"Zachary D. Carter has given us an important, resonant, and memorable portrait of one of the chief architects of the world we've known, and know still. As Richard Nixon observed, we're all Keynesians now—even if we don't realize it. Carter's powerful book will surely fix that."—Jon Meacham, Pulitzer Prize–winning author of The Hope of Glory

"A brilliantly wrought, beautifully written life of one of the most captivating intellects of the twentieth century."—Liaquat Ahamed, author of Lords of Finance 

"The Price of Peace is a towering achievement. Carter blends a nuanced and sophisticated financial history of the twentieth century with the intimate personal drama and political upheaval of an epic novel. . . . A masterful biography of a unique and complex social thinker."—Stephanie Kelton, author of The Deficit Myth

"With an eye for the apt phrase and the telling detail, Zachary D. Carter has written a thoughtful and sweeping biography of Keynes and his ideas, extending through the twentieth century and into our own time. Carter gives life to the effortless brilliance, frank appetites, and ethical commitments that made Keynes and Keynesianism so immensely consequential in philosophy, art, money, politics, letters, and war. The Price of Peace is a terrific book about a fascinating character."—Eric Rauchway, author of Winter War

"A spectacular new biography that paints a rich and textured portrait of the great economist and locates his ideas within the broad sweep of economic and intellectual history . . . With his first book, Carter establishes himself as the rare writer who can weave compelling narrative, insightful analysis and explication of complex phenomena in prose that is accessible, elegant, almost lyrical at times. The Price of Peace should be required reading for every economics major and anyone who struggles to understand the interplay of money, markets and economic policy."—The Washington Post

"Making an impressive book debut, journalist Carter offers a sweeping, comprehensive biography of economist, political theorist, and statesman John Maynard Keynes (1883–1946), one of most influential figures of his time. . . . An absorbing, thoroughly researched life of a singular thinker."—Kirkus Reviews (starred review)

"Although British economist [John Maynard] Keynes is mostly remembered for the theory that bears his name, in his first book, journalist [Zachary D.] Carter reveals that his ideas have far more to offer to today's world of rickety economies and creeping authoritarianism. . . . In this sweeping intellectual biography, Carter traces Keynes' career from his first forays into public policy during WWI, through the bumpy 1920s and the Great Depression, to its end in the behind-the-scenes negotiations of WWII. He vividly describes Keynes' world, which encompassed both European realpolitik and the Bloomsbury Group, and illustrates how his academic, cultural, and political activities influenced his ideas. . . . Carter's timely study is highly recommended."—Booklist (starred review)
Random House, 9780525509035, 656pp.
Publication Date: May 19, 2020
About the Author
Zachary D. Carter is a senior reporter at HuffPost, where he covers Congress, the White House, and economic policy. He is a frequent guest on cable news and news radio, and his written work has also appeared in The New Republic, The Nation, and The American Prospect, among other outlets. His story, "Swiped: Banks, Merchants and Why Washington Doesn't Work for You" was included in the Columbia Journalism Review's compilation Best Business Writing. He lives in Brooklyn, New York.