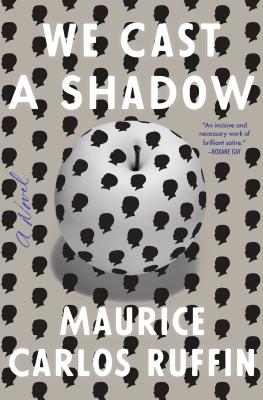 We Cast a Shadow (Hardcover)
A Novel
One World, 9780525509066, 336pp.
Publication Date: January 29, 2019
* Individual store prices may vary.
Description
A "brilliant and devastating" (Booklist) debut for fans of Get Out and Paul Beatty's The Sellout, about a father's obsessive quest to protect his son—even if it means turning him white.

"An incisive and necessary work of satire."—Roxane Gay, author of Bad Feminist

"You can be beautiful, even more beautiful than before." This is the seductive promise of Dr. Nzinga's clinic, where anyone can get their lips thinned, their skin bleached, and their nose narrowed. A complete demelanization will liberate you from the confines of being born in a black body—if you can afford it.

In this near-future Southern city plagued by fenced-in ghettos and police violence, more and more residents are turning to this experimental medical procedure. Like any father, our narrator just wants the best for his son, Nigel, a biracial boy whose black birthmark is getting bigger by the day. The darker Nigel becomes, the more frightened his father feels. But how far will he go to protect his son? And will he destroy his family in the process?

This electrifying, hallucinatory novel is at once a keen satire of surviving racism in America and a profoundly moving family story. At its center is a father who just wants his son to thrive in a broken world. Maurice Carlos Ruffin's work evokes the clear vision of Ralph Ellison, the dizzying menace of Franz Kafka, and the crackling prose of Vladimir Nabokov. We Cast a Shadow fearlessly shines a light on the violence we inherit, and on the desperate things we do for the ones we love.

Advance praise for We Cast a Shadow

"A full-throated novelistic debut of ferocious power and grace . . . a story that refracts the insanity of the world into a shape so unique you wonder how this book wasn't there all along."—Lit Hub, Most Anticipated Books of 2019

"Propulsive . . . We Cast a Shadow proves that the eeriest works of speculative fiction are those that hit closest to home."—Vulture, 37 Books We Can't Wait to Read in 2019

"One of the most anticipated debut novels of 2019."—Los Angeles Times, 11 Authors to Watch in 2019

"A biting satire of anti-blackness in the US."—Buzzfeed, 66 Books Coming in 2019 That You'll Want to Keep on Your Radar
About the Author
Maurice Carlos Ruffin has been a recipient of an Iowa Review Award in fiction and a winner of the William Faulkner–William Wisdom Creative Writing Competition for Novel-in-Progress. His work has appeared in Virginia Quarterly Review, AGNI, The Kenyon Review, The Massachusetts Review, and Unfathomable City: A New Orleans Atlas. A native of New Orleans, Ruffin is a graduate of the University of New Orleans Creative Writing Workshop and a member of the Peauxdunque Writers Alliance.
Praise For We Cast a Shadow: A Novel…
"Set in the post-post-racial South, We Cast a Shadow tells the story of a man—one of the few black men at his law firm—desperate to pay for his biracial son to undergo demelanization, desperate to 'fix' what he sees as his son's fatal flaw. It is this desperation that haunts this novel and, in this desperation, we see just how pernicious racism is, how irrevocably it can alter how a man sees the world, himself, and those he loves. It is a chilling, unforgettable cautionary tale, and one we should all read and heed."—Roxane Gay, author of Bad Feminist

"A full-throated novelistic debut of ferocious power and grace . . . a story that refracts the insanity of the world into a shape so unique you wonder how this book wasn't there all along."—Lit Hub, Most Anticipated Books of 2019

"Propulsive . . . We Cast a Shadow proves that the eeriest works of speculative fiction are those that hit closest to home."—Vulture, 37 Books We Can't Wait to Read in 2019

"One of the most anticipated debut novels of 2019."—Los Angeles Times, 11 Authors to Watch in 2019

"A biting satire of anti-blackness in the US."—Buzzfeed, 66 Books Coming in 2019 That You'll Want to Keep on Your Radar

"A powerful novel of just how far one father will go to keep his son safe from the outside world."—Parade, Debut Novels Everyone Will Be Reading in 2019

"An ambitious debut novel, We Cast a Shadow is a surrealistic satire about identity, race, and family relations. . . . [Ruffin] is a talented, genre-bending writer to watch."—Garden & Gun, January Book List

"We Cast a Shadow is the latest in a stream of daring works that address America's endemic anti-blackness through dystopian surrealism."—HuffPost, 61 Books We're Looking Forward to Reading in 2019

"Virginia Quarterly Review columnist and essayist Ruffin now publishes his debut novel, a near-futurist social satire about people in a southern city undergoing 'whitening' treatments to survive in a society governed by white supremacy."—The Millions, Most Anticipated: The Great First-Half 2019 Book Preview

"Like Paul Beatty's The Sellout and the film Get Out . . . a singular and unforgettable work of political art."—Publishers Weekly (starred review)

"Brilliant and devastating."—Booklist (starred review)

"Thrilling . . . We Cast a Shadow is haunted by the ghosts of Ralph Ellison and Victor LaValle. But Maurice Carlos Ruffin, as well as the terrifying racial landscape he renders, is a world unto himself."—Naomi Jackson, author of The Star Side of Bird Hill

"A literary classic that will outlive us all, We Cast a Shadow is the finely crafted quake the American novel needed."—Kiese Laymon, author of Heavy