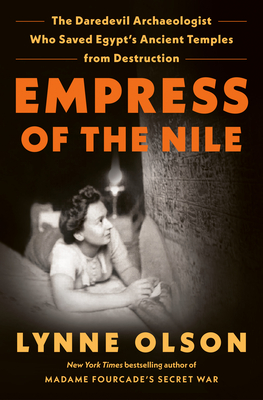 Empress of the Nile
The Daredevil Archaeologist Who Saved Egypt's Ancient Temples from Destruction
Hardcover

* Individual store prices may vary.
Description
The extraordinary story of the intrepid French archaeologist who led the international effort to save ancient Egyptian temples from the floodwaters of the Aswan Dam, from the New York Times bestselling author of Madame Fourcade's Secret War

In the 1960s, the world's attention was focused on a nail-biting race against time: Fifty countries contributed nearly a billion dollars to save a dozen ancient Egyptian temples, built during the height of the pharaohs' rule, from drowning in the floodwaters of the gigantic new Aswan High Dam. But the massive press coverage of this unprecedented rescue effort completely overlooked the gutsy French archaeologist who made it all happen. Without the intervention of Christiane Desroches-Noblecourt, the temples—including the Metropolitan Museum's Temple of Dendur—would be at the bottom of a huge reservoir. It was a project of unimaginable size and complexity that required the fragile sandstone temples to be dismantled, stone by stone, and rebuilt on higher ground.

A willful, real-life version of Indiana Jones, Desroches-Noblecourt refused to be cowed by anyone or anything. As a member of the French Resistance in World War II she had survived imprisonment by the Nazis; in her fight to save the temples she defied two of the most daunting leaders of the postwar world, Egyptian President Abdel Nasser and French President Charles de Gaulle. As she told one reporter, "You don't get anywhere without a fight, you know."

Yet Desroches-Noblecourt was not the only woman who played a crucial role in the endeavor. The other was Jacqueline Kennedy, America's new First Lady, who persuaded her husband to call on Congress to help fund the rescue effort. After a century and a half of Western plunder of Egypt's ancient monuments, Desroches-Noblecourt had done the opposite. She had helped preserve a crucial part of its cultural heritage and, just as important, made sure it remained in its homeland.
Praise For Empress of the Nile: The Daredevil Archaeologist Who Saved Egypt's Ancient Temples from Destruction…
"Lynne Olson's many fans know her gift for storytelling and for bringing to life heroes who may not be well known but who demand—indeed, rivet—our attention. Who else but Olson could have found Christiane Desroches-Noblecourt, a beautiful and brave French resistance fighter brazen enough to tell her Gestapo interrogators to stand up when a woman enters the room, and who happens to be a kind of female Indiana Jones working behind the scenes—alongside Jackie Kennedy!—to save the ancient temples of Egypt? Readers will devour this wonderful book."—Evan Thomas, New York Times bestselling author of First: Sandra Day O'Connor

"Empress of the Nile is an exhilarating, in-depth look at a woman whose courage never faltered, whether she was facing Nazi interrogators, backstabbing archaeologist colleagues, or the imminent destruction of the Egyptian monuments and artifacts she held most dear. Olson's richly detailed, heart-stopping biography takes the reader for a magnificent ride."—Fiona Davis, New York Times bestselling author of The Magnolia Palace

"Christiane Desroches-Noblecourt was one of the leading Egyptologists of the twentieth century, yet her remarkable achievements have received little attention. Lynne Olson has done her justice with this comprehensive biography."—Toby Wilkinson, New York Times bestselling author of The Rise and Fall of Ancient Egypt and Tutankhamun's Trumpet
Random House, 9780525509479, 448pp.
Publication Date: February 28, 2023
About the Author
Lynne Olson is the New York Times bestselling author of Madame Fourcade's Secret War, Last Hope Island, Those Angry Days, and Citizens of London. She has been a consulting historian for the National WWII Museum in New Orleans and the United States Holocaust Memorial Museum in Washington, D.C.