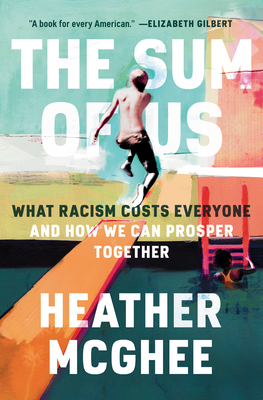 The Sum of Us
What Racism Costs Everyone and How We Can Prosper Together
Hardcover

* Individual store prices may vary.
Other Editions of This Title:
Digital Audiobook (2/15/2021)
Paperback (2/8/2022)
Description
NEW YORK TIMES BESTSELLER • LONGLISTED FOR THE NATIONAL BOOK AWARD • One of today's most insightful and influential thinkers offers a powerful exploration of inequality and the lesson that generations of Americans have failed to learn: Racism has a cost for everyone—not just for people of color.

WINNER OF THE PORCHLIGHT BUSINESS BOOK AWARD • ONE OF THE BEST BOOKS OF THE YEAR: Time, The Washington Post, St. Louis Post-Dispatch, Ms. magazine, BookRiot, Library Journal

"This is the book I've been waiting for."—Ibram X. Kendi, #1 New York Times bestselling author of How to Be an Antiracist

Look for the author's new podcast, The Sum of Us, based on this book!

Heather McGhee's specialty is the American economy—and the mystery of why it so often fails the American public. From the financial crisis of 2008 to rising student debt to collapsing public infrastructure, she found a root problem: racism in our politics and policymaking. But not just in the most obvious indignities for people of color. Racism has costs for white people, too. It is the common denominator of our most vexing public problems, the core dysfunction of our democracy and constitutive of the spiritual and moral crises that grip us all. But how did this happen? And is there a way out?

McGhee embarks on a deeply personal journey across the country from Maine to Mississippi to California, tallying what we lose when we buy into the zero-sum paradigm—the idea that progress for some of us must come at the expense of others. Along the way, she meets white people who confide in her about losing their homes, their dreams, and their shot at better jobs to the toxic mix of American racism and greed. This is the story of how public goods in this country—from parks and pools to functioning schools—have become private luxuries; of how unions collapsed, wages stagnated, and inequality increased; and of how this country, unique among the world's advanced economies, has thwarted universal healthcare.

But in unlikely places of worship and work, McGhee finds proof of what she calls the Solidarity Dividend: the benefits we gain when people come together across race to accomplish what we simply can't do on our own. The Sum of Us is not only a brilliant analysis of how we arrived here but also a heartfelt message, delivered with startling empathy, from a black woman to a multiracial America. It leaves us with a new vision for a future in which we finally realize that life can be more than a zero-sum game.

LONGLISTED FOR THE ANDREW CARNEGIE MEDAL
Praise For The Sum of Us: What Racism Costs Everyone and How We Can Prosper Together…
"A book for every American."—Elizabeth Gilbert

"Illuminating and hopeful . . . McGhee isn't a stinging polemicist; she cajoles instead of ridicules. She appeals to concrete self-interest in order to show how our fortunes are tied up with the fortunes of others. 'We suffer because our society was raised deficient in social solidarity,' she writes, explaining that this idea is 'true to my optimistic nature.' She is compassionate but also clear-eyed, refusing to downplay the horrors of racism. . . . There is a striking clarity to this book; there is also a depth of kindness in it that all but the most churlish readers will find moving."—Jennifer Szalai, The New York Times
 
"One of the most fascinating things about The Sum of Us is how it challenges the assumptions of both white antiracism activists and progressives who just want to talk about class."—The New York Times, "The Book That Should Change How Progressives Talk About Race"

"Required reading to move the country forward . . . Every so often a book comes along that seems perfectly timed to the moment and has the potential to radically shift our cultural conversation. [The Sum of Us] is one of those books. . . . It is a sometimes angry or frustrated book, rooted in McGhee's long career at Demos trying and mostly failing to secure legislation that would benefit the public. But in the end, it's a hopeful book because McGhee's vision is so clear and so convincing."—Chicago Tribune
 
"If everyone in America read this book, we'd be, not only a more just country, but a more powerful, successful, and loving one. A vital, urgent, stirring, beautifully written book that offers a compassionate roadmap out of our present troubled moment."—George Saunders, New York Times bestselling and Booker Prize–winning author of Lincoln in the Bardo

"Supported by remarkable data-driven research and thoughtful interviews with those directly affected by these issues, McGhee paints a powerful picture of the societal shortfalls all around us. There is a greater, more just America available to us, and McGhee brings its potential to light."—BookPage
 
"[McGhee] takes readers on an intimate odyssey across our country's racial divide to explore why some believe that progress for some comes at the expense of others. Along the way, McGhee speaks with white people who confide in her about losing jobs, homes, and hope, and considers white supremacy's collateral victims. Ultimately, McGhee—a Black woman viewing multiracial America with startling empathy—finds proof of what she terms the Solidarity Dividend: the momentous benefits that derive when people come together across race. A powerful, singular, and prescriptive blend of the macro and the intimate."—O: The Oprah Magazine
One World, 9780525509561, 448pp.
Publication Date: February 16, 2021
About the Author
Heather McGhee is an expert in economic and social policy. The former president of the inequality-focused think tank Demos, McGhee has drafted legislation, testified before Congress, and contributed regularly to news shows including NBC's Meet the Press. She now chairs the board of Color of Change, the nation's largest online racial justice organization. McGhee holds a BA in American studies from Yale University and a JD from the University of California, Berkeley, School of Law.