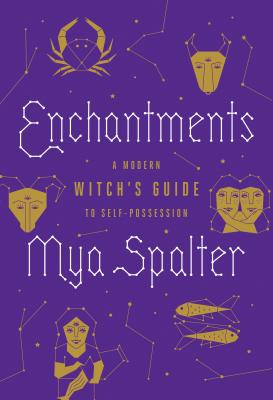 Enchantments (Hardcover)
A Modern Witch's Guide to Self-Possession
Lenny, 9780525509653, 224pp.
Publication Date: October 9, 2018
* Individual store prices may vary.
Description
A wise, witchy, and welcoming guide to living life magically

Mya Spalter has spent years among candles, herbs, cats, and spells as an employee at New York City's oldest occult shop, Enchantments. Since it would get crowded in there if all of you visited, this beautifully illustrated book will be your guide to its secrets and stories; in the process, Mya will introduce you to some mystical concepts you can use to build spells and rituals that resonate with your own personal style, including:

• Create and maintain altars Even people who aren't spiritually inclined seem to be able to get down with the beneficial function of an altar as a place to model beauty and balance in their lives. It's aspirational. 
• Save your love magic for yourself Because casting a love spell on someone else is pushy and far too easy to mess up. 
• Clean your filthy apartment Fine, maybe you make your bed every day, but Mya's talking about the kind of grime you can't necessarily see. 
• Money magic for need, not greed Hint: It starts with tipping well; it doesn't pay to be miserly when asking the universe for abundance.

Mya reveals the power of colors (Louboutins wouldn't have the same status if their soles were lavender), the keys to banishing unfriendly spirits (with cleansing rituals or even a dance party), and invaluable instructions in the timeless arts of astrology, tarot, and finding a parking spot downtown.

Open up this book and enchant your own life!

Praise for Enchantments

"Hilariously conversational, deceptively deep, and phenomenally illustrated, Enchantments will blow your mind and make you laugh while imparting expert knowledge of witchcraft and why it's so needed today."—Natasha Lyonne, actress and producer

"Imagine that your best friend, a supremely cool, funny, and irreverent person, is also a witch willing to educate and inspire you toward your own witchy practice with humor, sass, and intelligence. This book is magic—literally!"—Michelle Tea, author of Modern Tarot

"Part memoir, part recipe book, and part poetry collection, Enchantments lets readers in on the great secret of all witchcraft—that being a witch is about being free to be yourself."—Dorothea Lasky, author of Milk and co-creator of Astro Poets

"We can all use more magic in our lives in these trying times, and Enchantments will help us get started."—Kimya Dawson, singer/songwriter, The Moldy Peaches
About the Author
Mya Spalter is a writer, editor, and lifelong New Yorker. Longtime employee at Enchantments, New York's oldest occult shop, she writes nonfiction about witchcraft and poetry about science. She lives in Brooklyn with her husband and son.
Praise For Enchantments: A Modern Witch's Guide to Self-Possession…
"Hilariously conversational, deceptively deep, and phenomenally illustrated, Enchantments will blow your mind and make you laugh while imparting expert knowledge of witchcraft and why it's so needed today."—Natasha Lyonne, actress and producer
 
"Imagine that your best friend, a supremely cool, funny, and irreverent person, is also a witch willing to educate and inspire you toward your own witchy practice with humor, sass, and intelligence. Wouldn't that be the greatest? Thankfully, Mya Spalter has written Enchantments, a book infused with jokes, real talk, occult know-how, stylish lingo, and serious best-friendliness. Enchantments has totally jump-started my own practice, and I am feeling the results daily. This book is magic—literally!"—Michelle Tea, author of Modern Tarot
 
"Part memoir, part recipe book, and part poetry collection, Enchantments lets readers in on the great secret of all witchcraft—that being a witch is about being free to be yourself. In a spirit of collaboration and community and with limber humor and wit, Mya Spalter empowers all of us to be the best magical practitioners we can be. A future classic for both new and experienced witches, or anyone in the mood for a little divination."—Dorothea Lasky, author of Milk and co-creator of Astro Poets
 
"All the things you've always wanted to know about becoming a witch but were afraid to ask! We can all use more magic in our lives in these trying times, and Enchantments will help us get started. Now who wants to join my coven and cast some spells?!"—Kimya Dawson, singer/songwriter, The Moldy Peaches