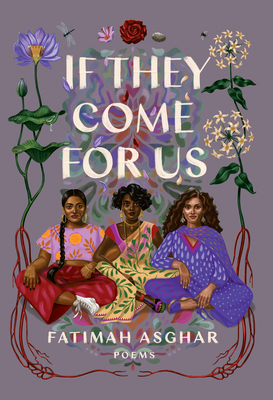 If They Come for Us (Paperback)
Poems
One World, 9780525509783, 128pp.
Publication Date: August 7, 2018
* Individual store prices may vary.
Description
Poet and co-creator of the Emmy-nominated web series Brown Girls captures her experience as a Pakistani Muslim woman in contemporary America, while exploring identity, violence, and healing.

"A debut poetry collection showcasing both a fierce and tender new voice."—Booklist

an aunt teaches me how to tell
an edible flower
from a poisonous one.
just in case, I hear her say, just in case.

Orphaned as a child, Fatimah Asghar grapples with coming of age and navigating questions of sexuality and race without the guidance of a mother or father. These poems at once bear anguish, joy, vulnerability, and compassion, while also exploring the many facets of violence: how it persists within us, how it is inherited across generations, and how it manifests itself in our relationships. In experimental forms and language both lyrical and raw, Asghar seamlessly braids together marginalized people's histories with her own understanding of identity, place, and belonging.

Advance praise for If They Come for Us
 
 "Every age has its poets who spring-load every line with the personal and political so that you know what it was to be fully alive in that time and place—or torn from it. [Fatimah] Asghar provides this anguished specificity in her debut poetry collection, a meditation on identity, dislocation, and loss. . . . Her story sweeps wide, becoming the history of India, Partition, genocidal hatred, and timeless misogyny. In the telling, she moves freely in form. . . .Taut lines, vivid language, and searing images range cover to cover. . . . Inventive, sad, gripping, and beautiful."—Library Journal (starred review)

"In this awe-inspiring debut, Asghar, writer of the Emmy-nominated web series 'Brown Girls,' explores the painful, sometimes psychologically debilitating journey of establishing her identity as a queer brown woman within the confines of white America. . . . Honest, personal, and intimate without being insular or myopic, Asghar's collection reveals a sense of strength and hope found in identity and cultural history: 'our names this country's wood/ for the fire my people my people/ the long years we've survived the long/ years yet to come.'"—Publishers Weekly (starred review)
About the Author
Fatimah Asghar is a nationally touring poet, performer, educator, and writer. She is the writer of Brown Girls, an Emmy-nominated web series that highlights friendships between women of color. She is a member of Dark Noise and a 2017 Ruth Lilly and Dorothy Sargent Rosenberg Poetry Fellow.
Praise For If They Come for Us: Poems…
"[Fatimah] Asghar presents a debut poetry collection showcasing both a fierce and tender new voice. The poems, largely based on the experience of living in America as a Pakistani Muslim, reflect Asghar's keen perceptions about the search for, and inability to firmly fix upon, one true identity. . . . As Asghar traces the threads of her experiences, she slowly unfurls the larger fabric of her heritage and, in doing so, honors all who have been pushed aside, divided from country and culture, misrepresented, and misunderstood. Through simultaneously lyrical and frank poems like 'Kal,' 'Ghareeb,' and 'Halal,' Asghar allows poignant contradictions to rise to the surface, like a lotus reaching through mud and murky water to beautifully bloom."—Booklist

 "Every age has its poets who spring-load every line with the personal and political so that you know what it was to be fully alive in that time and place—or torn from it. Asghar provides this anguished specificity in her debut poetry collection, a meditation on identity, dislocation, and loss. . . . Her story sweeps wide, becoming the history of India, Partition, genocidal hatred, and timeless misogyny. In the telling, she moves freely in form. . . .Taut lines, vivid language, and searing images range cover to cover. . . . Inventive, sad, gripping, and beautiful."—Library Journal (starred review)

"In this awe-inspiring debut, Asghar, writer of the Emmy-nominated web series 'Brown Girls,' explores the painful, sometimes psychologically debilitating journey of establishing her identity as a queer brown woman within the confines of white America. . . . Honest, personal, and intimate without being insular or myopic, Asghar's collection reveals a sense of strength and hope found in identity and cultural history: 'our names this country's wood/ for the fire my people my people/ the long years we've survived the long/ years yet to come.'"—Publishers Weekly (starred review)

"If They Come for Us is a beautiful book of poems that, as powerfully and deeply as any book I've read in a good while, wonders about, explores, and laments our many inheritances of violence, which are also inheritances of sorrow, and the ways those inheritances reside in our bodies and imaginations. And yet, the wonder of this book is the way that throughout the anguish and sorrow and rage, despite it, there is tenderness. There is sweetness. There is care. This book reminds us: These, too, are our inheritances. These, too, are our heirlooms. These, too, we must pass along."—Ross Gay, author of Catalog of Unabashed Gratitude, winner of the National Book Critics Circle Award and finalist for the National Book Award in Poetry
 
"Fatimah Asghar's work isn't simply some of the most innovative poetry I've read; page after page, the book weaves productive ambiguity, textured explorations of the body, and lyrical precision into a work that is somehow just as much a mammoth book of short stories, an experimental novel, and a soulful memoir. I'm not sure this nation is deserving of such a marvelous, sensual, and sensory book, but I know we needed this. We so needed this."—Kiese Laymon, author of How to Slowly Kill Yourself and Others in America and Long Division
 
"In poems that are as historically aware as they are forward-thinking, Asghar reminds us with wit, wisdom, and compassion that a truly felt and thoughtfully written poem can be many things at once: a salve, an artifact, a puzzle, a flashlight in the face of imminent darkness, and even a whole home."—Tarfia Faizullah, author of Registers of Illuminated Villages and Seam
 
"Part of the strength and vulnerability of this work is rooted in what I'm thinking of as a poetics of or. These poems bend time, encircle kin, invent new forms of saying. They laugh, lose, and lament, challenging language even as they are led by it. There is such fierce, resilient awe everywhere here. Such poems embolden me into love and dreaming and action."—Aracelis Girmay, author of Kingdom Animalia and The Black Maria