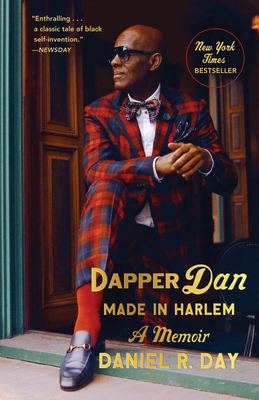 Dapper Dan
Made in Harlem: A Memoir
Hardcover

* Individual store prices may vary.
Other Editions of This Title:
Digital Audiobook (7/8/2019)
Paperback (7/7/2020)
Description
NEW YORK TIMES BESTSELLER • "Dapper Dan is a legend, an icon, a beacon of inspiration to many in the Black community. His story isn't just about fashion. It's about tenacity, curiosity, artistry, hustle, love, and a singular determination to live our dreams out loud."—Ava DuVernay, director of Selma, 13th, and A Wrinkle in Time

NAMED ONE OF THE BEST BOOKS OF THE YEAR BY VANITY FAIR • DAPPER DAN NAMED ONE OF TIME'S 100 MOST INFLUENTIAL PEOPLE IN THE WORLD

With his now-legendary store on 125th Street in Harlem, Dapper Dan pioneered high-end streetwear in the 1980s, remixing classic luxury-brand logos into his own innovative, glamorous designs. But before he reinvented haute couture, he was a hungry boy with holes in his shoes, a teen who daringly gambled drug dealers out of their money, and a young man in a prison cell who found nourishment in books. In this remarkable memoir, he tells his full story for the first time.

Decade after decade, Dapper Dan discovered creative ways to flourish in a country designed to privilege certain Americans over others. He witnessed, profited from, and despised the rise of two drug epidemics. He invented stunningly bold credit card frauds that took him around the world. He paid neighborhood kids to jog with him in an effort to keep them out of the drug game. And when he turned his attention to fashion, he did so with the energy and curiosity with which he approaches all things: learning how to treat fur himself when no one would sell finished fur coats to a Black man; finding the best dressed hustler in the neighborhood and converting him into  a customer; staying open twenty-four hours a day for nine years straight to meet demand; and, finally, emerging as a world-famous designer whose looks went on to define an era, dressing cultural icons including Eric B. and Rakim, Salt-N-Pepa, Big Daddy Kane, Mike Tyson, Alpo Martinez, LL Cool J, Jam Master Jay, Diddy, Naomi Campbell, and Jay-Z.

By turns playful, poignant, thrilling, and inspiring, Dapper Dan: Made in Harlem is a high-stakes coming-of-age story spanning more than seventy years and set against the backdrop of an America where, as in the life of its narrator, the only constant is change.

Praise for Dapper Dan: Made in Harlem

"Dapper Dan is a true one of a kind, self-made, self-liberated, and the sharpest man you will ever see. He is couture himself."—Marcus Samuelsson, New York Times bestselling author of Yes, Chef

"What James Baldwin is to American literature, Dapper Dan is to American fashion. He is the ultimate success saga, an iconic fashion hero to multiple generations, fusing street with high sartorial elegance. He is pure American style."—André Leon Talley, Vogue contributing editor and author
Praise For Dapper Dan: Made in Harlem: A Memoir…
"It's easy now to take for granted the trail [Dapper Dan] blazed. . . . Detailed descriptions of his family's tragic journey through poverty, the changing nature of his beloved and cursed neighborhood, and his adventures as a hustler are riveting."—The New York Times

"A dream maker from Harlem."—Nas

"Truly a gift."—Taraji P. Henson, Emmy- and Oscar-nominated actress 

"A fantastic and cinematic writer."—Phoebe Robinson

"Dapper Dan makes manifest through garments what Black flyness, Black intelligence, Black struggle, Black courage, Black hustle, Black progress, Black resistance and Black royalty looks like. Never did he rattle a beggar's cup outside of a fashion industry designed to exclude him and all who looked like him. He took what he wanted from the establishment and built his own damn house. His life story is a wonderful tale of brilliance, hard work, perseverance, and hustle—America at its best."—Michaela Angela Davis, writer and image activist

"Dapper Dan is not just the epitome of style and grace, but an international treasure. He is a cultural icon who has pioneered his own path through the fashion industry, one that will influence generations to come."—La La Anthony

"A grand raconteur."—Margo Jefferson, author of Negroland

"A purveyor of the American Dream."—Elaine Welteroth

"Dapper Dan is a living legend, a creative icon, and a godfather to the Black community. His inspirational story isn't just about fashion. It's about adventure, struggle, curiosity, hustle, love, and a singular determination to change one's life."—Bethann Hardison, model and activist

"Dapper Dan is the original influencer, disruptor, and creative—a true visionary who inspired inclusion for those who weren't always invited to partake in fashion. His legacy will forever impact the intersection of style and culture, reminding us all to remain authentic and live unapologetically."—Ashley Graham, model and author of A New Model

"[The story of a] remarkable and unlikely evolution . . . an intriguing and twisty tale about the hustle and the hustler, and it is eloquently and engagingly told . . . There is a profound vulnerability in Day's story and a striking self-awareness as he recounts both his successes and failures as a man, father, son, brother, husband, and entrepreneur. In the end, [this book] is, like him, an inspiration."—The Root

"It is part fashion story; part personal memoir; but also part business book extolling the virtues of creativity and hard work; part metaphysical and spiritual exploration; part history of Harlem, its Black community and diverse cultural mix, and fashion and hip-hop's intersection; part meditation on identity and more. If that sounds like too much, it's not. . . . Dapper Dan contains multitudes, and so does his book. Pick it up to spend some time in the mind of a truly creative and clever innovator."—Fashionista

"A streetwise adventure in Super Fly style."—New York Daily News
Random House, 9780525510512, 304pp.
Publication Date: July 9, 2019
About the Author
Daniel "Dapper Dan" Day's work has been displayed at the Smithsonian Institution, The Museum at FIT, the Metropolitan Museum of Art, the Museum of Modern Art, the Museum of the City of New York, and London's Design Museum. His eponymous boutique was open from 1982 to 1992, and reopened in 2017 in a major partnership with Gucci. In 2020, Time magazine named him one of the 100 most influential people in the world.
Coverage from NPR