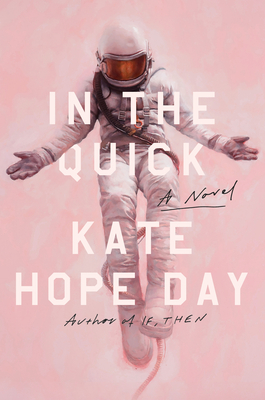 In the Quick
A Novel
Hardcover

* Individual store prices may vary.
Description
GOOD MORNING AMERICA BUZZ PICK • A young, ambitious female astronaut's life is upended by a love affair that threatens the rescue of a lost crew in this brilliantly imagined novel "with echoes of Station Eleven, The Martian, and, yes, Jane Eyre" (Observer).

"The female astronaut novel we never knew we needed."—Entertainment Weekly (Must-read books coming out in March)

June is a brilliant but difficult girl with a gift for mechanical invention who leaves home to begin grueling astronaut training at the National Space Program. Younger by two years than her classmates at Peter Reed, the school on campus named for her uncle, she flourishes in her classes but struggles to make friends and find true intellectual peers. Six years later, she has gained a coveted post as an engineer on a space station—and a hard-won sense of belonging—but is haunted by the mystery of Inquiry, a revolutionary spacecraft powered by her beloved late uncle's fuel cells. The spacecraft went missing when June was twelve years old, and while the rest of the world seems to have forgotten the crew, June alone has evidence that makes her believe they are still alive.

She seeks out James, her uncle's former protégé, also brilliant, also difficult, who has been trying to discover why Inquiry's fuel cells failed. James and June forge an intense intellectual bond that becomes an electric attraction. But the relationship that develops between them as they work to solve the fuel cell's fatal flaw threatens to destroy everything they've worked so hard to create—and any chance of bringing the Inquiry crew home alive.

A propulsive narrative of one woman's persistence and journey to self-discovery, In the Quick is an exploration of the strengths and limits of human ability in the face of hardship, and the costs of human ingenuity.
Praise For In the Quick: A Novel…
"With echoes of Station Eleven, The Martian, and, yes, Jane Eyre, this is a gripping and unconventional novel with an unforgettable heroine."—Observer

"I read In the Quick with wonder at the deeply imaginative world Kate Hope Day created. Feminist and thrilling, this novel centers around a precocious, brilliant character named June. I happily followed June into deep space, but I would have followed her anywhere. What a wonderful story. I highly recommend this novel."—Ann Napolitano, New York Times bestselling author of Dear Edward

"Kate Hope Day has given us another fascinating, beautifully written, genre-bending novel. Equal parts sci-fi mystery and coming-of-age romance, In the Quick is, at its heart, a feminist story about June, an engineering prodigy fighting to be taken seriously in the austere world of deep space. I couldn't put it down."—Angie Kim, national bestselling author of Miracle Creek

"Kate Hope Day pushes against the edges of all we know and could only dare to dream, and with that she has written a true wonder. This is a gorgeous book."—Courtney Summers, New York Times bestselling author of Sadie

"Day's descriptions of the cold lethality of space make the final frontier feel like a character itself, and, indeed, each location described feels tangible. The action sequences are brutal and breathtaking. . . . Perfect for fans of realistic depictions of space travel like Andy Weir's The Martian [and] Jeremy K. Brown's Zero Limit."—Booklist
 

Random House, 9780525511250, 272pp.
Publication Date: March 2, 2021
About the Author
Kate Hope Day is the author of If, Then. She holds a BA from Bryn Mawr College and a PhD in English from the University of Pittsburgh. She was an associate producer at HBO. She lives in Oregon with her husband and their two children.