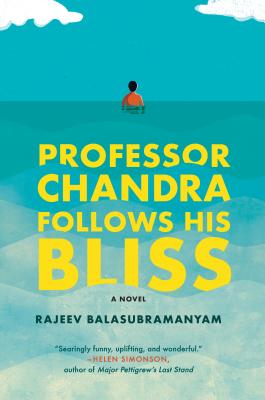 Professor Chandra Follows His Bliss
A Novel
Hardcover

* Individual store prices may vary.
Other Editions of This Title:
Digital Audiobook (3/25/2019)
Paperback (3/3/2020)
Library Binding, Large Print (7/3/2019)
Description
Follow the eccentric, cantankerous, utterly charming Professor Chandra as he tries to answer the biggest question of all: What makes us happy?

"Searingly funny, uplifting, and wonderful . . . Professor Chandra is as unbending a curmudgeon as one could wish to find scowling from the pages of a novel."—Helen Simonson, New York Times bestselling author of Major Pettigrew's Last Stand and The Summer Before the War

Professor Chandra is an internationally renowned economist, divorced father of three (quite frankly baffling) children, recent victim of a bicycle hit-and-run—but so much more than the sum of his parts.

In the moments after the accident, Professor Chandra doesn't see his life flash before his eyes but his life's work. He's just narrowly missed the Nobel Prize (again), and even though he knows he should get straight back to his pie charts, his doctor has other ideas.

All this work. All this success. All this stress. It's killing him. He needs to take a break, start enjoying himself. In short, says his doctor, he should follow his bliss. Professor Chandra doesn't know it yet, but he's about to embark on the journey of a lifetime.

Praise for Professor Chandra Follows His Bliss

"Professor Chandra is a wonderful character—stodgy, flawed, contentious, contemptuous—yet vulnerable, insecure, lonely, repentant, and ridiculous enough to win our sympathy. . . . In the end, Balasubramanyam's novel is a sort of Christmas Carol for a new age."—NPR

"Impressively, Balasubramanyam . . . balances satire and self-enlightenment [in] a surprisingly soulful family tale that echoes Jonathan Franzen's The Corrections in its witty exploration of three children trying to free themselves from the influence of their parents."—The Guardian 

"Funny from start to finish . . . Spending time with Professor Chandra feels like you've been in therapy, in a good way."—Irish Times 

"Funny, affecting . . . Chandra is a delightful creation: peevish, intolerant, intellectually exacting, unwittingly eccentric, nerdy, needy yet lovable. The book, like its picaresque hero, is a one-off."—The Sunday Times
Praise For Professor Chandra Follows His Bliss: A Novel…
"Professor Chandra is as acerbic and unbending a curmudgeon as one could wish to find scowling from the pages of a novel. Brilliant, pompous, and baffled by the world outside his Cambridge study, Chandra is forced on a reluctant quest to America to find himself and his family. Professor Chandra Follows His Bliss is searingly funny, uplifting, and wonderful."—Helen Simonson, New York Times bestselling author of Major Pettigrew's Last Stand and The Summer Before the War

"I loved this beautiful, beautiful book. It's tender and compassionate, it's written with exquisite care and verve, and it's so so so funny."—Marian Keyes, internationally bestselling author of Angels and Last Chance Saloon 

"By turns charming and witty, [Professor Chandra Follows His Bliss] is an effortless, uplifting read that has many pertinent observations to make about family relationships."—Daily Mail, "Best New Fiction"

"This brilliant and eloquent novel . . . is a sort of Zen satire in which tolerance and understanding mingle with hilarious criticisms of contemporary mores. . . . A wonderful read."—The Mail on Sunday

"Uplifting literature, or up-lit as it's called by publishers, is dominating the bestseller charts. . . . One of the funniest . . . is Professor Chandra Follows His Bliss by Rajeev Balasubramanyam. . . . Beneath the comedy lie serious concerns. Wellness, capitalism, mollycoddled minds intolerant of political difference: Balasubramanyam's issues are current."—The Sunday Times

"Balasubramanyam sets Chandra on a journey through his hardest feelings, working through the anger and emotional ineptitude that too often conceal his infinite love for his family. At first, Chandra's children take even his self-blame for selfishness, but subtle changes in his introspection make for a big outward shift. With humor and emotional agility, Balasubramanyam writes a feel-good story that leaves room for feeling bad."—Booklist

"[A] joyful, heartwarming novel . . . Balasubramanyam invests it with compassion, humor, and kindness. . . . Recommended for anyone looking for a satisfying, uplifting read."—Library Journal 

"Recovering fuddy-duddy Chandra is a droll creation, and his journey of self-realization feels like the real thing."—Kirkus Reviews  

"Rajeev Balasubramanyam wields considerable humor, the perfect antidote to our polarized and exhausting present, while crafting a tender and thoughtful tale. This is an absolute gem of a book."—Shelf Awareness

"Heartrending, hilarious, and deeply wise, this novel about the clueless Professor Chandra—emotional blockhead, Cambridge don, and Nobel-wannabe—left me in tears when I wasn't laughing. His crash course in self-realization at seventy reveals how little he actually knows about himself and the crazy family he loves, and that it's never too late to grow up or follow your bliss wherever it takes you. I could not put this novel down."—Mark Matousek, author of Sex Death Enlightenment and When You're Falling, Dive
The Dial Press, 9780525511380, 368pp.
Publication Date: March 26, 2019
About the Author
Rajeev Balasubramanyam was born in Lancashire and studied at Oxford, Cambridge, and Lancaster universities. He is the prize-winning author of In Beautiful Disguises. He has lived in London, Manchester, Suffolk, Kathmandu, and Hong Kong, where he was a Research Scholar in the Society of Scholars at Hong Kong University. He was a fellow of the Hemera Foundation, for writers with a meditation practice, and has been writer-in-residence at Crestone Zen Mountain Center and the Zen Center of New York City. His journalism and short fiction have appeared in The Washington Post, The Economist, New Statesman, London Review of Books, The Paris Review, McSweeney's, and many others. He currently lives and works in Berlin.
or
Not Currently Available for Direct Purchase