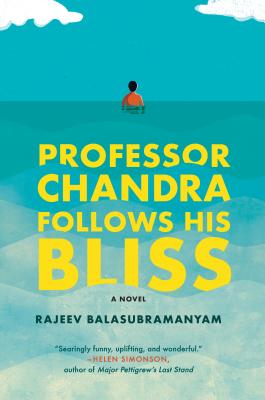 Professor Chandra Follows His Bliss (Hardcover)
A Novel
The Dial Press, 9780525511380, 368pp.
Publication Date: March 26, 2019
* Individual store prices may vary.
Description
Follow the completely infuriating, utterly charming Professor Chandra as he tries to answer the biggest question of all: What makes us happy?

"Professor Chandra is as acerbic and unbending a curmudgeon as one could wish to find scowling from the pages of a novel. Brilliant, pompous, and baffled by the world outside his Cambridge study, Chandra is forced on a reluctant quest to America to find himself and his family. Professor Chandra Follows His Bliss is searingly funny, uplifting, and wonderful."—Helen Simonson, New York Times bestselling author of Major Pettigrew's Last Stand and The Summer Before the War

Professor Chandra is an internationally renowned economist, divorced father of three (quite frankly baffling) children, recent victim of a bicycle hit-and-run—but so much more than the sum of his parts.

In the moments after the accident, Professor Chandra doesn't see his life flash before his eyes but his life's work. He's just narrowly missed the Nobel Prize (again), and even though he knows he should get straight back to his pie charts, his doctor has other ideas.

All this work. All this success. All this stress. It's killing him. He needs to take a break, start enjoying himself. In short, says his doctor, he should follow his bliss. Professor Chandra doesn't know it yet, but he's about to embark on the journey of a lifetime.

Advance praise for Professor Chandra Follows His Bliss

"There's a long tradition of trying (and failing) to describe the spiritual search and the ineffable mystery without sounding like a pretentious snob or a sappy Pollyanna. Professor Chandra Follows His Bliss manages to pull it off. The book tackles perennially difficult and deep questions with humor and humanity, beautiful writing, and a page-turning story line. I gave myself over to Professor Chandra's journey as he opens himself to self-examination, family healing, and a more courageous experience of being alive."—Elizabeth Lesser, New York Times bestselling author of Broken Open and co-founder, Omega Institute

"I loved this beautiful, beautiful book. It's tender and compassionate, it's written with exquisite care and verve, and it's so so so funny."—Marian Keyes, internationally bestselling author of Angels and Last Chance Saloon 

"A smart, funny, generous story about an eminent Indian economist who comes of age, finally, at seventy... comic and heartfelt, bracing and moving."—Susan Rieger, author of The Heirs
About the Author
Rajeev Balasubramanyam was born in Lancashire, England, and went on to study politics, philosophy, and economics at Oxford and development studies at Cambridge. He is the author of the novel In Beautiful Disguises. His work has been awarded the Betty Trask Prize and the Clarissa Luard Award, and has been longlisted for the Guardian Fiction Prize and shortlisted for the BBC Asia Award. His writing has appeared in Vice, The Washington Post, The Economist, London Review of Books, McSweeney's, The Paris Review, and other publications. He also writes a blog on spirituality and race called American Pilgrimage. He is currently a Fellow of the Hemera Foundation and has been writer-in-residence at the Crestone Zen Mountain Center and the Zen Center of New York City. He lives and works in Berlin.
Praise For Professor Chandra Follows His Bliss: A Novel…
"Professor Chandra is as acerbic and unbending a curmudgeon as one could wish to find scowling from the pages of a novel. Brilliant, pompous, and baffled by the world outside his Cambridge study, Chandra is forced on a reluctant quest to America to find himself and his family. Professor Chandra Follows His Blissis searingly funny, uplifting, and wonderful."—Helen Simonson, New York Times bestselling author of Major Pettigrew's Last Stand and The Summer Before the War

"There's a long tradition of trying (and failing) to describe the spiritual search and the ineffable mystery without sounding like a pretentious snob or a sappy Pollyanna. Professor Chandra Follows His Bliss manages to pull it off. The book tackles perennially difficult and deep questions with humor and humanity, beautiful writing, and a page-turning story line. I gave myself over to Professor Chandra's journey as he opens himself to self-examination, family healing, and a more courageous experience of being alive."—Elizabeth Lesser, New York Times bestselling author of Broken Open and co-founder, Omega Institute

"I loved this beautiful, beautiful book. It's tender and compassionate, it's written with exquisite care and verve, and it's so so so funny."—Marian Keyes, internationally bestselling author of Angels and Last Chance Saloon 

"A smart, funny, generous story about an eminent Indian economist who comes of age, finally, at seventy... comic and heartfelt, bracing and moving."—Susan Rieger, author of The Heirs