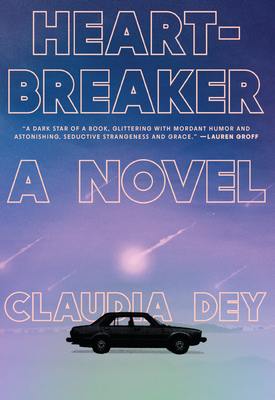 Heartbreaker (Hardcover)
A Novel
Random House, 9780525511731, 272pp.
Publication Date: August 21, 2018
* Individual store prices may vary.
Description
The love between a daughter and her mother—and the dark secrets they keep from each other—are at the heart of this wildly imaginative novel that combines elements of The Handmaid's Tale, Stranger Things, and Twin Peaks.

An isolated town.
The remains of a mysterious cult.
And a woman who disappears. 

It's 1985. Pony Darlene Fontaine has lived all her fifteen years in "the territory," a settlement founded decades ago by a charismatic cult leader. In this strange town run on a sinister economic resource, the women crimp their hair and wear shoulder pads, and the teenagers listen to Nazareth and Whitesnake on their Walkmans. Pony's family lives in the bungalow at the farthest edge of town, where the territory borders the rest of the wider world—a place none of the townspeople have ever been.

Except for Billie Jean Fontaine, Pony's mother. When Billie Jean arrived in the territory seventeen years prior—falling from the open door of a stolen car—the residents took her in and made her one of their own. She was the first outsider they had ever laid eyes on. Pony adores and idolizes her mother, but like everyone else in the territory she is mystified by her. Billie Jean refuses to describe the world she came from.

One night, Billie Jean grabs her truck keys, bolts barefoot into the cold October darkness—and vanishes. Beautiful, beloved, and secretive, Billie Jean was the first person to be welcomed into the territory. Now, with a frantic search under way for her missing mother, Pony fears: Will she be the first person to leave it too?

Told from the three unforgettable perspectives of a daughter, a killer dog, and a teenage boy named Supernatural, this novel is startling in its humor and wrenching in its wisdom about the powers, limits, and dangers of love. Heartbreaker is an electrifying page-turner about a woman reinventing herself in order to survive—and a daughter who must race against the clock to untangle the mysteries left in her mother's wake.

Praise for Heartbreaker

"A fierce exploration of memory and zeitgeist . . . Heartbreaker is a darkly comedic weirdo of a book that pulls the string of nostalgia from one side while unraveling it from the other."—The Paris Review
 
"This is a book like no other. It's eerie, it's cult-y, it's so very exciting, and I never wanted it to end."—Buzzfeed, Best Books of Fall 2018
 
"Claudia Dey renders 1985 in perfectly crimped, shoulder-padded detail. . . . Come for the Shyamalanian premise. Stay for the hard-rock soundtrack."—Chicago Tribune
About the Author
Claudia Dey is the author of Stunt, a Globe and Mail and Quill & Quire Book of the Year. Her plays have been produced internationally and nominated for the Governor General's Award and Trillium Book Award. Dey's writing has appeared in many publications, including The Paris Review and The Believer. She has also worked as a horror film actress and a cook in lumber camps across northern Canada, and is co-designer of Horses Atelier. Claudia Dey lives in Toronto. Heartbreaker is her American debut.
Praise For Heartbreaker: A Novel…
"A fierce exploration of memory and zeitgeist . . . Heartbreaker is a darkly comedic weirdo of a book that pulls the string of nostalgia from one side while unraveling it from the other."—The Paris Review

"This is a book like no other. It's eerie, it's cult-y, it's so very exciting, and I never wanted it to end."—Buzzfeed, Best Books of Fall 2018

"Claudia Dey renders 1985 in perfectly crimped, shoulder-padded detail. Fifteen-year-old Pony Darlene Fontaine has lived her entire life in the 'territory,' an isolated town founded decades earlier by an enigmatic cult leader and run on a sinister economic resource. . . . Come for the Shyamalanian premise. Stay for the hard-rock soundtrack."—Chicago Tribune

"Told from the perspectives of Pony, a dog, and a teenage boy, this book shows the magic of Dey's imagination."—The Millions

"It's not the plot, the characters, or even the premise that makes this novel so extraordinary—it's the voice, which is so utterly unusual and authentic as to seem like it's really coming from a world of total isolation. . . . Dey strips away the trappings of modernity to show what humans truly are at base, while eschewing the usual cult narrative. The result is a whole-cloth, word-for-word triumph of imagination."—Publishers Weekly (starred review)

"What begins as a simple mystery—a daughter attempting to investigate the sudden disappearance of her mother—turns into a much stranger and more engrossing tale. . . . Dey deepens this dark fantasy through the imaginatively detailed, keen observations of teen narrator Pony Darlene Fontaine, who muses about her place amid this blank landscape while anchoring the proceedings with sly pop-culture references. Dey's rich prose drives the story with poetic acuteness."—LA Weekly

"A dark star of a book, glittering with mordant humor and astonishing, seductive strangeness and grace. I am a giant fan of Claudia Dey's wild brain."—Lauren Groff, author of Fates and Furies

"Heartbreaker gave me chills all the way through. It is deeply original—in its wildness, its structure, its wisdom, and its world. It convinced me that the deepest of human (and animal) urges is the pull to find one's true home—which lies in the hearts of just a few others. I floated in the perfection of its ending. I loved this novel's shining sensitivity. I loved its every page."—Sheila Heti, author of Motherhood and How Should a Person Be?

"Devoted as I am to the oddities of remote northern lands, I could not put this book down. By turns hilarious and harrowing, Heartbreaker's icy exactitude is direct, disturbed, and entirely splendid."—Samantha Hunt, author of The Dark Dark