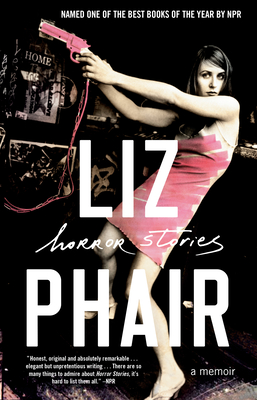 Horror Stories
A Memoir
Paperback

* Individual store prices may vary.
Other Editions of This Title:
Hardcover (10/8/2019)
Description
The two-time Grammy-nominated singer-songwriter behind the groundbreaking album Exile in Guyville traces her life and career in a genre-bending memoir in stories about the pivotal moments that haunt her.

"Honest, original and absolutely remarkable."—NPR (Best Books of the Year)

When Liz Phair shook things up with her musical debut, Exile in Guyville—making her as much a cultural figure as a feminist pioneer and rock star—her raw candor, uncompromising authenticity, and deft storytelling inspired a legion of critics, songwriters, musicians, and fans alike. Now, like a Gen X Patti Smith, Liz Phair reflects on the path she has taken in these piercing essays that reveal the indelible memories that have stayed with her.
 
For Phair, horror is in the eye of the beholder—in the often unrecognized universal experiences of daily pain, guilt, and fear that make up our humanity. Illuminating despair with hope and consolation, tempering it all with her signature wit, Horror Stories is immersive, taking readers inside the most intimate junctures of Phair's life, from facing her own bad behavior and the repercussions of betraying her fundamental values, to watching her beloved grandmother inevitably fade, to undergoing the beauty of childbirth while being hit up for an autograph by the anesthesiologist.
 
Horror Stories is a literary accomplishment that reads like the confessions of a friend. It gathers up all of our isolated shames and draws them out into the light, uniting us in our shared imperfection, our uncertainty and our cowardice, smashing the stigma of not being in control. But most importantly, the uncompromising precision and candor of Horror Stories transforms these deeply personal experiences into tales about each and every one of us.
Praise For Horror Stories: A Memoir…
"Honest, original and absolutely remarkable . . . elegant but unpretentious writing . . . There are so many things to admire about Horror Stories, it's hard to list them all. It's a memoir with an original and fascinating structure. [Phair] mostly avoids writing about her own songs, and while this may seem to be an odd choice, it's actually quite refreshing—her music, she seems to indicate, can speak for itself."—NPR

"[A] uniquely thoughtful, self-aware memoir . . . bracing and refreshing . . . Horror Stories is more an archipelago of intense episodes of unknowing with the implicit understanding that life is a wayward, unresolvable business. . . . [A] rigorously open exploration of negative capability."—The New York Times

"Like a batch of interrelated Phair songs, each chapter a separate and specific story, all together accumulating into an intimate self-portrait . . . with equal parts elegance, humor, and authenticity."—The Boston Globe

"Liz Phair's songwriting has always had the rare quality of being short-story-like. Damn good short stories, too. Horror Stories has that unique Liz Phair ability to make you look at something you'd rather not, but once you do you're glad you did—like any form of honest art. This is why Liz Phair still is, and always will be, a threat."—Ben Folds
 
"Horror Stories cracks open the idea of fear itself to see what's inside. Liz Phair's stories are heartbreaking and inspiring, galvanizing and contemplative. This memoir is as much about the poignant luminosity of the subjects upon which Phair fixes her gaze as it is about the darkness she shows us. Witnessing her examine the moments that have stayed with her over the years is captivating: a literary triumph by a musical icon."—Lily Brooks-Dalton, author of Good Morning, Midnight
 
"Horror Stories is a collection of turning points, plucked free of ongoing time and their original settings. Gathered, they sparkle eerily, expanding to occupy an entire remembered year—maybe even an entire remembered self."—Sarah Manguso, author of Ongoingness: The End of a Diary
 
"Liz Phair's Horror Stories is a deeply personal narrative about a groundbreaking musician's intense love affair with life, with all its turbulent highs and lows. It is also about those things that have sustained Phair since childhood: the wonder and healing power of nature, music, and family. A compelling blend of riveting prose and soaring lyricism, Horror Stories is as enthralling and as addictive as Phair's music."—Mira Bartók, New York Times bestselling author of The Memory Palace, winner of the National Book Critics Circle Award

"A debut memoir as candid as her music . . . This powerful debut will delight Phair's many fans."—Publishers Weekly (starred review)
Random House Trade Paperbacks, 9780525512004, 288pp.
Publication Date: March 9, 2021
About the Author
Liz Phair is a Grammy-nominated singer-songwriter whose debut album, Exile in Guyville, has been hailed as a landmark of indie rock. She began her career in the early 1990s in Chicago by self-releasing audiocassettes under the name Girly-Sound. The intense response to these early tracks led to Phair's signing with the independent record label Matador Records. She has been a recording artist and touring performer for over twenty-five years, paving the way for countless music artists, particularly women, who cite her among their major influences. Phair is also a visual artist who majored in studio art and art history at Oberlin College. Her writing has appeared in The New York Times and The Atlantic. Horror Stories is her first book.