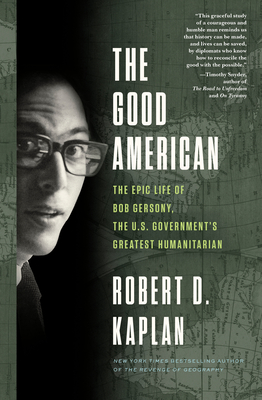 The Good American (Hardcover)
Random House, 9780525512301, 528pp.
Publication Date: September 1, 2020
* Individual store prices may vary.
Description
The sweeping yet intimate story of the most influential humanitarian you've never heard of--Bob Gersony, who's spent four decades in crisis zones around the world--from the New York Times bestselling author of The Revenge of Geography.

The Good American is a story about courage, intense loneliness, and the State Department's golden age during the late Cold War and post-Cold War. It is also a celebration of ground level reporting and getting a worm's eye view of crisis zones. Robert Gersony, a high-school dropout later awarded a bronze star in Vietnam, spent over four decades on the ground in virtually every war and natural disaster zone in the world. Interviewing hundreds of refugees and displaced persons in each place to assess humanitarian crises, Gersony's research and thorough reports had an immense, underappreciated impact on US foreign policy across the globe. In every case, his recommendations made it smarter and more humane, often dramatically so.

In his career as a journalist, Robert D. Kaplan often crossed paths with Gersony while covering the "hot" moments of the Cold War and its aftermath. Even as a biography, this is Kaplan's most personal book to date, and through Gersony's story, he makes a poignant case for how American diplomacy should be conducted--with a clear eye toward facts on the ground--at a time when diplomacy is too often being left behind.
About the Author
Robert D. Kaplan is the bestselling author of nineteen books on foreign affairs and travel translated into many languages, including The Return of Marco Polo's World, In Europe's Shadow, Asia's Cauldron, The Revenge of Geography, Monsoon, The Coming Anarchy, and Balkan Ghosts. He is a managing director at Eurasia Group, the world's premierpolitical risk consultancy. He reported on foreign affairs for The Atlantic for thirty years. He held the national security chair at the United States Naval Academy and was a member of the Pentagon's Defense Policy Board and the U.S. Navy's Executive Panel. Foreign Policy magazine twice named him one of the world's "Top 100 Global Thinkers."
Praise For The Good American…
"This graceful study of a courageous and humble man reminds us that history can be made, and lives can be saved, by diplomats who know how to reconcile the good with the possible."—Timothy Snyder, author of The Road to Unfreedom
 
"For anyone who has stopped believing that one person can make a difference, or that government service is still a noble calling, or that facts still matter, or that the American brand can still hold fast to practical idealism, this book is the antidote to those fears."—Jim Mattis, general, U.S. Marines (ret.), and twenty-sixth secretary of defense, author of Call Sign Chaos
 
"In an era in which public service is often belittled and the State Department is being hollowed out, Bob Kaplan offers a powerful rejoinder. His evocative portrayal of a deeply committed humanitarian professional, Robert Gersony, reminds us that American diplomacy can be both smart and humane. The story of Gersony and his generation of practitioners is a timely argument for why humanitarian issues deserve renewed emphasis—and why it's so important to revive America's foreign policy institutions and invest in the dedicated people who animate them."—Ambassador William J. Burns, president, Carnegie Endowment for International Peace, and former U.S. deputy secretary of state, author of The Back Channel
 
"Robert Kaplan, one of America's greatest travel writers and geographers, provides the perfect antidote to present-day malaise in The Good American, the thrilling and dramatic story of aid worker extraordinaire Bob Gersony. Gersony spent his life working all over the world on behalf of the American people, few of whom had ever heard his name. Kaplan brings this quiet and unknown hero to life. In so doing he reminds us of what America at its best can achieve. This book is unputdownable."—Max Boot, author of The Road Not Taken: Edward Lansdale and the American Tragedy in Vietnam