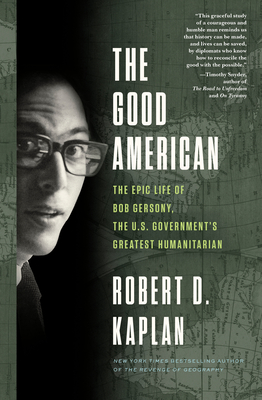 The Good American
The Epic Life of Bob Gersony, the U.S. Government's Greatest Humanitarian
Hardcover

* Individual store prices may vary.
Other Editions of This Title:
Digital Audiobook (1/25/2021)
Paperback (2/15/2022)
Description
From the New York Times bestselling author of The Revenge of Geography comes a sweeping yet intimate story of the most influential humanitarian you've never heard of—Bob Gersony, who spent four decades in crisis zones around the world.

"One of the best accounts examining American humanitarian pursuits over the past fifty years . . . With still greater challenges on the horizon, we will need to find and empower more people like Bob Gersony—both idealistic and pragmatic—who can help make the world a more secure place."—The Washington Post

In his long career as an acclaimed journalist covering the "hot" moments of the Cold War and its aftermath, bestselling author Robert D. Kaplan often found himself crossing paths with Bob Gersony, a consultant for the U.S. State Department whose quiet dedication and consequential work made a deep impression on Kaplan.

Gersony, a high school dropout later awarded a Bronze Star for his service in Vietnam, conducted on-the-ground research for the U.S. government in virtually every war and natural-disaster zone in the world. In Thailand, Central and South America, Sudan, Chad, Mozambique, Rwanda, Gaza, Bosnia, North Korea, Iraq, and beyond, Gersony never flinched from entering dangerous areas that diplomats could not reach, sometimes risking his own life. Gersony's behind-the scenes fact-finding, which included interviews with hundreds of refugees and displaced persons from each war zone and natural-disaster area, often challenged the assumptions and received wisdom of the powers that be, on both the left and the right. In nearly every case, his advice and recommendations made American policy at once smarter and more humane—often dramatically so.

In Gersony, Kaplan saw a powerful example of how American diplomacy should be conducted. In a work that exhibits Kaplan's signature talent for combining travel and geography with sharp political analysis, The Good American tells Gersony's powerful life story. Set during the State Department's golden age, this is a story about the loneliness, sweat, and tears and the genuine courage that characterized Gersony's work in far-flung places. It is also a celebration of ground-level reporting: a page-turning demonstration, by one of our finest geopolitical thinkers, of how getting an up-close, worm's-eye view of crises and applying sound reason can elicit world-changing results.
Praise For The Good American: The Epic Life of Bob Gersony, the U.S. Government's Greatest Humanitarian…
"One of the best accounts examining American humanitarian pursuits over the past fifty years . . . With still greater challenges on the horizon, we will need to find and empower more people like Bob Gersony—both idealistic and pragmatic—who can help make the world a more secure place."—Daniel Runde, The Washington Post

"[Gersony's] story is inspiring because it affirms the possibility that facts, objectively researched and dispassionately presented, can change policy for the better. . . . Having seen firsthand how Mr. Gersony improved policy and saved lives, I am grateful that this book will make his example better known. May it become an inspiration for others."—Paul Wolfowitz, The Wall Street Journal
 
"A book to remind us that America has been, and can be again, a force for good in the world . . . Time after time, [Gersony] shows how doing good—curbing human rights abuses, aiding refugees, providing relief supplies—turned out to be in America's interest."—Max Boot, The Washington Post
 
"Reading Kaplan's account of smart, quiet, unsung heroism, readers will come away hopeful. If Bob Gersony can spend a life going out and really listening to other people, so can we."—The Christian Science Monitor

"For anyone who has stopped believing that one person can make a difference, or that government service is still a noble calling, or that facts still matter, or that the American brand can still hold fast to practical idealism, this book is the antidote to those fears."—Jim Mattis, general, U.S. Marines (ret.), and twenty-sixth secretary of defense, author of Call Sign Chaos

"This graceful study of a courageous and humble man reminds us that history can be made, and lives can be saved, by diplomats who know how to reconcile the good with the possible."—Timothy Snyder, author of The Road to Unfreedom and On Tyranny

"In an era in which public service is often belittled and the State Department is being hollowed out, Robert D. Kaplan offers a powerful rejoinder. It is a timely argument for why humanitarian issues deserve renewed emphasis."—Ambassador William J. Burns, president, Carnegie Endowment for International Peace and former deputy secretary of state, author of The Back Channel

"This excellent and absorbing biography reads like an adventure novel. It offers hope that one person has made—and can make—a difference. It also demonstrates why such people are exceedingly rare."—Karl Marlantes, author of Matterhorn

"Robert D. Kaplan has done it again. He has written another superb book, filled with massive reportage—this time about a really good and effective man. No one else could understand the heroic nature of Bob Gersony's work and write about it so enthrallingly."—William Shawcross, author of The Quality of Mercy: Cambodia, Holocaust and Modern Conscience

"In The Good American, Robert D. Kaplan chronicles the life of Bob Gersony, whose work is the stuff of legends. Kaplan's piercing analysis of a life devoted to truth and the common good reminds us that America must rebuild the State Department."—Nicholas Burns, Harvard professor and former undersecretary of state for political affairs

"Reads like an action thriller."—Kirkus Reviews
Random House, 9780525512301, 544pp.
Publication Date: January 26, 2021
About the Author
Robert D. Kaplan is the bestselling author of nineteen books on foreign affairs and travel translated into many languages, including The Good American, The Revenge of Geography Asia's Cauldron, Monsoon, The Coming Anarchy, and Balkan Ghosts. He holds the Robert Strausz-Hupe Chair in Geopolitics at the Foreign Policy Research Institute. For three decades he reported on foreign affairs for The Atlantic. He was a member of the Pentagon's Defense Policy Board and the Chief of Naval Operations Executive Panel. Foreign Policy magazine twice named him one of the world's Top 100 Global Thinkers.