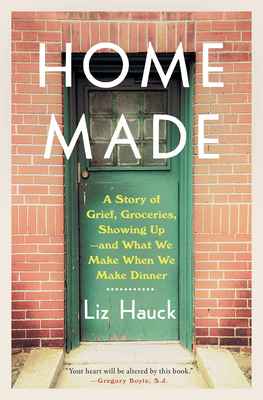 Home Made
A Story of Grief, Groceries, Showing Up--and What We Make When We Make Dinner
Hardcover

* Individual store prices may vary.
Other Editions of This Title:
Digital Audiobook (6/7/2021)
Description
NEW YORK TIMES EDITORS' CHOICE • An "extraordinary" (The New York Times Book Review) tender and vivid memoir about the radical grace we discover when we consider ourselves bound together in community, and a moving account of one woman's attempt to answer the essential question Who are we to one another?

"Your heart will be altered by this book."—Gregory Boyle, S.J., New York Times bestselling author of Tattoos on the Heart
 
Liz Hauck and her dad had a plan to start a weekly cooking program in a residential home for teenage boys in state care, which was run by the human services agency he co-directed. When her father died before they had a chance to get the project started, Liz decided she would try it without him. She didn't know what to expect from volunteering with court-involved youth, but as a high school teacher she knew that teenagers are drawn to food-related activities, and as a daughter, she believed that if she and the kids made even a single dinner together she could check one box off her father's long, unfinished to-do list. This is the story of what happened around the table, and how one dinner became one hundred dinners.

"The kids picked the menus, I bought the groceries," Liz writes, "and we cooked and ate dinner together for two hours a week for nearly three years. Sometimes improvisation in kitchens is disastrous. But sometimes, a combination of elements produces something spectacularly unexpected. I think that's why, when we don't know what else to do, we feed our neighbors."
 
Capturing the clumsy choreography of cooking with other people, this is a sharply observed story about the ways we behave when we are hungry and the conversations that happen at the intersections of flavor and memory, vulnerability and strength, grief and connection.

NAMED ONE OF THE BEST BOOKS OF THE YEAR BY SHE READS
Praise For Home Made: A Story of Grief, Groceries, Showing Up--and What We Make When We Make Dinner…
"[Home Made] is flawless. . . . It's a true story about boys who got the short end of the stick through no fault of their own, inequality the most destructive and most indestructible monster of them all."—The Boston Globe

"Because [Liz Hauck] writes with such unvarnished clarity and pragmatism, sudden moments of tenderness burst open on the page. . . . It turns out that showing up to cook and eat with people once a week allows for startlingly deep moments of connection and community. That's all that happens. And it's extraordinary."—Kate Christensen, The New York Times Book Review

"Liz Hauck reveals fascinating, sobering, and urgent truths about boyhood, inequality, and the power and promise of community."—Piper Kerman, New York Times bestselling author of Orange Is the New Black

"I could not wait to get home each night so I could get back to reading Home Made. I cared so much about everybody in it. Hauck's writing embodies what she knows about successful volunteering: Show up on time when you said you would, do what you said you would do, and leave. I loved this book so much. I stayed up way later than I should have to just get one more chapter in before sleeping."—Gabrielle Hamilton, New York Times bestselling author of Blood, Bones & Butter

"At every turn in Home Made, Liz Hauck suggests that we all ought to build a longer table, instead of a higher wall. With grace and tenderness, this memoir utterly affirms that it is the relationship that heals. Food brings us to the table, but cherishing leads us to joy and bravery. This is an important book because it reminds us not to venture to the margins to make a difference, but to allow the folks there to make us different. Your heart will be altered by this book."—Gregory Boyle, S.J., New York Times bestselling author of Tattoos on the Heart and founder of Homeboy Industries

"Wise and empathetic, Liz Hauck describes the process of coming together through cooking and eating. Home Made is a meditation on hunger of all forms, of the limits and meaning of volunteerism, and the ways in which we continue the work of our deceased loved ones. Never cynical and always self-aware, Hauck knows that we may not rescue one another—but we can create a shared space where one is not alone."—Michelle Kuo, author of Reading with Patrick

"An affecting, thoughtful look at the lives of boys in transitional moments and a personal reflection on a father's legacy."—Booklist (starred review)

"A moving memoir about how 'systems fail but food is revolutionary.' Hauck creates indelible portraits. . . . A captivating debut."—Kirkus Reviews (starred review)
The Dial Press, 9780525512431, 400pp.
Publication Date: June 8, 2021
About the Author
Liz Hauck is an educator and writer from Boston, Massachusetts. She has worked in three schools and one hospital, and her community service projects have included teaching literacy in a shelter for people surviving homelessness, digging an outhouse on a mountain in Virginia, and cooking with teenagers who were in state care. She's currently completing her Ph.D. in educational policy studies and history at the University of Wisconsin-Madison, and she holds a B.A. and M.Ed. from Boston College. Home Made is her first book.