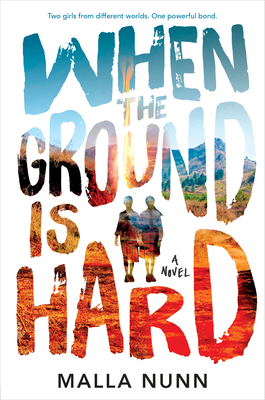 When the Ground Is Hard
Hardcover

* Individual store prices may vary.
Other Editions of This Title:
Digital Audiobook (6/3/2019)
Paperback (6/1/2021)
Description
Edgar Award nominee stuns in this heartrending tale set in a Swaziland boarding school where two girls of different castes bond over a shared copy of Jane Eyre.

Adele Joubert loves being one of the popular girls at Keziah Christian Academy. She knows the upcoming semester at school is going to be great with her best friend Delia at her side. Then Delia dumps her for a new girl with more money, and Adele is forced to share a room with Lottie, the school pariah, who doesn't pray and defies teachers' orders.

But as they share a copy of Jane Eyre, Lottie's gruff exterior and honesty grow on Adele, and Lottie learns to be a little sweeter. Together, they take on bullies and protect each other from the vindictive and prejudiced teachers. Then a boy goes missing on campus and Adele and Lottie must rely on each other to solve the mystery and maybe learn the true meaning of friendship.
Praise For When the Ground Is Hard…
Praise for When the Ground Is Hard:
Winner of the L.A. Times Book Festival Prize for Young Adult Literature - 2019
A Kirkus Reviews Best Young Adult Book of the Year – 2019
Josette Frank Award Winner - 2020
A YALSA Best Fiction Pick - 2020
A Westchester Fiction Award Winner – 2020

★ "Excellent writing and an evocative setting make this novel a standout." —Booklist, starred review

★ "Turpin reads with a musical African accent. She makes fine distinctions among the characters' voices and embodies Adele's swiftly shifting emotions. American missionaries have clipped accents, and male characters sound credible. The richly evoked setting may be strange to American readers, and the vivid racism may be shocking, but teens will be drawn into the girls' growing friendship and search for self." —Booklist, starred review on audiobook

"Accidents, lies, thefts…secrets…dead bodies, and illicit rendezvous make for riveting reading in this taut novel." —School Library Journal

"When the Ground Is Hard heralds a truly unique literary voice. In prose poetic and fierce, Malla Nunn gives us profound insight into the racial and class pecking order in 1960s Swaziland and the violence that shapes women's and girls' lives—and their futures. Taut, ambitious—a stunning debut." —Marina Budhos, author of the award-winning Watched and the forthcoming The Long Ride

"The gorgeous imagery sets the scene wonderfully … an engrossing narrative that gently but directly explores complex relationships." —Kirkus Reviews

"Racial prejudice has never been exclusive to the United States, and this title provides American readers with a sensitive exploration of how it affected a very different place." —School Library Connection

"Absorbing . . . A cautionary tale as well as a coming-of-age one . . . When the Ground Is Hard may be historical fiction, but its themes are as modern as ever." —Book & Film Globe

"Swaziland-born Nunn writes with keen perception of an intricate caste system and the layers within it . . . Readers will find plenty to discuss here as they explore the parallels in our own culture." —The Bulletin of the Center for Children's Books

Praise for Malla Nunn's Detective Emmanuel Cooper Series:

★ "Superlative." —Publishers Weekly, starred review

★ "Gripping and thoughtful . . . Nunn brilliantly combines character and fair play clues." —Publishers Weekly, starred review

★ "Stellar" —Publishers Weekly, starred review

★ "With this gripping sequel...Nunn deftly balances suspense and deduction." —Publishers Weekly, starred review

"Consistently engaging." —Booklist

"Unforgettable." —The Sydney Morning Herald

"Historical hindsight may make readers a bit more self-congratulatory about recognizing the evils of apartheid, but it won't help them see around the curves Nunn has plotted or rise above her insight into the enduring dilemmas of her separate-and-unequal world."—Kirkus Reviews

"A disturbing book with a morally compelling hero."—Booklist

"An engrossing and compelling read . . . saturated with the feel of 1950s South Africa." —Mike Nicol, author of the Revenge trilogy

"The suspense is irresistible, and the mystery sustains itself well. This is a wonderfully effective addition to Nunn's already masterful series of novels. A highly recommended novel." —Historical Novel Society

"This well-plottedbook is like a jigsaw puzzle whose pieces fit together with a terribleprecision, and yet can be read with hope that the good guys will prevail. (Itis a series, after all.) Recommended for anyone who loves a good mystery with acomplicated, tough protagonist worth falling for." —Historical Novel Society

"Malla Nunn's books have it all: fast-paced, intricate storylines; an exotic setting in a dangerousera; a deeply flawed hero; and an Oscar-worthy cast of supporting characters." —Bookpage

"We're fortunate indeed that writers like Malla Nunn are here, working on books like PRESENT DARKNESS. This is crime fiction that goes into an area of human behaviour and a history that needs to be held up to the light, remembered, examined and understood." —Reviewing the Evidence
G.P. Putnam's Sons Books for Young Readers, 9780525515579, 272pp.
Publication Date: June 4, 2019
About the Author
After her family migrated to Australia to escape apartheid, Malla Nunn graduated with a double degree in English and History and then earned a master of arts in Theater Studies from Villanova University. Faced with a life of chronic under-employment, she dabbled in acting and screenwriting. She wrote and directed three award-winning films including Servant of the Ancestors, which won best documentary awards at film festivals in Chicago, Los Angeles, and Zanzibar and was shown on national television in Australia. She has published several adult books and has received two Edgar Award nominations. She married in a traditional Swazi ceremony. Her bride price was eighteen cows. She now lives and works in Sydney, Australia.