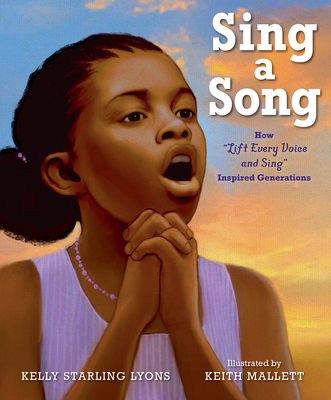 Sing a Song
How Lift Every Voice and Sing Inspired Generations
Hardcover

* Individual store prices may vary.
Other Editions of This Title:
Paperback (9/6/2022)
Description
"Lyons delivers the history of a song that has inspired generations of African-Americans to persist and resist in the face of racism and systemic oppression. . . . A heartfelt history of a historic anthem."--Publishers Weekly

Sing a song full of the faith that the dark past has taught us.
Sing a song full of the hope that the present has brought us.

In Jacksonville, Florida, two brothers, one of them the principal of a segregated, all-black school, wrote the song "Lift Every Voice and Sing" so his students could sing it for a tribute to Abraham Lincoln's birthday in 1900. From that moment on, the song has provided inspiration and solace for generations of Black families. Mothers and fathers passed it on to their children who sang it to their children and grandchildren. Known as the Black National Anthem, it has been sung during major moments of the Civil Rights Movement and at family gatherings and college graduations.

Inspired by this song's enduring significance, Kelly Starling Lyons and Keith Mallett tell a story about the generations of families who gained hope and strength from the song's inspiring words.

--A CCBC Choice
--A Notable Social Studies Trade Book for Young People
--An ALSC Notable Children's Book
Praise For Sing a Song: How Lift Every Voice and Sing Inspired Generations…
* "Tracing the history of Black Americans since 1900 through five generations of one family, this creative book also connects events and cultural shifts with particular lines in the song, underscoring their relevance during certain times. . . . With clarity and warmth, the illustrations sensitively capture the changing characters, emotions, and eras as time passes. . . . Well-structured, original story. . . . Dovetailing nicely with the books that introduce the song itself, this moving picture book celebrates it as a 'symbol of faith, brilliance, resistance, and resilience.'"—Booklist, starred review

"Lyons delivers the history of a song that has inspired generations of African-Americans to persist and resist in the face of racism and systemic oppression. . . . Vibrant, realistic illustrations and painstaking facial detail. . . . Bold colors lend emotion to scenes of hope and adversity. . . . All the while, each generation passes the lyrics along, and a final page urges readers to 'keep singing . . . keep on keeping on.' A heartfelt history of a historic anthem."—Publishers Weekly

"Lyons writes with rhythmic warmth, weaving the lyrics into her story. . . . Mallett's artwork charmingly illumines the faces of the singers in the book, revealing their passion and often joy in singing what's become cherished as the African American national anthem. . . . A beautiful celebration of a song that continues to give life to African Americans."—Kirkus Reviews

"There are plenty of picture-book editions illustrating James Weldon Johnson's text of 'Lift Every Voice and Sing,' but the song's historical impact is often relegated to an afterword. Lyons makes that impact the focus of this narrative. . . . Lyons deftly weaves the song into the family's everyday life while also using that quotidian existence to emblematize historical experiences. . . . Her storytelling cadence makes rewarding use of repetition, emphasizing the generational replication and adding a lyrical lilt to the prose. . . . This may open youngsters' eyes to the personal side of history and prompt some sharing by the adults in their lives."—The Bulletin of the Center for Children's Books

"Lyons's obvious passion for the song she first heard in church as a little girl is mirrored in Keith Mallett's 'freehand'-drawn and digitally painted illustrations. A distinctive use of light suggests hope and a bright future, while the interactions between his realistically rendered subjects emphasize a strong and supportive community of people. Mallett's art beautifully complements Lyons's sincere, musical text, producing a reverent tribute to this 'symbol of faith, brilliance, resistance, and resilience.'"—Shelf Awareness

"A spirited, stunningly illustrated picture book that expresses the historical significance of James Weldon Johnson and John Rosamond Johnson's hymn. . . . An extended author's note discusses how the song represents Lyon's family heritage and her desire that this hymn remain a message of hope for future generations. Mallett's digitally enhanced drawings weave through generations of historical events with vibrant color and bright light, beautifully depicting the faces of those moved by this song. . . . Lovely illustrations and a fresh look at the historical significance of the hymn add a new dimension that will inspire as well as inform young readers."—School Library Journal

"Through Lyons's emotion-filled text and Mallett's rich illustrations, highlighted with bright purples and warm blacks, browns, and golds, readers derive a sense of the collective historical and cultural significance of the anthem, as well as the deeply personal connections that it carries."—The Horn Book
Nancy Paulsen Books, 9780525516095, 32pp.
Publication Date: August 6, 2019
About the Author
Kelly Starling Lyons (kellystarlinglyons.com) is the author of the picture books Hope's Gift, Tea Cakes for Tosh, and Ellen's Broom, as well as the Jada Jones chapter book series. Her articles and essays have appeared in many publications, including Ebony magazine, the News & Observer, the Christian Science Monitor, and books in the Chicken Soup for the Soul series. She lives in North Carolina.

Keith Mallett (keithmallett.com) also illustrated Take a Picture of Me, James VanDerZee and How Jelly Roll Morton Invented Jazz. He studied art at Hunter College in New York City, and was the in-house artist for Frontline Art Publishers for fifteen years. His work was commissioned to celebrate the 50th anniversary of Jackie Robinson's historic breakthrough into major league baseball, has graced the cover of Chicken Soup for the African American Soul, and has been featured in many movies and TV shows. Both Franklin Mint and Lenox Collections have created collectibles of his work. He lives in La Mesa, California.