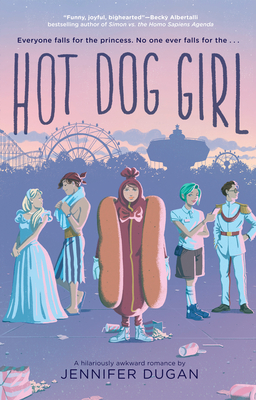 Hot Dog Girl (Hardcover)
G.P. Putnam's Sons Books for Young Readers, 9780525516255, 320pp.
Publication Date: April 30, 2019
Other Editions of This Title:
Digital Audiobook (4/29/2019)
Paperback (3/24/2020)
* Individual store prices may vary.
Description
A fresh and funny contemporary YA rom-com about teens working as costumed characters in a local amusement part.

"I'm wrecked with love for this funny, joyful, bighearted book." --Becky Albertalli, bestselling author of Simon vs. the Homo Sapiens Agenda

Elouise (Lou) Parker is determined to have the absolute best, most impossibly epic summer of her life. There are just a few things standing in her way:

• She's landed a job at Magic Castle Playland . . . as a giant dancing hot dog.
• Her crush, the dreamy diving pirate Nick, already has a girlfriend, who is literally the princess of the park. But Lou's never liked anyone, guy or otherwise, this much before, and now she wants a chance at her own happily ever after.
• Her best friend, Seeley, the carousel operator, has always been up for anything, but she's decidedly not on board when it comes to Lou's quest to set her up with the perfect girl or Lou's scheme to get close to Nick.
• And it turns out that this will be their last summer at Magic Castle Playland--ever--unless she can find a way to stop it from closing.

Jennifer Dugan's sparkling debut coming-of-age queer romance stars a princess, a pirate, a hot dog, and a carousel operator who find love--and themselves--in unexpected people and unforgettable places.

"Both classic and new, hysterical and heartfelt, and packed with all the awesomeness and awkwardness of first love, first job, and the painful thrill of growing up." --Mackenzi Lee, bestselling author of The Gentleman's Guide to Vice and Virtue
About the Author
Jennifer Dugan is a writer, a geek, and a romantic. In addition to being a young adult novelist, she is also the writer/creator of two indie comics. She lives in upstate New York with her family, her dogs, and an evil cat that is no doubt planning to take over the world. Hot Dog Girl is her young adult debut. Learn more at JLDugan.com and on twitter @JL_Dugan.
Praise For Hot Dog Girl…
"I'm wrecked with love for this funny, joyful, bighearted book." —Becky Albertalli, bestselling author of Simon vs. the Homo Sapiens Agenda

"I never expected I'd fall so hard and so fast for a girl in a hot dog suit. Both classic and new, hysterical and heartfelt, and packed with all the awesomeness and awkwardness of first love, first job, and the painful thrill of growing up. So if you need me this summer, I'll be at Magic Castle Playland with the hot dog girl." —Mackenzi Lee, bestselling author of The Gentleman's Guide to Vice and Virtue

"Hot Dog Girl is a treat of a book packed with scheming, queer romance, and amusement park food. This laugh-out-loud debut made me hungry and stole my heart." —Rachel Lynn Solomon, author of You'll Miss Me When I'm Gone

"A great, fizzy rom-com... The setting is ingeniously imaginative—an amusement park, where over one summer teens dressed as princesses, pirates, and (yes) hot dogs are left to flirt and gossip and fall in love. And [Dugan's] heroine, Lou, is beautifully realized: a complex bisexual woman who finds her desires and expectations challenged by a strangely magical world." —Entertainment Weekly

"A hilarious delight. This wonderful romance novel set at a theme park makes for one of the best reads of the year, hands down." —Paste Magazine

"Funny, relatable, and oh-so-cute." —Girls' Life Magazine

"A story of friendship growing into love. Elouise's big ideas don't always execute well but her foibles feel real." —The Washington Post

"Relatable and funny, Dugan's character dialogue and voice capture the awkward/messy/magical summer and keep both the characters and plot real and winning throughout this amusement park ride." —Publishers Weekly

"Dugan's debut has a clear and confident voice, and her characters are sympathetic in their desire for happiness and fear of change; the supporting cast members have their own fully-developed personalities without overwhelming the main storyline. Lou's inner narration is funny, clear, and emotional... A fun romantic comedy that evokes the pleasures of summertime." —Kirkus Reviews

"Lou's energetic, readable voice makes her a sympathetic character even when, or especially when, she is confessing her flaws. Readers looking for a frothy summer read won't regret this." —BCCB

"A sparkling summer romance. Dugan's amusement-park setting is entertaining, as is her likable cast of characters." —Bookpage