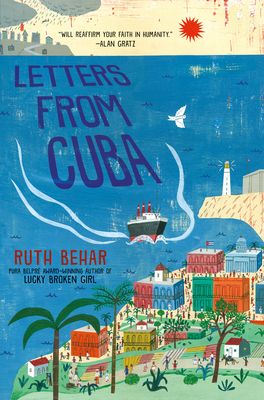 Letters from Cuba
Hardcover

* Individual store prices may vary.
Other Editions of This Title:
Digital Audiobook (8/24/2020)
Paperback (8/31/2021)
Library Binding, Large Print (8/10/2021)
Description
Pura Belpré Award Winner Ruth Behar's inspiring story of a young Jewish girl who escapes Poland to make a new life in Cuba, while she works to rescue the rest of her family

The situation is getting dire for Jews in Poland on the eve of World War II. Esther's father has fled to Cuba, and she is the first one to join him. It's heartbreaking to be separated from her beloved sister, so Esther promises to write down everything that happens until they're reunited. And she does, recording both the good--the kindness of the Cuban people and her discovery of a valuable hidden talent--and the bad: the fact that Nazism has found a foothold even in Cuba. Esther's evocative letters are full of her appreciation for life and reveal a resourceful, determined girl with a rare ability to bring people together, all the while striving to get the rest of their family out of Poland before it's too late.

Based on Ruth Behar's family history, this compelling story celebrates the resilience of the human spirit in the most challenging times.
Praise For Letters from Cuba…
"A delightful, heartfelt book about holding on to who you are and where you're from when far from home, and the joys and benefits of welcoming other cultures and communities into your own. Will reaffirm your faith in humanity."—Alan Gratz, author of Refugee

"This is a quiet story of determination, and an openly loving tribute to the author's grandmother, who made the real journey that inspired Esther's fictional one."—The New York Times Book Review

* "Pura Belpré Award winner Behar's newest story is based on her own grandmother's immigration journey. Eleven-year-old Esther bravely travels to Cuba from Poland to help her father earn enough money for the rest of their family to join them, including her mother, grandmother, three brothers, and cherished sister Malka. The narrative is told in a series of letters from Esther to Malka, chronicling her journey across the sea and her experiences in this new homeland. . . . Throughout the story, readers learn that many Jewish people are arriving in Cuba, trying to escape the Jewish persecution in Europe, despite Nazi sympathy infiltrating the island. Readers dive into the story headfirst as they get to know Esther, her family, and her newfound friends. Esther's first-person descriptions of people and the island craft a vivid experience of Cuba's sights, sounds, and culinary delights. Readers will not want to part with this story of resilience. A World War II refugee tale that spotlights dedicated hard work. A must-have."—School Library Journal, starred review

* "After three years abroad, Papa's saved only enough money to send for one of his children. Thus Esther boards the steamship alone even though she's not quite 12. Cuba is a constant surprise. . . . In glowing letters to her sister back in Poland, Esther details how she's learning Spanish through the poems of José Martí. She introduces her sister to her beloved new friends. . . . Esther's first year in Cuba is marked by the calendar of Jewish holidays, as she wonders if she can be both Cuban and a Jew. As the coming war looms in Europe, she and her friends find solidarity. . . . An author's note describes how the story was loosely inspired by the author's own family history. Warmhearted cross-cultural friendship for a refugee on distant shores: both necessary and kind."—Kirkus Reviews, starred review

"Esther's poignant letters to her sister reveal the heartbreaking stories of the people—the displaced, the downtrodden, the dreamers—she meets along her journey, even as she exposes injustices among class and religion and within ethnic groups, all in parallel to her family's experience in 1938 Poland. Belpré-winning Behar's epistolary novel, based on a true story, addresses identity, family dynamics, culture, tradition, and acceptance as loving Esther opens her heart to her friends and neighbors in Agramonte while learning about issues both in her new home and abroad. Complemented by a vibrant supporting cast and an extensive author's note about the Holocaust and Cuban refugees, Esther's tale is one of adaptation and perseverence . . . while also fighting for her rights and for peace in her new home."--Booklist 

"The story is in some ways refreshingly optimistic. . . . Behar creates a welcome portrait of a warm, diverse community—one that supports the family members when they do face local antisemitism. . . . But the novel doesn't paint an overly sunny picture. . . . An author's note cites connections to Behar's family history and to Karen Hesse's Letters from Rifka."—Horn Book

"Inspired by her own grandmother's life, Behar (Lucky Broken Girl) crafts a series of loving letters from Esther to her sister, describing the perilous journey and Esther's first year in Cuba. . . . Global issues such as Hitler's rise, anti-Semitism, slavery, and worker protests are neatly woven into Esther's narrative. . . . Behar's appreciative descriptions of Cuba and Esther's close, protective bonds with her father and sister make for an engaging read."—Publishers Weekly
Nancy Paulsen Books, 9780525516477, 272pp.
Publication Date: August 25, 2020
About the Author
Ruth Behar, the Pura Belpré Award-winning author of Lucky Broken Girl, was born in Havana, Cuba, grew up in New York, and has also lived in Spain and Mexico. In addition to writing for young people, her work includes poetry, memoir, and the acclaimed travel books An Island Called Home and Traveling Heavy, which explore her return journeys to Cuba and her search for home. She was the first Latina to win a MacArthur "Genius" Grant, and other honors include a John Simon Guggenheim Fellowship, and being named a "Great Immigrant" by the Carnegie Corporation. She is an anthropology professor at the University of Michigan and lives in Ann Arbor, Michigan.
(Twitter: @ruthbehar / Instagram: ruthbeharauthor / Facebook: Ruth-Behar / Websites: sites.lsa.umich.edu/ruth-behar; ruthbehar.com; Carnegie Corporation, 2018 "Great Immigrants Honoree": carnegie.org/awards/honoree/ruth-behar)