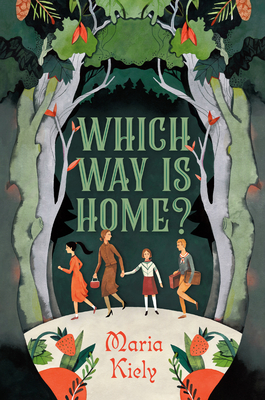 Which Way Is Home?
Hardcover

* Individual store prices may vary.
Other Editions of This Title:
Digital Audiobook (5/11/2020)
Description
A riveting debut novel about a family escaping Czechoslovakia after the 1948 Communist takeover--based on the author's own family history.

Anna's father disappeared months ago. He had to flee the country because the cruel new Communist government wanted to arrest him. The Communists may have arrived like heroes at the end of World War II, saving Czechoslovakia from the Nazis--but since then, things have changed. Now Anna's whole family feels threatened and doesn't know whom to trust, so she and her mother and sister set out to escape, hoping to reunite with Papa. During their dangerous journey, they have to hide from the authorities and navigate through the wilderness, constantly relying on people they've never met for help. They have no way to contact Papa and they're running out of options, so putting their lives in the hands of strangers might be their only hope of seeing him again.
Praise For Which Way Is Home?…
"Kiely bases her debut novel on the true story of her mother's escape from Communist-era Czechoslovakia. . . . The plot is straightforward and fast-paced. . . . There are plenty of anecdotes that clearly come straight from Anna herself, adding a sense of familiarity and veracity to the story. Readers will easily imagine themselves there with Anna, playing cards with the boys at the refugee camp or eating the unappetizing food. A particularly fascinating detail is the secret code involving gloves and Wuthering Heights that Anna's mother uses to identify herself to people who will help her escape. . . . A warm story about trust during hardship."—Kirkus Reviews

"Based on the real story of Kiely's own mother and grandmother (related in an author's note), Anna's family's journey is harrowing as they face the possibility of being reported to the authorities and being misled by those who seek to sabotage their mission. . . . This book will be useful for curriculums that wish to address post-war effects of World War II and dispel notions that the end of a war means universal peace."—The Bulletin of the Center for Children's Books

"When WWII ended, the people of Czechoslovakia hoped to be free of Nazi rule and have a fair government. While the Communists from Russia did liberate the Czechs, they went on to set up a Communist rule that oppressed the Czechs once more. . . . Debut author Kiely tells a story of bravery that is based on the real-life experience of her mother, Anna, who escaped Czechoslovakia in '48. Kiely turns the stories she grew up hearing into a tender narrative of courage and adventure. While the setting of a post-WWII eastern Europe is serious, the content of the novel does not contain any unpleasant scenes that indicate the danger and terror of the characters; thus, Kiely's debut is a delightfully accessible read for middle-school children."—Booklist

"Kiely's gripping novel, based on her mother's life story, features a steady voice, strong pacing, and rich historical details. Anna's journey takes place over just a few days, and her first-person narration pulls readers along through the tumult and intensity of emotions and events. The relationship between the sisters is particularly effective. . . . Kiely skillfully provides the cultural details and historical context to help readers become fully immersed in the story, creating a strong sense of time and place"—Horn Book

"Set in 1948, this story tells of the journey that Anna, her sister, her mother, and a young boy embark upon when leaving their homeland in search of freedom and to be reconnected with her father. . . . They know the home they have left behind is no longer what it once was, and that where they are going offers them a chance at liberty. This historical fiction story is based on Kiely's mother's account of her escape from Czechoslovakia during the rise of the Communist party in Russia. The fast-paced story will keep the reader waiting to see what happens next, from the journey to the border, to life in refugee camps, to learning that kindness can come where you least expect it. This would be an excellent resource to use in social studies and world history classes."—School Library Connection


Nancy Paulsen Books, 9780525516804, 192pp.
Publication Date: May 12, 2020
About the Author
Maria Kiely studied creative writing at Harvard University. The daughter of a refugee, she grew up listening to her mother's extraordinary tales of escaping Communist-controlled Czechoslovakia. Which Way Is Home? is her debut novel. Maria lives in Somerville, Massachusetts, with her husband and two children.
or
Not Currently Available for Direct Purchase