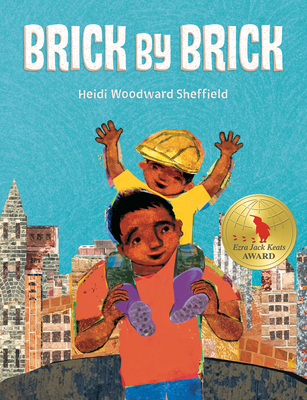 Brick by Brick
Hardcover

* Individual store prices may vary.
Other Editions of This Title:
Digital Audiobook (12/7/2020)
Description
Winner of the Ezra Jack Keats New Illustrator Award!

A striking debut celebrating the warm bond between a little boy and his dad as they work hard to achieve their dreams

Papi is a bricklayer, and he works hard every day to help build the city, brick by brick. His son, Luis, works hard too--in school, book by book. Papi climbs scaffolds, makes mortar, and shovels sand. Luis climbs on the playground and molds clay into tiny bricks to make buildings, just like Papi. Together, they dream big about their future as they work to make those dreams come true. And then one Saturday, Papi surprises Luis with something special he's built for their family, brick by brick.
Praise For Brick by Brick…
* "Papi is a bricklayer, building a city, brick by brick, while his proud son Luis builds too, book by book. Juxtaposed in side-by-side pages, Luis shows how he can climb at recess to touch the sky, just as Papi climbs the scaffold. . . . Spanish words both in the text and cleverly inserted into the backgrounds convey the family's Latinx culture, as do Luis and his father's lunches of empanadas and horchata. Illustrations done in warm tones use photographs, digital painting, and collage to show the close relationship between father and son as they work and play together to build happiness. Adults and children alike will appreciate the exquisite details and clever mirroring in the story, and celebrate the characters' joyful work ethic and fulfilment of their dreams."—Booklist, starred review

"Young Luis cherishes and admires his strong papi, who is a bricklayer. . . . Mirrorlike images show both brown-skinned father and son with similar lunchboxes, both eating Mama's special empanadas. . . . [Sheffield] excels with boisterously textured, mixed-media illustrations, many incorporating photographs, digital painting, and collage, capturing vibrant colors. Told in the first person, with minor Spanish interspersed and occasional sound effects printed in all-caps, the written text will engage the youngest readers. . . . Lovely and heartfelt."—Kirkus Reviews

"Luis, a Spanish-speaking boy, admires the work his father does and lists the ways the two are alike. . . . The writing is sprinkled with plenty of onomatopoeia and sensory words. . . . Crisp-edged collages by Sheffield (Are Your Stars Like My Stars?) are composed partly of photographed bricks—a note explains that even Papi and Luis are made up of areas of brick images. Sheffield underscores the way children model themselves on the important adults in their lives in this loving, familial portrait of a strong father whose labor is honored."—Publishers Weekly

"The text is lively and peppered with Spanish words and phrases. This story has a pleasant father/son relationship, and the pictures and explanations of bricklaying will likely interest children."—School Library Journal


"Luis couldn't be more proud of his bricklayer father, who "helps build the city, brick by brick"—skillful, patient, unafraid of heights. He cooks a great breakfast on Saturdays, too. . . . Richly illustrated with paint and collage, incorporating snippets of brick photographs that feature in both the cityscapes and Luis's cozy new abode. Parallel scenes of Luis' school day and Papi's work day subtly mark the passage of time. . . . This could make a fine companion piece to Tate's Home Base: A Mother-Daughter Story ."--The Bulletin of the Center for Children's Books
Nancy Paulsen Books, 9780525517306, 32pp.
Publication Date: May 5, 2020
About the Author
Heidi Woodward Sheffield (heidibooks.com) has received numerous awards from the Society of Children's Book Writers and Illustrators for her illustrations, and she received the Ezra Jack Keats New Illustrator Award for Brick by Brick, her first picture book. On any given day, she can be seen taking photographs of textures that inspire her stories and collages. She especially drawn to old brick buildings, and likes daydreaming about the strong hands that built them and the people who lived there. She lives in Northville, Michigan.