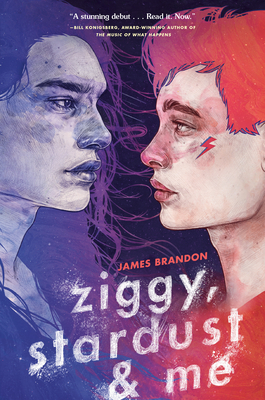 Ziggy, Stardust and Me
Hardcover

* Individual store prices may vary.
Other Editions of This Title:
Digital Audiobook (8/5/2019)
Description
In this tender-hearted debut, set against the tumultuous backdrop of life in 1973, when homosexuality is still considered a mental illness, two boys defy all the odds and fall in love.

The year is 1973. The Watergate hearings are in full swing. The Vietnam War is still raging. And homosexuality is still officially considered a mental illness. In the midst of these trying times is sixteen-year-old Jonathan Collins, a bullied, anxious, asthmatic kid, who aside from an alcoholic father and his sympathetic neighbor and friend Starla, is completely alone. To cope, Jonathan escapes to the safe haven of his imagination, where his hero David Bowie's Ziggy Stardust and dead relatives, including his mother, guide him through the rough terrain of his life. In his alternate reality, Jonathan can be anything: a superhero, an astronaut, Ziggy Stardust, himself, or completely "normal" and not a boy who likes other boys. When he completes his treatments, he will be normal--at least he hopes. But before that can happen, Web stumbles into his life. Web is everything Jonathan wishes he could be: fearless, fearsome and, most importantly, not ashamed of being gay.

Jonathan doesn't want to like brooding Web, who has secrets all his own. Jonathan wants nothing more than to be "fixed" once and for all. But he's drawn to Web anyway. Web is the first person in the real world to see Jonathan completely and think he's perfect. Web is a kind of escape Jonathan has never known. For the first time in his life, he may finally feel free enough to love and accept himself as he is.

A poignant coming-of-age tale, Ziggy, Stardust and Me heralds the arrival of a stunning and important new voice in YA.
Praise For Ziggy, Stardust and Me…
Praise for Ziggy, Stardust and Me:
An EW Summer Best Book Pick
A Refinery29 Summer Best Book Pick
A Seventeen Magazine Best YA Books of 2019 Pick

"A stunning debut. This beautifully written novel made me sob and reminded me of first love in a way no other book has in many years. Read it. Now." —Bill Konigsberg, award-winning author of The Music of What Happens
 
"This heartfelt book will leave you in a puddle of your emotions." —BuzzFeed

"A love letter to both self-acceptance and David Bowie, James Brandon's Ziggy, Stardust and Me is both charming and timely." —Culturess

"A beautifully written, nostalgic story full of universal truths and timeless angst. Charming, poignant, tender and at times heartbreaking." —Greg Howard, author of Social Intercourse

"A well-crafted coming-of-age story that allows the reader to empathize with and root for a young man who feels lost. . .[as he] fights through the difficulties of growing up in a world that judges difference as wrong, and how he becomes stronger because of it." —School Library Connection

"A love letter to self-acceptance, even when the world is far from accepting . . . this deeply impactful book presents historical attitudes and policies with a chilling accuracy." —Publishers Weekly

"Gut-wrenching emotion, stream of consciousness, and an intensely evoked soundtrack bring Jonathan's summer to technicolor life. Historical events like Watergate, the Vietnam War, and Wounded Knee are included seamlessly into the story. Every character from Johnathan himself down to the ice cream man are fully realized. . . Give this one to budding activists, music fans, historical fiction readers, and romantics." —School Library Journal

"Brandon has penned a novel that seamlessly melds a coming of age tale with the oppressive beliefs and actions of the time. The characters are real and complex, and their feelings honestly portrayed." —The Advocate

"Readers will be immersed in Jonathan's close first-person narration...Debut author Brandon deftly incorporates historical events and realities, including the criminalization of homosexuality, the Vietnam War, Watergate, the occupation of Wounded Knee, and police brutality against Native people...A poignant depiction of a boy's journey to accepting his gay identity despite the odds." —Kirkus
G.P. Putnam's Sons Books for Young Readers, 9780525517641, 368pp.
Publication Date: August 6, 2019
About the Author
James Brandon produced and played the central role of Joshua in the international tour of Terrence McNally's Corpus Christi for a decade, and is codirector of the documentary film based on their journey, Corpus Christi: Playing with Redemption. He's the cofounder of the I AM Love Campaign, an arts-based initiative bridging the faith-based and LGBTQ2+ communities, and serves on the Powwow Steering Committee for Bay Area American Indian Two-Spirits (BAAITS) in San Francisco. Brandon is a contributing writer for Huffington Post, Believe Out Loud, and Spirituality and Health Magazine. Ziggy, Stardust and Me is his first novel.

You can visit James Brandon at justbejb.com