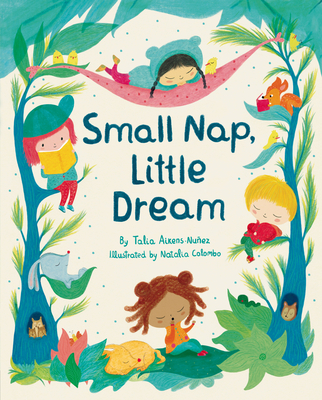 Small Nap, Little Dream
Hardcover

* Individual store prices may vary.
Description
This playful story celebrates the joy of a refreshing nap--while introducing some simple Spanish vocabulary.

Young children are busy all day long--running and climbing, looking and laughing--and in the middle of a full day of fun, there's nothing like taking a break for a small nap. This is the time of day to have a little dream--sueñito--that gives the afternoon some added sweetness.

Look at me RUN. Mis pies go fast!
Look at me READ. Mis ojos explore!

Kids will soon be chiming in with the Spanish words for their body parts, as they wind down and get ready for that refreshing nap. And they will love poring through the pages of toddlers at play in an imaginary multicolored world that is full of happiness, setting the stage for their dreams.
Praise For Small Nap, Little Dream…
"Four youngsters romp and frolic in the woods with their forest friends. . . . The entire day is filled with an energetic exploration of the fanciful world around them. Running with squirrels and dancing with rabbits has never been so much fun. After reading a few good books, it's time for a nap. With the welcome respite comes little dreams—sueñitos. Rainbows, smiling stars, and friendly clouds surround the happily dreaming children. Wakefulness brings a joyful resumption of their carefree play in anticipation of more sweet dreams. Aikens-Nuñez's declarative four-word 'me' statements call attention to each specific action of the characters: 'Look at me RUN.' Spanish vocabulary, signaled with boldface, is immediately introduced in paired mixed-language sentences: 'Mis pies go fast.' . . . Colombo's whimsical illustrations feature a diverse crew of children in snuggly attire."—Kirkus Reviews
Nancy Paulsen Books, 9780525517825, 32pp.
Publication Date: June 15, 2021
About the Author
Talia Aikens-Nuñez (kidslitbytalia.com) also wrote the picture books Colors of the Sun and Moon: Colores del Sol y de La Luna and Escucha Means Listen. Raising a bilingual child inspired her to write multicultural children's books. Talia's family loves nature so much that she and her husband vowed that they will always try to live close to water. She and her family live in Connecticut with a little pond.

Natalia Colombo (nataliacolombo.com.ar) is an illustrator and graphic designer living in Buenos Aires. She studied graphic design at the Universidad De Buenos Aires and has illustrated picture books published in Spain, France, Portugal, Italy, Mexico, Korea, Brazil, Chile, the US, and Argentina. Her book Cerca was awarded the first International Compostela Prize by the Department of Education of the City Council of Santiago and KALANDRAKA. The Italian version of the same book, Vicini, received the Delle Palme Prize for Best Foreign Picture Book.