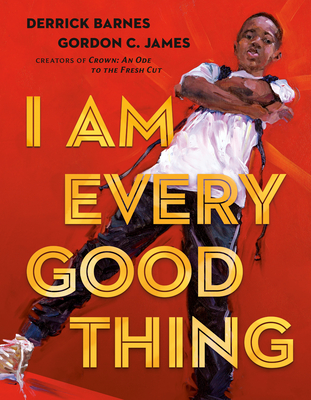 I Am Every Good Thing
Hardcover

* Individual store prices may vary.
Other Editions of This Title:
Digital Audiobook (8/31/2020)
Fall 2020 Kids Indie Next List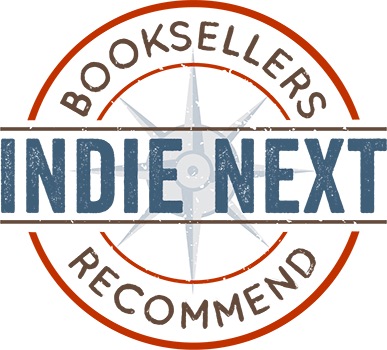 "When we speak of beauty, we think of inside and out. Derrick Barnes has given us a book that directly connects us to the real beauty of the Black boy. An uplifting story, brought to life with vibrant images from Gordon C. James, provides the reader with the opportunity to breathe deeply and reflect. I will be handing this out to children, adults, and educators. It is a book for everyone, and it is more important than ever."
— Kirsten Hess, Let's Play Books!, Emmaus, PA
View the List
Description
An upbeat, empowering, important picture book from the team that created the award-winning Crown: An Ode to the Fresh Cut. A perfect gift for any special occasion!

I am
a nonstop ball of energy.
Powerful and full of light.
I am a go-getter. A difference maker. A leader.

The confident Black narrator of this book is proud of everything that makes him who he is. He's got big plans, and no doubt he'll see them through--as he's creative, adventurous, smart, funny, and a good friend. Sometimes he falls, but he always gets back up. And other times he's afraid, because he's so often misunderstood and called what he is not. So slow down and really look and listen, when somebody tells you--and shows you--who they are. There are superheroes in our midst!
Praise For I Am Every Good Thing…
Winner of the NCTE Charlotte Huck Award!

* "A much-needed book for Black children when society demonstrates otherwise. The Kirkus Prize–, Coretta Scott King Honor–, Newbery Honor–, and Caldecott Honor–winning team behind Crown: An Ode to the Fresh Cut return for another celebration of Black excellence. In a text brimming with imagination and Black-boy joy, Barnes lays the foundation for young Black readers to go forth into the world filled with confidence and self-assurance. . . . Simultaneously, he opens a window for non-Black readers to see Black boys' humanity. They have dreams, feel pain, are polite and respectful—the list of qualities goes on. Barnes also decides to address what is waiting for them as they experience the world. 'I am not what they might call me.' With this forceful statement, he provides a tool for building Black resilience, reassuring young Black readers that they are not those names. James supplies his customarily painterly art, his brushy oils painting Black boys of every shade of brown playing, celebrating, achieving, aspiring, and loving. Through every stroke readers will see that Black boys are 'worthy / to be loved.' The title says it all: Black boys are 'every good thing.'"—Kirkus Reviews, starred review

* "A powerful celebration of Black boyhood, countering many of the negative messages that a racist society puts forth about African American boys. Here they are adventurous, polite, inquisitive, playful, creative, artistic, athletic, brave, and worthy. They are also loving, vulnerable, and reliable. The text has a cadence that demands to be read out loud, performed, sung, or shouted with joy and veracity. James' illustrations provide vibrant visualizations of the words, rich in color and movement. Boys' brown faces radiate light, love, and the joyfulness of childhood so that readers can't help but smile along as they read. . . . Despite this being intended for young readers, it would do no harm if it found its way into teenage hands as well, especially those already wounded by some of the predominant views of Black masculinity. . . . The need for a book like this, at a moment like this, could not be greater."—Booklist, starred review

* "Barnes and James reunite, after the multi-award-winning success of Crown, for this beautiful and necessary book that affirms Black boys and their right to thrive. James's vibrant oil-paint illustrations harmoniously depict Black boys in motion, in contemplation, and in full vitality as they skateboard, swim, or stand contemplatively in the outdoors. Barnes's refrain throughout the book . . . is a powerful, present-tense reminder that normalizes the robust lives Black boys deserve to live. . . . Lets Black boys know they are loved and valued just as they are, with unlimited possibilities. Movingly, one boy affirms for himself and for the reader, 'I am not what they might call me, / and I will not answer to any name that is not my own.' Fortunately, Barnes and James provide us with a range of powerful, positive names to call Black boys as they urge us to see them, to love them, and to let them live their lives as they deserve."—Horn Book, starred review

* "Page after page of empowering text speaks to energetic children everywhere, as the author-illustrator team behind Crown: An Ode to the Fresh Cut return with another top-notch celebration of Black boys. The catchy text exudes confidence. . . . Background characters are of various races, but the stars of every page are Black, and they explore, soar, soak up information, and make a difference. The pace slows as the speaker admits he sometimes is afraid of what others call him but refuses to let those attitudes define him.  The vibrant illustrations reinforce the energy as groups and individuals share their gifts with the world, including a cameo by Barack Obama. Remembering their ancestors and their fathers, and acknowledging their own strengths, a line of boys gaze at the reader before the book's final declaration. . . . Pulsing rhythms and bright images combine for a worthy and timely choice for every collection."—School Library Journal, starred review

* "An empowering ode to Black boy joy. In metaphor-driven verse, Barnes moves from the interpersonally specific ('I am that smile forming on your face') to the iconic ('I am a grand slam,/ bases fully loaded'), and from the naturalistic ('I am waves crashing gently on the shore') to the historical ('I am my ancestors' wildest dream'). Employing rich textures and jewel tones in his fine art style, James paints Black boys of varying skin tones and ages engaging in work and play, solo and in community. . . . Together, James's energetic portraiture and Barnes's affirming text powerfully and ecstatically convey the idea that all Black boys are 'worthy/ to be loved.'"—Publishers Weekly, starred review

* "This first-person self-affirmation celebrates the multiple wonders of young Black boys. . . . Barnes' playful, potent style draws on inviting metaphor to lift this well above the usual supportive picture book celebration, and the zippy turns of phrase prompt affectionate and personal reading aloud. James' fluid, painterly oils show a gallery of young boys brimming over with magnificence, whether they're swinging at a pitch, peering through a microscope, or beaming a dimpled smile out at the viewer; even the tender and quiet compositions have a dynamism that suggests a moment caught in an active life. The book's powering of listeners to move past outside voices that diminish will be particularly welcome, and this will speak to audiences too young for Black Is King."--The Bulletin of the Center for Children's Books, starred review

Nancy Paulsen Books, 9780525518778, 32pp.
Publication Date: September 1, 2020
About the Author
Derrick Barnes is the author of the empowering New York Times bestsellers The King of Kindergarten, I Am Every Good Thing, which won the NCTE Charlotte Huck Award and the Kirkus Prize, and Crown: An Ode to the Fresh Cut, which received a Newbery Honor, a Coretta Scott King Honor, the Kirkus Prize, and the Ezra Jack Keats Award. He also wrote the bestselling chapter book series Ruby and the Booker Boys. Derrick is a native of Kansas City, MO and a graduate of Jackson State University and was the first African American male creative copywriter hired by greeting card giant, Hallmark Cards. He lives in Charlotte, North Carolina, with his wife and their four sons.

Gordon C. James illustrated the critically acclaimed picture book Crown: An Ode to the Fresh Cut (by Derrick Barnes), which received a Caldecott Honor, a Coretta Scott King Illustrator Honor, an Ezra Jack Keats New Illustrator Honor, the 2018 Kirkus Prize for Young Readers, and a Society of Illustrators Gold Medal. He also illustrated Let 'Er Buck!: George Fletcher, the People's Champion (by Vaunda Micheaux Nelson). He lives in Charlotte, North Carolina, with his wife and two children.