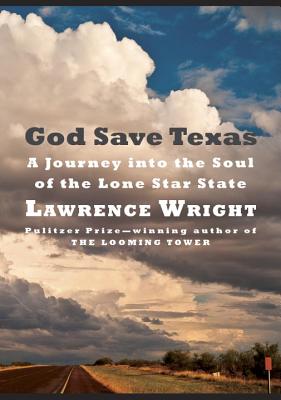 God Save Texas
A Journey into the Soul of the Lone Star State
Hardcover

* Individual store prices may vary.
Other Editions of This Title:
Digital Audiobook (4/16/2018)
Paperback (3/5/2019)
Paperback, Large Print (4/17/2018)
Paperback, Spanish (9/3/2019)
Description
A New York Times Notable Book

National Book Critics Circle Award Finalist

An NPR Best Book of the Year

God Save Texas is a journey through the most controversial state in America. It is a red state, but the cities are blue and among the most diverse in the nation. Oil is still king, but Texas now leads California in technology exports. Low taxes and minimal regulation have produced extraordinary growth, but also striking income disparities. Texas looks a lot like the America that Donald Trump wants to create.

Bringing together the historical and the contemporary, the political and the personal, Texas native Lawrence Wright gives us a colorful, wide-ranging portrait of a state that not only reflects our country as it is, but as it may become—and shows how the battle for Texas's soul encompasses us all.
Praise For God Save Texas: A Journey into the Soul of the Lone Star State…
Praise for God Save Texas
"Superb . . . [Wright's] most personal work yet, an elegant mixture of autobiography and long-form journalism, remarkably free of elitist bias on the one hand, and pithy guidebook pronouncements on the other." —David Oshinsky, The New York Times Book Review (cover)

"A love letter to a place . . . Wright writes about Texas with the fervor, knowledge, and ambivalence that comes from deep-seated familiarity." —Willard Spiegelman, The Wall Street Journal

"After tackling 9/11 and Scientology, journalist Lawrence Wright wrangles his toughest subject yet: home, the Lone Star State. With a balance of deep reporting and memoir, the New Yorker staff writer offers a personal history of Texas, a place both singular and the bellwether of American politics and morality. It's a different approach, and one that Wright nails." —GQ

"Rings true on every page." —Michael Barnes, austin360

"Essential reading not just for Texans, but for anyone who wants to understand how one state changed the trajectory of the country . . . Wright is one of the most talented journalists Texas has ever produced, and God Save Texas is him at his best. It's a thoughtful, beautifully written book." —Michael Schaub, NPR

"Compelling . . . timely . . . There is a sleeping giant in Texas, and Wright captures the frustration and the hope that reverberate across the state each time it stirs." —Cecile Richards, The Washington Post

"Terrific . . . all-encompassing . . . [fueled] with literary tension . . . Wright's words could speak for both Texas and America." —Chris Vognar, The Dallas Morning News

"Gripping . . .  Whether you love Texas or hate Texas, you will likely find God Save Texas a very funny and a very informative book about a place unlike any other on the face of the earth." —Jonah Raskin, New York Journal of Books

"The most entertaining and edifying nonfiction book I've read so far this year . . . There's a jaw-dropping portrait on the shocking shenanigans of the Texas legislature; hymns to the natural beauty in the state's far-flung nooks and crannies, and a spot-on analysis of Texas's boom and bust economy. . . .[Wright] is a rare beast: an elegant writer and a fearless reporter, with a sense of humor as dry as the plains of west Texas." —Mary Ann Gwinn, The Seattle Times

"Thoroughly explore[s] the political past, present and future of the Lone Star State." —Ryan Bort, Rolling Stone

"There is a noticeable and refreshing lack of defensiveness in Wright's journey through Texas . . . Quirky anecdotes, philosophical musings on culture, and hyperlocal travel writing abound." —Elizabeth Catte, Boston Review

"A godsend . . . Thorough and concise . . . A brilliant analysis." —Marion Winik, Newsday

"Vivid . . . Omnivorous . . . Affectionate and genial . . . Captures the full range of Texas in all its shame and glory . . . An illuminating primer for outsiders who may not live there but have a surfeit of opinions about those who do . . . [It's] a testament to Wright's formidable storytelling skills that a reader will encounter plenty of information without ever feeling lost." —Jennifer Szalai, The New York Times

"If you listen to one audiobook this year, make it this one . . . Wright's gentle Texas accent infuses his tale of the Lone Star State with humor and depth." —Joshua Kim, Inside Higher Ed

"Wright focueses his razor-sharp lens inward and on his home state, [interjecting] personal anecdotes to enliven the facts and figures." —Michelle Newby, Lone Star Literary Life

"A campfire stew of memoir, reportage and historical digression. Wright is a typically Texas storyteller, an anecdotalist who wanders around and stops occasionally to point out the view, but somehow you end up getting where you're going anyway. . . . Pleasing." —Benjamin Markovits, The Guardian

"A deeply personal narrative . . . Informative and entertaining . . . Having been born and raised in Texas, I found myself not only intrigued with revisiting the depth of history of my home state as told by Wright, but also with the insights God Save Texas afforded me on my current home here in West Virginia." —Michael Amason, Herald-Dispatch


"Splendid . . . A critical, affectionate account of modern Texas, matched only by Larry McMurtry's great essay Walter Benjamin at the Dairy Queen." —Allen Lane, The Spectator
  
"Wright tames his sprawling subject matter with concise sentences and laser-precise word choice . . . Gives readers a front-row seat to the battle within the Texas GOP between business-oriented conservatives, led by House Speaker Joe Straus, and the social-conservative wing headed up by Lt. Gov. Dan Patrick." —Chris Gray, Houston Chronicle

"A fascinating look ahead through the lens of a singular state . . . Filled with larger-than-life Texas characters . . . For every Texas stereotype Wright explores, there's something that blows it up." —Colette Bancroft, The Tampa Bay Times
  
"Exhilarating . . . Wright has outdone himself in his latest literary effort." —Dr. Manuel Flores, Caller Times (Texana Reads)

"The book's 14 chapters dance between meditations on cities, culture, and politics, and all of them dive into what it means to be a Texan." —Olivia Messer, The Daily Beast

"Wright's affectionate, eye-opening, and, at times, rueful love letter to his native state . . . This is Texas in all its fascinating outrageousness." —Kevin O'Kelly, The Christian Science Monitor

"Amid the state legislature's fights over bathroom bills, feral hog abatement programs, and a bill allowing the hunting of wild pigs from hot air balloons, the reader comes away with an idea that the state is a place of competing melodies: a bit of Austin country, a few measures of Roy Orbison, a riff from Buddy Holley and, for Wright, maybe a stanza of 'Home on the Range.'" —David M. Shribman, The Boston Globe

"[A] compelling and insightful potpourri of history, encounters, and observations . . . Wright has managed to sew together a patchwork quilt of a narrative into a substantive State of the state." —Bob Ruggiero, Houston Press

"Wright, a lifelong Texan, knows his way around the state's contradictions, from its wild borderlands to its craziest legislators. His Lone Star biography is important, timely, and most important, riveting." —Boris Kachka, Vulture.com

"An affecting memoir . . . Studded with . . . gems from the annals of Texas history." —Steven G. Kellman, The Texas Observer

"Takes readers on a trek through Texas from the dawn of the Republic to the 2016 election, and Texas space, from Houston to Marfa, Dallas to El Paso. Along the way, God Save Texas maps both the light and dark soul of the state . . . Organized by themes and geography, Wright drills deep into Texas politics, arts, culture, big cities, border, and energy. Wright's often-humorous voice becomes a trusted guide when discovering Texas's lost stories as well as confronting painful tragedies." —Tarra Gaines, Arts and Culture Texas

"The grand scale of Texas, and the sheer range of its places and people—Houston to El Paso, the Panhandle to the Valley—is inevitably compelling to any writer, and Wright is happy just trying to get his arms around it all." —Michael King, Austin Chronicle

"Masterful . . . An impressive ode to the Lone Star State . . . In a balanced tone, this narrative examines Texas's historical, political, and social fabric that make the present tapestry, revealing a portrait of one of the most perplexing American states." —Jacob Sherman, Library Journal (starred review)

"This thoughtful, engrossing, and often-amusing survey is a kind of 'waltz through Texas.' . . . It is a state whose history, politics and culture Wright finds endearing, repelling, and puzzling, all dependent upon which aspect he is exploring and describing . . . An important book about a state and people who will continue to have a large impact on the U.S." —Jay Freeman, Booklist (starred review)
 
"An unflinching look at Texas—the state where Wright has spent most of his life—in all its grandeur and contradictions. . . . Wright's large-scale portrait, which reveals how Texas is only growing in influence, is comprehensive, insightful, and compulsively entertaining." —Publishers Weekly (starred review)

"One of the state's most renowned writers takes readers deep into the heart of Texas. As a staffer for The New Yorker and a Pulitzer Prize-winning author, Wright has illuminated a variety of intriguing subcultures. His native Texas is as exotic as any of them. He approaches his subject on a number of levels: as a stereotype, a movie myth, a cultural melting pot, a borderland, a harbinger of what is to come in an increasingly polarized and conservative country, and as a crucible that has shaped the character of a young writer who couldn't wait to escape but was drawn back . . . A revelation." —Kirkus Reviews (starred review)

Knopf, 9780525520108, 368pp.
Publication Date: April 17, 2018
About the Author
Lawrence Wright is a staff writer for The New Yorker and the author of nine previous books of nonfiction, including In the New World, The Looming Tower, Going Clear, Thirteen Days in September, and The Terror Years, and one novel, God's Favorite. His books have received many prizes and honors, including a Pulitzer Prize for The Looming Tower (now a series on Hulu). He is also a playwright and screenwriter. He is a longtime resident of Austin, Texas.
Coverage from NPR
or
Not Currently Available for Direct Purchase