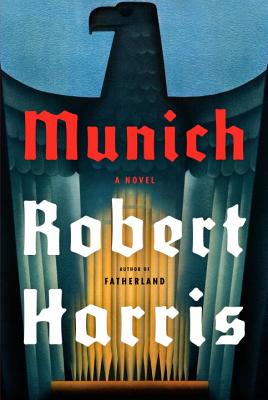 Munich
A novel
Hardcover

* Individual store prices may vary.
Other Editions of This Title:
Paperback, Large Print (1/16/2018)
Description
From the internationally best-selling author of Fatherland and the Cicero Trilogy--a new spy thriller about treason and conscience, loyalty and betrayal, set against the backdrop of the fateful Munich Conference of September 1938.

Hugh Legat is a rising star of the British diplomatic service, serving at 10 Downing Street as a private secretary to the Prime Minister, Neville Chamberlain. Paul von Hartmann is on the staff of the German Foreign Office--and secretly a member of the anti-Hitler resistance. The two men were friends at Oxford in the 1920s, but have not been in contact since. Now, when Hugh flies with Chamberlain from London to Munich, and Hartmann travels on Hitler's train overnight from Berlin, their paths are set on a disastrous collision course. And once again, Robert Harris gives us actual events of historical importance--here are Hitler, Chamberlain, Mussolini, Daladier--at the heart of an electrifying, unputdownable novel.
Praise For Munich: A novel…
"An intelligent thriller…with exacting attention to historical detail. The novel's power lies in the conflict between our hindsight and the characters' all-too-believable hopes and fears."
—The Times (UK), Best Historical Fiction of 2017

"Once again, Harris has brought history to life with exceptional skill."
—Patrick Anderson, The Washington Post
 
"[Harris's] writing remains lean and understated throughout Munich, even when the spy-craft starts. . . . The result is an entertaining mix of diplomacy and derring-do . . . history buffs should find it exhilarating."
—Doug Childers, The Richmond-Times Dispatch
 
"Harris has built a career upon painstakingly researched what-if stories centered on World War II, and with Munich, he weaves fiction into the fabric of history without even the tiniest hint of a seam. This is a fine addition to a fine writer's oeuvre."
—Bruce Tierney, Bookpage

"Densely researched, tightly constructed and deftly written."
—D.J. Taylor, The Wall Street Journal
 
"Thumbs up. Harris fashions an absorbing tale."
—Metro (London)
 
"Another thrilling historical novel from Robert Harris. [He's] on sure and familiar ground in Munich—he quickly settles into the mid-20th century setting that made Fatherland and Enigma so compelling, and the claustrophobic feel of the conference carriers on from last year's exploration of Vatican politics, Conclave. . . Against the intriguing backdrop of political machinations and brinkmanship is a thriller plot bursting to get out."
—The Guardian
 
"[A] master storyteller . . . Harris is an undoubted wordsmith."
—Express (London)
 
"Gripping . . . Harris is a marvelously compelling storyteller. . . . A historical novel, a novel of ideas, and a gripping thriller. . . . Harris writes with complete and compelling authority."
—The Scotsman
 
"Thriller-meister Robert Harris won't need this recommendation to top the bestseller charts, but he's getting it anyway. . . . Perfect prose . . . the menacing air of jackbroot brutality lurking between the lines. . . . It's hard to imagine how history could be told better."
—Sport Sunday (London)
 
"In Fatherland, Robert Harris's debut thriller, an aged, ailing Hitler is kept firmly off the page. In Munich, he walks, he talks, he rants. . . . A vivid recreation . . . Harris brings the history alive. He cleverly inserts arresting facts and detail into his narrative."
—The Times (London)
 
"A tense and subtle narrative of the 1938 deal that sold out the Czechs."
—Financial Times

"Engaging, informative, and quietly suspenseful."
—Kirkus Reviews

"Another surefire best-seller. A tautly constructed, compellingly written story."
—Booklist
Knopf, 9780525520269, 320pp.
Publication Date: January 16, 2018
About the Author
ROBERT HARRIS is the author of eleven novels: Fatherland, Enigma, Archangel, Pompeii, Imperium, The Ghost Writer, Conspirata, The Fear Index, An Officer and a Spy, Dictator, and Conclave. Several of his books have been adapted to film, most recently The Ghost Writer. His work has been translated into thirty-seven languages. He lives in the village of Kintbury, England, with his wife, Gill Hornby.
Coverage from NPR