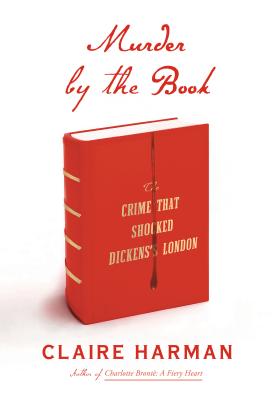 Murder by the Book
The Crime That Shocked Dickens's London
Hardcover

* Individual store prices may vary.
Other Editions of This Title:
Digital Audiobook (3/25/2019)
Paperback (2/4/2020)
Description
"Enthralling . . . A page-turner that can hold its own with any one of the many murder-minded podcasts out there."
—Jezebel

From the acclaimed biographer--the fascinating, little-known story of a Victorian-era murder that rocked literary London, leading Charles Dickens, William Thackeray, and Queen Victoria herself to wonder: Can a novel kill?

In May 1840, Lord William Russell, well known in London's highest social circles, was found with his throat cut. The brutal murder had the whole city talking. The police suspected Russell's valet, Courvoisier, but the evidence was weak. The missing clue, it turned out, lay in the unlikeliest place: what Courvoisier had been reading. In the years just before the murder, new printing methods had made books cheap and abundant, the novel form was on the rise, and suddenly everyone was reading. The best-selling titles were the most sensational true-crime stories. Even Dickens and Thackeray, both at the beginning of their careers, fell under the spell of these tales--Dickens publicly admiring them, Thackeray rejecting them. One such phenomenon was William Harrison Ainsworth's Jack Sheppard, the story of an unrepentant criminal who escaped the gallows time and again. When Lord William's murderer finally confessed his guilt, he would cite this novel in his defense. Murder By the Book combines this thrilling true-crime story with an illuminating account of the rise of the novel form and the battle for its early soul among the most famous writers of the time. It is superbly researched, vividly written, and captivating from first to last.
Praise For Murder by the Book: The Crime That Shocked Dickens's London…
"This beautifully produced and impressively researched historical account of a celebrated Victorian murder with a literary twist reads like a thriller. I devoured it in one sitting, and was at once enthralled and chilled. Highly recommended!"
—Alison Weir

"Its opening scene is the stuff that classic murder mysteries are made of . . . Ms. Harman is a tireless researcher and a droll stylist."
—Maureen Corrigan, The Wall Street Journal
 
"Harman demonstrates a flair for distilling reams of research into a succinct, lively narrative. The book is an exemplar of how to write taut, issue-driven historical nonfiction. With an appreciation for pithy quotations, telling details and amusing gossip, she's quick to spot a fascinating aside . . . As riveting as this true-crime story is, what elevates Murder by the Book above sensationalism is its focus on how this case heightened concern over the malevolent influence of violent entertainment."
—Heller McAlpin, The Washington Post

"An assiduously researched and superbly written book that ends with Harman examining unanswered questions, and reminding us that truth can be stranger than fiction."
—Malcolm Forbes, The Minneapolis Star Tribune

"Compact and engrossing . . . [Harman] leaves readers to draw their own conclusions, and her compelling book is all the better for her tact."
—The Economist

"A fascinating, exhaustively researched exploration into how art can influence society and vice versa, Murder by the Book turns an unflinching eye to the ways in which biases born of economic inequality affect the way crimes are investigated and prosecuted. It's a true crime devotee's delight."
—BookPage
 
"Harman effectively uses a novelist's approach to recreate a now obscure 1840 English murder case that was a sensation at the time . . . By exploring concerns about the glorification of criminals in the fiction of the day and addressing some lingering mysteries, such as whether Courvoisier had an accomplice, Harman adds depth to a fascinating true crime narrative."
—Publishers Weekly, starred review
 
"An endlessly fascinating, bookish tale of true crime in Victorian England . . . Lovers of Drood, Sherlock, Jack the Ripper, and their kin real and fictional will relish the gruesome details of this entertaining book."
—Kirkus Reviews, starred review

"A remarkable story which Harman draws so skillfully . . . A brilliant piece of literary detective work. And though Harman is never so crass as to draw comparisons with today's concerns over the effects of drill music or chic TV assassins (Killing Eve's Villanelle?), the resonances ping from every page."
—Marcus Field, London Evening Standard
Knopf, 9780525520399, 272pp.
Publication Date: March 26, 2019
About the Author
CLAIRE HARMAN is the author of Charlotte Brontë: A Fiery Heart; Sylvia Townsend Warner, for which she won the John Llewellyn Rhys Prize; biographies of Fanny Burney and Robert Louis Stevenson; and Jane's Fame: How Jane Austen Conquered the World. She is a fellow of the Royal Society of Literature and a frequent reviewer. She divides her time between New York City and Oxford, England.
or
Not Currently Available for Direct Purchase