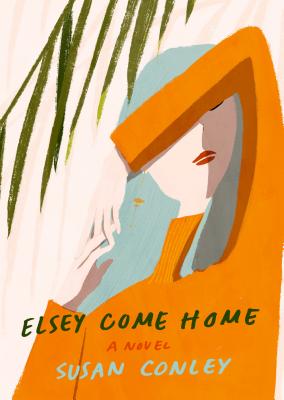 Elsey Come Home
A novel
Hardcover

* Individual store prices may vary.
Other Editions of This Title:
Digital Audiobook (1/14/2019)
Paperback (11/5/2019)
Library Binding, Large Print (3/13/2019)
Description
ONE OF THE "BEST WOMEN'S FICTION OF 2019 (SO FAR)"—MARIE CLAIRE
ONE OF THE "61 BOOKS WE'RE LOOKING FORWARD TO READING IN 2019"—THE HUFFINGTON POST
ONE OF THE "16 FICTION RELEASES TO WATCH FOR"—WASHINGTON INDEPENDENT REVIEW OF BOOKS
ONE OF THE "BEST NEW BOOKS COMING OUT WINTER 2019"—SOUTHERN LIVING
ONE OF THE "10 NEWLY-RELEASED BOOKS THAT WILL GIVE YOU AN EXCUSE TO STAY INDOORS THIS WINTER"—O MAGAZINE


"I loved, loved this novel" —Lily King             "What more can I say—perfect" —Judy Blume

"In this intricate, delicate-as-rice-paper novel, an American painter living in Beijing and trying to clean up her act at a yoga retreat makes gains in fits and starts, 'a butterfly, flitting from leaf to leaf.'"—O Magazine

From the widely praised author of Paris Was the Place—a shattering new novel that bravely delves into the darkest corners of addiction, marriage, and motherhood

When Elsey's husband, Lukas, hands her a brochure for a weeklong mountain retreat, she knows he is really giving her an ultimatum: Go, or we're done. Once a successful painter, Elsey set down roots in China after falling passionately for Lukas, the tall, Danish MC at a warehouse rave in downtown Beijing. Now, with two young daughters and unable to find a balance between her identities as painter, mother, and, especially, wife, Elsey fills her days worrying, drinking, and descending into desperate unhappiness. So, brochure in hand, she agrees to go and confront the ghosts of her past. There, she meets a group of men and women who will forever alter the way she understands herself: from Tasmin, another (much richer) expat, to Hunter, a young man whose courage endangers them all, and, most important, Mei--wife of one of China's most famous artists and a renowned painter herself--with whom Elsey quickly forges a fierce friendship and whose candidness about her pain helps Elsey understand her own. But Elsey must risk tearing herself and Lukas further apart when she decides she must return to her childhood home--the center of her deepest pain--before she can find her way back to him. Written in a voice at once wry, sensual, blunt, and hypnotic, Elsey Come Home is a modern odyssey and a quietly dynamic portrait of contemporary womanhood.
Praise For Elsey Come Home: A novel…
"Sometimes the structure of a novel so suits its content, so fully allows characters to inhabit the page, that it's hard to imagine any other arrangement. So it is with Susan Conley's twisty, absorbing new novel, with its brief urgent chapters that read like dispatches from near and far. . . . Conley takes her protagonist's screw-ups and compresses them into small, dire proclamations. The effect is often bracing. Elsey thrives in a poetry of mirrors and self-repair. . . . Readers may come away from this book marveling at the small miracle they've just witnessed. . . .  Elsey is that rare creation that evokes real life, defies predictability and disarms us at every turn. Conley has taken a jittery pile of loose ends and made a thing of beauty."—Joan Silverman, Portland Press Herald
 
"The novel is an intimate declaration of independence. … Conley tells it with such understanding and compassion that readers will be hard-pressed not to finish the slender volume in one sitting."—Steve Whitton, Anniston Star  

"The central tension of Elsey's life is the impossible choice between being an artist and being a mother. Her thoughtful, vulnerable, honest articulation of her pain—told from a distant future vantage point—is what truly drives her story toward resolution."—Shelf Awareness
 
"A beautiful, ethereal piece of writing—a look at the power of family, the nature of creativity and the dynamics of addiction. It's an exploration of one woman's psyche, a look both deep and broad into what makes a person tick, packed with emotional resonance and deftly-turned phrases."—Allen Adams, The Maine Edge 
 
"In Elsey Come Home, Portland author Susan Conley gives a startlingly honest voice to working mothers. Her mesmerizing sincerity rings a common bell."—
Amy Canfield, Maine Women's Magazine

"Elsey Come Home is a smart, wry, and immersive coming-of-middle-age story of growth and womanhood."—Elizabeth Entenman, HelloGiggles "Best New Books to Read This Week"
 
"Beautifully written. . . . The intriguing descriptions of life in China are a reminder that Americans, like people of other nations, sometimes emigrate and make their home elsewhere. In the end then, this is a thought-provoking novel."—Washington Times
 
"A surprising gem of a book"—Emma Snyder, WBJC Maryland

"Described as 'perfect' by Judy Blume herself, Susan Conley's new novel follows Elsey, a woman living in Beijing struggling to reconcile her identities as painter, mother, expat, individual, and wife. When the novel opens, Elsey is drinking heavily and descending rapidly into misery. Her husband suggests she take part in a retreat, where she meets a handful of strangers who change her life. It's a necessary look at the identity crisis women can face when the world forces them into boxes." —Marie Claire

"Elsey used to be a recognized painter, but now she's the wife of expat Danish musician Lukas and the mother of two girls under 10, and she's tethered to their home in China. As the slim novel opens, she's depressed and lost and in crisis; at Lukas' insistence, she leaves the family for a weeklong retreat that will end up transforming her. Even within a few paragraphs of this exploration of motherhood and individuality, Elsey's voice and emotional turbulence leap off the page." —The Huffington Post
 
"A former successful painter is forced to take a hard look at her life when her husband hands her—along with a silent ultimatum—a brochure for a weeklong mountain retreat." —Washington Independent Review of Books 

"Probing questions about how to balance motherhood, a career, marriage, and a drinking problem resonate throughout Conley's excellent novel . . . [Elsey Come Home is] an honest and astute depiction of the human psyche." —Publishers Weekly (starred)
 
"Conley's slim novel illustrates the power of storytelling as a process for healing. What entices and endures here is the voice: dreamy, meditative, hypnotic, and very real." —Kirkus

"I loved Elsey Come Home. The exotic setting, the characters Elsey meets along the way—her husband, her little girls, her dilemma. And the writing, spare and lovely. What more can I say—perfect." —Judy Blume, author of In the Unlikely Event

"Elsey Come Home is a delicious read, vivid and delicately wrought, and so very prescient with regard to the mother-child bond that it's almost eerie. I kept finding myself thinking, how did she know? and how did she find the words? An engrossing, moving meditation on family, loss, creativity, secrets, culture, and the bonds that hold our lives together against the odds." —Carolina De Robertis, author of The Gods of Tango
 
"Elsey's voice is a triumph. It sings. The writing is exquisite and tells the story of someone who has lost herself to the point that the pain in her life threatens to divide her from the people she loves most. There is so much at stake here, and even the small moments resonate. I loved, loved this novel." —Lily King, author of Euphoria

"What a quirky little gem of a book Susan Conley has written. I'm still trying to figure out how she created a character so seemingly lost to herself without losing me in the process. There's genuine alchemy here." —Richard Russo      
 
"Susan Conley's voice is so intimate and filled with such exquisite detail it was as if a friend was whispering Elsey Come Home in my ear. While Elsey is a character hemmed in by her own flaws and misgivings, her author is the opposite, showering us with emotional nuance and gorgeous writing that make this novel a showcase of modern domesticity with all its unpredictable complexities and triumphs. Anyone who has ever felt separate and finally comes together will find himself or herself in Elsey Come Home." —Betsy Carter, author of We Were Strangers Once

"Elsey Come Home is a triumph, a book of powerful women and even more powerful tradition. Contemporary China comes vividly to life alongside American friendships, family, and fortune good and bad—love and illness, pleasure and addiction, connection and misunderstanding, brittle trips back home. I love Susan Conley's sentences—spare but lyrical, hard-edged but melodic, not a word extra, a story so big no Talking Circle could ever contain it." —Bill Roorbach, author of The Remedy of Love and The Girl of the Lake
 
"Elsey Come Home is a thing of wonder and beauty, a novel about faraway places, both internal and external. I read this in one thirsty gulp, and through its window was shown certain truths about the joy, pain, and intricacy of marriage, and of being. Susan Conley is a magical writer; this book is her magic." —Mike Paterniti, author of The Telling Room
 
"I love Elsey—her vulnerability, and self-awareness, and her love for her daughters, which permeates the novel. This book is lush with colors, smells, and sounds, and has a compulsive, deeply gratifying shape. We're allowed to witness Elsey in all her glory, even when she's unable to see herself clearly." —Lewis Robinson, author of Water Dogs
Knopf, 9780525520986, 256pp.
Publication Date: January 15, 2019
About the Author
SUSAN CONLEY is the author of the novel Paris Was the Place and The Foremost Good Fortune, a book that won the Maine Literary Award for memoir. Born and raised in Maine, her writing has appeared in The New York Times Magazine, The Paris Review, and Ploughshares. She has been awarded fellowships from the MacDowell Colony, the Bread Loaf Writers' Conference, the Maine Arts Commission, and the Massachusetts Arts Council. She spent three years in Beijing with her husband and two sons before moving back to Portland, Maine, where she currently lives. She teaches in the Stonecoast Writing Program at the University of Southern Maine.
or
Not Currently Available for Direct Purchase