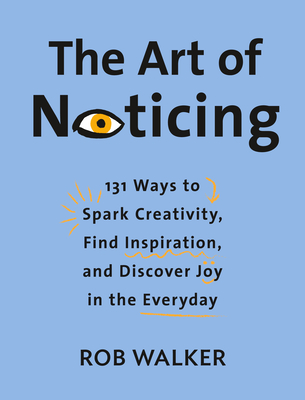 The Art of Noticing
131 Ways to Spark Creativity, Find Inspiration, and Discover Joy in the Everyday
Hardcover

* Individual store prices may vary.
Other Editions of This Title:
Digital Audiobook (5/6/2019)
Description
A thought-provoking, gorgeously illustrated gift book that will spark your creativity and help you rediscover your passion with "simple, low-stakes activities [that] can open up the world."—The New York Times

Welcome to the era of white noise. Our lives are in constant tether to phones, to email, and to social media. In this age of distraction, the ability to experience and be present is often lost: to think and to see and to listen.

Enter Rob Walker's The Art of Noticing—an inspiring volume that will help you see the world anew. Through a series of simple and playful exercises—131 of them—Walker maps ways for you to become a clearer thinker, a better listener, a more creative workplace colleague, and finally, to rediscover what really matters to you.
Praise For The Art of Noticing: 131 Ways to Spark Creativity, Find Inspiration, and Discover Joy in the Everyday…
"These simple, low-stakes activities can open up the world."
—Tim Herrera, The New York Times

"The book suggests the solution to digital overload involves conscious engagement rather than self-denial; you can keep your smartphone, so long as you remember to look around every so often, too."
—Quartz

"Excellent."
—Disquiet

"From 'unitasking' to the 'mindful shower,' The Art of Noticing is filled with clever, eminently deployable strategies for getting more from the world around you. It's a paean to alertness, a sensory upgrade, a delightful field guide to being alive." 
—Tom Vanderbilt, bestselling author of Traffic and You May Also Like

"The Art of Noticing is a book about reading, verbal and non-verbal reading, which is how we increasingly read now, and how we have always read. Walker encourages us to make a non-literal reading of our world, which can mean non-judgmental and more enlightened."
—Leanne Shapton, author of Guestbook and Swimming Studies

"Rob Walker's writing has always been wonderful because of his unique eye for noticing what other people miss. With this new book, he's basically teaching you all his secrets for seeing."
—Ryan Holiday, bestselling author of Ego is the Enemy and The Obstacle Is The Way

"Attention is a precious resource, one we waste in stupid ways. And attention is a muscle, one we can easily develop. In this refreshingly practical book, Rob Walker gives us 131 ways to treasure and improve our ability to see."
—Seth Godin, author of This is Marketing

"If you want a more interesting and creative life, the first thing to do is to start paying better attention to it. In The Art of Noticing, Rob Walker provides an essential guide to becoming an explorer of your everyday world. I found a ton to steal here and so will you."
—Austin Kleon, New York Times bestselling author of Steal Like An Artist
 
"In the tradition of John Berger, Susan Sontag, and George Nelson, Rob Walker offers a guide not to looking but to seeing—and why the difference is crucial. At once passionate and charming, he makes the case that noticing what's there is the first step in creating what's new."
—Michael Bierut, cofounder of Design Observer and author of Now You See It and Other Essays on Design
Knopf, 9780525521242, 256pp.
Publication Date: May 7, 2019
About the Author
ROB WALKER is a columnist and contributes to a wide of publications including The New York Times, The Atlantic, NewYorker.com, The Boston Globe, and Bloomberg Businessweek. He is the author of Buying In and Significant Objects (coedited with Joshua Glenn) and on the faculty of the Products of Design MFA program at the School of Visual Arts. He lives in New Orleans.