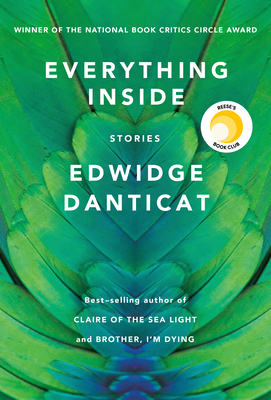 Everything Inside
Stories
Hardcover

* Individual store prices may vary.
Other Editions of This Title:
Digital Audiobook (8/26/2019)
Paperback (7/7/2020)
Paperback, Large Print (8/27/2019)
Description
WINNER OF THE NATIONAL BOOK CRITICS CIRCLE AWARD
WINNER OF THE STORY PRIZE
WINNER OF THE 2020 VILCEK PRIZE IN LITERATURE

From the internationally acclaimed, best-selling author of Brother, I'm Dying, a collection of vividly imagined stories about community, family, and love.

Rich with hard-won wisdom and humanity, set in locales from Miami and Port-au-Prince to a small unnamed country in the Caribbean and beyond, Everything Inside is at once wide in scope and intimate, as it explores the forces that pull us together, or drive us apart, sometimes in the same searing instant.

In these eight powerful, emotionally absorbing stories, a romance unexpectedly sparks between two wounded friends; a marriage ends for what seem like noble reasons, but with irreparable consequences; a young woman holds on to an impossible dream even as she fights for her survival; two lovers reunite after unimaginable tragedy, both for their country and in their lives; a baby's christening brings three generations of a family to a precarious dance between old and new; a man falls to his death in slow motion, reliving the defining moments of the life he is about to lose.

This is the indelible work of a keen observer of the human heart--a master at her best.
Praise For Everything Inside: Stories…
"A beautiful book.  Danticat's birthplace, Haiti, emerges in almost mythic fashion. It is a land where a life can be changed, a land that exists both in the past and the present, whose essence may be carried as far as Miami or Brooklyn. The unreliability of the human heart connects many of these stories. If, as [some] stories demonstrate, Haiti takes, others reveal how much it also gives. What brings the stories together is Danticat's precise yet emotionally charged prose, and the way she has curated this volume to create a satisfying whole." —Aminatta Forna, The New York Times Book Review

"Haunting, profound—an answered prayer for those who have long treasured Danticat's essential contributions to the Caribbean literary canon. These eight intimate tales, centered primarily around the diverse experiences of women in Port-au-Prince and Miami's Haitian diaspora, probe what it means to love a deeply troubled country, to leave it, and to then come home. Danticat's characters feel not like strangers, but close friends. How does an artist write so deftly from the outside about people's interior lives? Everything Inside is an answer to that question: This remarkable writer shows us how."—Alexia Arthurs, O, the Oprah Magazine

"Immensely rewarding, clear-eyed, gorgeous. . . a stunning collection that features some of the best writing of Danticat's brilliant career. Everything Inside is a relentlessly honest book about how we say goodbye; about compassion and cruelty in the face of death; about, as Danticat writes, 'loves that outlive lovers.'  The reader feels connected to Danticat's characters, but she refuses to manipulate her audience with anything sentimental or overly pat. Her writing is, as usual, superb. There are no wasted words; she writes with both economy and urgency, never shying away from difficult questions . . . 'While we are still alive, we are the ones who get to write the story,' Danticat wrote in [her memoir] The Art of Death. That is what she has done in Everything Inside, and unsurprisingly, she does it perfectly." —Michael Schaub, NPR
 
"Powerful, finely crafted. Like Danticat herself, many in these stories are members of the Haitian diaspora—they live in Florida and New York, but their emotional ties to Haiti are profound. When a home nursing attendant in Miami hears of her ex-husband's lover's abduction, she makes an offer of help—[with] surprising results. A young woman who teaches high school in Brooklyn has never met her father; [now] he's dying and wants to see her, and she finds something she never imagined. In the final story, life passes before [a construction worker's] eyes; Danticat gives us a warm portrait of the life he made, and she renders his death even more heartbreaking by revealing how his undocumented status will shape it  . . . Danticat's characters have fled [their] island nation, but her luckiest wanderers find their heart's home, wherever it may be." —Colette Bancroft, Tampa Bay Times

"Impactful . . . Danticat reveals with stunning precision the myriad ways lovers, friends, parents, and even nations people [can] disappoint, as well as the hard knowledge that shapes their path forward. Danticat's women, in particular, find the narrow spaces where they learn to live with difficult decisions. Haiti remains a vital presence—when a woman says, 'I can't live without my country,' it's as if she's talking about a vital organ. Danticat writes with spare, clean prose; she lets her words breathe. With an unfaltering voice and evocative beauty, Danticat shows the uncelebrated resilience it takes to move toward something that, if not quite happiness, still burns brighter than sorrow." —Renée Graham, The Boston Globe

"Danticat's voice has woven its way into our consciousness, with unforgettable tales of families and lovers—from Haiti to Miami, Brooklyn, and beyond—often struggling with grief, loss, and missed connections. Her new book deals with marriage and mortality, secrets and separations, as well as the physical and psychological aftershocks of Haiti's devastating 2010 earthquake." —Anderson Tepper, Vanity Fair
 
"Heart-rending. . . Danticat creates an emotionally rich universe. Though the stories in Everything Inside are linked by themes of love, death, and family,  each is distinctive, gripping, and memorable in its own right, creating a collection that highlights the acclaimed storyteller at her best." —Lydia Wang, Bust Magazine
 
"Surprising, astute, memorable and vibrant stories from [an] incomparable author." —Karla Strand, Ms. Magazine

"Soulful, lush . . . Danticat's tenderhearted characters give, they love, they agree to requests it would be wiser to refuse: they are relentlessly all-in. Danticat draws the reader deep into their psyches [and] makes us complicit in their bad moves. These stories, about Haitian immigrants in America and their descendants, turn on secrets, betrayal and accidents, but never feel melodramatic; traumas shake even ordinary lives. Edwidge Danticat has been laying waste to readers' hearts with her gorgeous prose for 25 years—with Everything Inside, she has only deepened her art." —Jenny Shank, Minneapolis Star Tribune

"Vibrant and hauntingly human." —Meredith Boe, Chicago Review of Books
 
"Simply breathtaking—heart-rending, exquisite." —Steve Whitton, The Anniston Star
 
"A book about love in its many forms, and its costs . . . The stories reveal the possibilities—and dangers—of relationships, where one life brushes up against another. Characters bridge boundaries of self, culture and geography, risking much to gain much . . . Good historians like Danticat illustrate the importance of learning from our past, and from one another."
—Abby Manzella, St. Louis Post-Dispatch
 
"Bittersweet, satisfying. Layering unsentimental, clear writing with resonant imagery, Danticat delivers elegant gut-punches of irony. How can and should the artist, the writer, and the privileged among us respond creatively to another's suffering? How do we appropriately witness someone else's pain? This is existentialist fiction: our full essence — everything inside — is not manifest until the moment of death. Everything Inside is [a] hallmark of Danticat's mastery of prose—of the way she coaxes beauty from pain." —Joanie Conwell, Los Angeles Review of Books
 
"Eight powerful tales of diaspora, love, loss, and in some cases, redemption. Danticat's writing is language stripped bare, which lets her stories and characters breathe. There is a rising intensity in these stories, from the first sentence of the first page . . . A masterful collection, beautifully wrought and elegantly told." —Yvonne C. Garrett, The Brooklyn Rail

"Poignant, emotionally driven stories by the masterful Danticat, set everywhere from Miami to an unnamed Caribbean island. It's Marie Claire's #ReadWithMC September book club pick, so trust us on this—it's a good one." —Alexis Jones, Marie Claire

"Astounding . . . written with the kind of emotional precision that leaves you gasping. We meet a whole cast of characters who feel absolutely real: so striking in their ordinariness, so complex in their humanity. Danticat is a fiction master." —Arianna Rebolini, BuzzFeed

"Top-notch storytelling." —Emily Temple, Lit Hub

"Powerful and poignant, heartbreaking and hopeful . . . Everything Inside mines the emotional and psychological landscapes of Haitian immigrants through rich narratives that explore the nature of family, identity and home. These are narratives about people struggling to connect—across continents, across generations." —Julie Hale, BookPage

"Rich, vibrant. Haiti is the emotional core of this collection, though the characters roam the world. Lovers reconcile after a catastrophe, a daughter meets her dying father for the first and last time and a family reunites at a baby's christening."
—Joumana Khatib, The New York Times "11 New Books to Watch For in August"
 
"National Book Award finalist Danticat uses eight short stories to dissect the family unit, diving into marriage, parenthood and young love. The collection tests the strength of familial bonds as characters deal with tragedies of all sizes. Danticat takes readers to her birthplace of Port-au-Prince, Haiti, as well as Miami and an unnamed part of the Caribbean in these narratives that probe the intersections of community, compassion and loss."
—Annabel Gutterman, Time "11 New Books You Should Read in August"
 
"Vigorous, compelling . . . Everything Inside provides a storyteller's insight to how migration to and from the Caribbean affected people's lives, personalities, and relationships."
—Jianan Qian, The Millions
 
"Internationally acclaimed Danticat returns with a vivid collection of powerful short stories that weave together tales of tenacity, family and unexpected love."
—Bridgette Bartlett Royall, Essence

"Vast, moving, and intimate . . . Everything Inside explores all at once the full scope of human experience [and] tackles head on the complexity and impossibility of feeling." —Kevin Chau, Lit Hub
  
"Danticat is a master . . . In these narratives of unexpected romance, personal tragedy, and family complications, her compassionate sensitivity to the ties that bind us shines through." —Adrienne Westenfeld, Esquire
 
"Moving, striking—[written] with powerful grace. A remarkable tenderness is the collection's most persistent theme. Danticat's work has always been quietly revolutionary . . . Danticat says these new characters may be thought of as the grandchildren of [those] in Krik? Krak!, Breath, Eyes, Memory, and The Dew Breaker. In Everything Inside, the characters include people born in America: rather than facing Haiti's gunmen and ghosts, this generation is navigating more quotidian concerns such as romantic breakups and sending kids to college. Political exile still appears . . . But generally, these are tales of a different exile—of emotional severance and reconnection. In the end, we are left with these characters' brutal, banal, and beautiful moments, like a wide night luminous, every so often, with firefly stars." —Gabrielle Bellot, Publishers Weekly

"Outstanding; deeply memorable . . . funny, charming, touching . . . Set among the Haitian 'dyaspora,' the tales describe the complicated lives of people who live in one place but are drawn elsewhere. Families fracture and reform . . . In propulsive prose, and with great compassion, Danticat writes both of her characters' losses and of their determination to continue." —Publishers Weekly, [starred, boxed review]

"Extraordinary: spare, evocative, moving. Danticat tackles the complexities of diaspora with lyrical grace. This collection draws on her exceptional strengths as a storyteller . . . She is a master of economy; she has always possessed the remarkable ability to build singular fictional worlds in a matter of sentences. These are stories of lives upended by tragedies big and small; Danticat attends to the ways families are made and unmade . . . She asks her readers to witness the integrity of her subjects as they excavate beauty and hope from uncertainty and loss." —Kirkus (starred review)

"Haunting . . . Danticat once again urges readers out of comfort zones to bear witness to urgent topics—and alchemizes sorrows and tragedies into opportunities for enlightenment." —Terry Hong, Booklist (starred review)
Knopf, 9780525521273, 240pp.
Publication Date: August 27, 2019
About the Author
EDWIDGE DANTICAT is the author of numerous books, including The Art of Death, a National Book Critics Circle finalist; Claire of the Sea Light, a New York Times Notable Book; Brother, I'm Dying, a National Book Critics Circle Award winner and National Book Award finalist; The Dew Breaker, a PEN/Faulkner Award finalist and winner of the inaugural Story Prize; The Farming of Bones, an American Book Award winner; Breath, Eyes, Memory, an Oprah's Book Club selection; and Krik? Krak!, also a National Book Award finalist. A 2018 Neustadt International Prize for Literature winner, and the recipient of a MacArthur "Genius" Grant, she has been published in The New Yorker, The New York Times, Harper's Magazine, and elsewhere.
Coverage from NPR
or
Not Currently Available for Direct Purchase