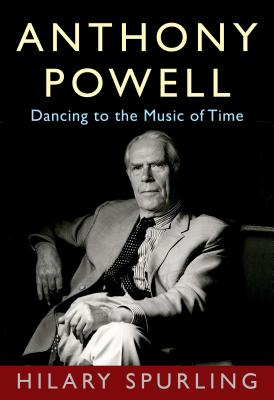 Anthony Powell
Dancing to the Music of Time
Hardcover

* Individual store prices may vary.
Other Editions of This Title:
Digital Audiobook (11/5/2018)
Description
The author of the award-winning Matisse: A Life gives us the definitive biography of writer Anthony Powell--and takes us deep into the heart of twentieth-century London's literary life.

Insightful, lively, and enthralling, this biography is as much a brilliant tapestry of a seminal era in London's literary life as it is a revelation of an iconic literary figure. Best known for his twelve-volume comic masterpiece, A Dance to the Music of Time, the prolific writer and critic Anthony Powell (1905–2000) kept company between the two world wars with rowdy, hard-up writers and painters—and painters' models—in the London where Augustus John and Wyndham Lewis loomed large. He counted Evelyn Waugh and Henry Green among his lifelong friends, and his circle included the Sitwells, Graham Greene, George Orwell, Philip Larkin, and Kingsley Amis. Drawing on letters, diaries, and interviews, Hilary Spurling—herself a longtime friend of Powell's as well as an award-winning biographer—has produced a fresh and powerful portrait of the man and his times.
Praise For Anthony Powell: Dancing to the Music of Time…
"In the manner of the best literary biographers, Spurling fluidly incorporates the life and works of British novelist Anthony Powell, whose 12-novel sequence, A Dance to the Music of Time… remains one of the high-watermarks of the twentieth-century literature…One hopes that this impeccable, thoroughly readable biography will help bring new readers to an author whose central subject, 'human beings behaving,' should never go out of fashion."
—Bill Ott, Booklist (Starred Review)
  
"…[an] elegant, affectionate biography…"
—John Banville, The New Republic

 
"[Spurling] brings Powell alive with her signature meticulous research…"
—Lorna Koski, Women's Wear Daily

"Hilary Spurling's new biography, Anthony Powell: Dancing to the Music of Time, is a fond portrayal of the man sometimes called 'the English Proust'…[Spurling] is a superb biographer… and this new book is everything readers have come to expect from her.  It's thorough, judicious and gracefully written."
—Charles McGrath, The New Yorker
 
"Spurling, author of well-received biographies of artists and writers such as Henri Matisse and novelist Ivy Compton-Burnett, offers the definitive account of Anthony Powell, one of the most prominent and respected 20th-century writers…Spurling is especially good at delineating Powell's many relationships with…leading literary figures such as George Orwell, Malcom Muggeridge, Constant Lambert, the Sitwells, Evelyn Waugh, and Graham Green."
—Morris Hounion, Library Journal (Starred Review)

"[A] shrewd, judicious biography… Spurling is one of Britain's finest biographers."
—Michael Gorra, The Wall Street Journal


"A landmark biography."
—James Marriott, The Times (London)
 
"Intimate and judicious, it doubles as an alternative history of a lost kind of Englishness." 
—Tim Adams, The Observer (London)
 
"Witty, spirited, richly crowded with incident and character, and a joy to read."
—Prospect (London)

"Spurling has brought [Powell] to humane and generous life."
—The Daily Telegraph (London)
 
"Spurling's excellent and vivid biography will hopefully turn our attention again to Powell's work…Powell emerges from this exemplary and deliciously readable account not only as a novelist of considerable significance who altered the parameters of the form, but also as a human being of great wit, impressive modesty and firm integrity. He is, as Proust was before him, the great literary chronicler of his culture in his time."
—Claire Messud, The Guardian (London)
 
"A meticulous biography that deftly connects the life and work of the novelist often described as an English Proust…where Spurling excels is in her punchy analyses of his novels and her understanding of the writer's life. We see his dealings with publishers in fascinating detail…and we witness the slow development of ideas about novelistic form that would lead him in his forties to embark on his masterpiece."
—Lara Feigel, The Financial Times (London)

"In this biography, Powell gets what he deserves—a biographer of wide sympathy and human understanding, in tune with a style of manners and a way of thinking that is slowly vanishing, and very unlikely to be resurrected…Powell was a writer as self-doubting and as shockingly original as Beckett. It's good to have a commentator who understands that."
—Philip Hensher, Spectator (London)
 
"[Spurling's] pen portraits are deft and vivid…She is an accomplished biographer – beady in seizing on telling details, brisk and bold in her evaluation of a character or retelling of an incident. Her comments on Powell's writing are always illuminating."
—Lucy Hughes-Hallett, New Statesman (London)
Knopf, 9780525521341, 480pp.
Publication Date: November 6, 2018
About the Author
HILARY SPURLING is the author ofbiographies of Matisse, Pearl Buck, Ivy Compton-Burnett, and Paul Scott, among others. She won the Rose Mary Crawshay Prize and the Duff Cooper Prize for Ivy When Young, the Whitbread Book of the Year Award for Matisse the Master, and the James Tait Black Memorial Prize for Burying the Bones. She was Theatre Critic and Literary Editor of the Spectator from 1964 to 1970, and has since been a regular book reviewer for the Observer and the Daily Telegraph. In 2016 she won the Biographers' Club Lifetime Achievement Award.
or
Not Currently Available for Direct Purchase