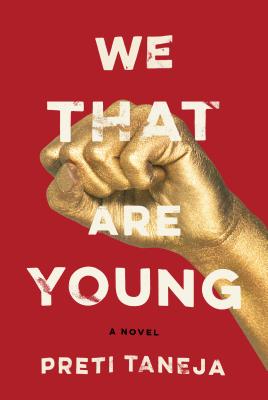 We That Are Young (Hardcover)
A novel
Knopf, 9780525521525, 496pp.
Publication Date: August 28, 2018
Other Editions of This Title:
Digital Audiobook (8/27/2018)
Paperback (7/30/2019)
* Individual store prices may vary.
Description
When a billionaire hotelier and political operator attempts to pit his three daughters against one another, a brutal struggle for primacy begins in this modern-day take on Shakespeare's King Lear. Set in contemporary India, where rich men are gods while farmers starve and water is fast running out, We That Are Young is a story about power, status, and the love of a megalomaniac father. A searing exploration of human fallibility, Preti Taneja's remarkable novel reveals the fragility of the human heart—and its inevitable breaking point.
About the Author
Preti Taneja was born in England to Indian parents. She has worked with youth charities, with refugees, and in conflict and post-conflict zones on minority and cultural rights, and teaches writing in prisons and universities. She is the co-founder of the advocacy collective ERA Films and of Visual Verse, an online anthology of art and words. We That Are Young won the 2018 Desmond Elliot Prize for the UK's best debut novel and was nominated for numerous international awards, including the Folio Prize, India's Shakti Bhatt First Novel Prize, and Europe's most prestigious award for a work of world literature, the Prix Jan Michalski.
Praise For We That Are Young: A novel…
"Extraordinary. That rare thing—a genuinely new voice. Spellbinding. It does what all the best novels do. It expands the possibilities of the form."
—Mark Haddon, author of The Curious Incident of the Dog in the Night-Time
 
"Preti Taneja has packed her debut novel with so much insight and feeling for contemporary India that her sentences seem to spill out as if from an overstuffed bag. It's a marvel that she was able to pack in so much (plot, atmosphere, social observation, you name it) while sustaining such propulsive energy over the course of nearly 500 pages, and yet she manages to the last. The overall effect is dizzying, dazzling, and ultimately convincing and immersive."
—Eugenia Williamson, Boston Globe
 
"We That Are Young is an embodiment [of King Lear]. The register is dramatic and the language poetic. . . . It's marvelous to watch Taneja, a woman, play with the text [of Lear] in which the women are atrocious. She's no easier on these characters than Shakespeare was, redeeming none, so that the last laugh is hers. And it's as gratifying to watch Preti Taneja take on William Shakespeare as it is to watch India trounce Britain at cricket. The Raj is long over; ever kingdom falls."
—Rumaan Alam, The New York Times Book Review

"We That Are Young is a masterpiece. I can't remember when I last read a book so uncompromising, fierce and emotionally vast."
—Omar El Akkad, author of American War
 
"Taneja is a writer of considerable energy and invention . . . [We That Are Young has] such deliberate and frightening pacing, such a mix of triumph and psychosis, it's up there with anything Mary Gaitskill or Susanna Moore have ever written . . . An entirely original take on Lear . . . A new, chilling take on one of the oldest stories in the world."
—Parul Sehgal, The New York Times
 
"Every now and then, a writer grabs you in the first paragraph and doesn't let go. Such is the case with Taneja, whose stunning debut brings with familial jealousy, sexual tension, political turmoil, and shocking violence. . . . Taneja writes with passion and verve. . . . Highly recommended."
—Sally Bissell, Library Journal
 
"Take Vikram Seth's A Suitable Boy, King Lear, 'The Jewel in the Crown,' 'Lifestyles of the Rich and Famous' and V.S. Naipaul's India: A Wounded Civilization; pass them along to DJ Danger Mouse for a bit of a mashup; and you'd have a sense of the shape and scope of Preti' Taneja's debut novel."
—Thane Tierney, Bookpage

"Shakespeare's supreme tragedy, King Lear, is transposed to contemporary India and recast as a family drama of financial power-brokering within a transforming, culturally complex nation. . . . Issues of gender and generations spearhead the conflict in this mammoth drama of money, succession, and control, British-born Taneja's impressive first work of fiction. Pulsing with vitality . . . Taneja's dreamy synthesis of language, place, food, clashing views and values, seeping Westernization, and post-colonial flux reaches its climax. A long, challenging, but inspired modernization of a classic—engaging, relevant, and very dark."
—Kirkus Reviews (starred review)
 
"Taneja's impressive debut uses King Lear as a template but fearlessly varves a territory of its own. While remaining close to Shakespeare's plot points, she offers a portrait of modern India both panoramic and complex. . . . Taneja's intricate, literary prose is heavy in both detail and reflection. This is a work of epic scope and depth that's bracingly of the current moment."
—Publisher's Weekly (starred review)

"Big, beautiful, and most of all bold: a rewriting of King Lear, transplanted to modern day Delhi which is both a dazzlingly original reading of the play and a full novel in its own right. A masterpiece, and by a long way my book of the year."
—Daniel Swift, The Spectator
 
"Finely crafted . . . Taneja has given us that rarest of beasts, a page-turner that's also unabashedly political—with the complex, ambiguous, fiercely felt politics of our time."
—Deborah Smith, The Guardian
 
"This spirited debut is one of the most original . . . and exquisite novels of the year. . . . This is a new voice, vivid, full of imagery and pace, and with the richness to match the vibrancy of its world."
—Alexander Nurnberg, The Sunday Times
 
"Sharp, cogent, and evocative . . . The great appeal of [We That Are Young] concerns the serving of justice: discovering who gets what, as opposed to who deserves what."
—Randy Boyagoda, The New Statesman
 
"A remarkable picture of contemporary India . . . Taneja's sensuous writing brings women's predicaments to life . . . a chilling warning."
—Sarah Gilmartin, The Irish Times
 
"India's exorbitance almost overwhelmingly spills out of Taneja's prodigious sprawling debut novel that unrolls a contemporary reworking of King Lear. The ruinous after-effects of a despotic business tycoon's resignation shudder through her 550-page narrative packed with vivid scenes and powered with prose of terrific vitality."
—Peter Kemp, The Sunday Times, Books of the Year

"Preti Taneja spares us the unrhymed iambic pentameter, but not the poetry, in a contemporary retelling of Shakespeare's King Lear."
—Erin Kodicek, Amazon Book Review
 
"A searing reinvention of one of literature's most memorable tragedies, We That Are Young is a gripping portrait of a family and a nation on the brink of change."
—Dianca Potts, Signature