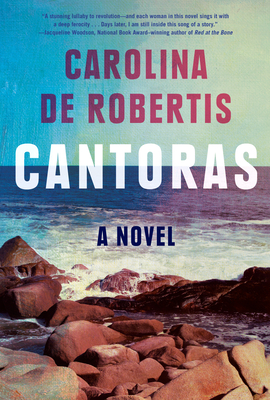 Cantoras
A novel
Hardcover

* Individual store prices may vary.
Other Editions of This Title:
Paperback (6/2/2020)
Digital Audiobook, Spanish, Castilian (10/6/2021)
Digital Audiobook (9/2/2019)
Paperback, Spanish (9/1/2020)
Description
"Cantoras is a stunning lullaby to revolution—and each woman in this novel sings it with a deep ferocity. Again and again, I was lifted, then gently set down again—either through tears, rage, or laughter. Days later, I am still inside this song of a story." —Jacqueline Woodson, National Book Award–winning author

From the highly acclaimed, award-winning author of The Gods of Tango, a revolutionary new novel about five wildly different women who, in the midst of the Uruguayan dictatorship, find one another as lovers, friends, and ultimately, family.

In 1977 Uruguay, a military government crushed political dissent with ruthless force. In this environment, where the everyday rights of people are under attack, homosexuality is a dangerous transgression to be punished. And yet Romina, Flaca, Anita "La Venus," Paz, and Malena—five cantoras, women who "sing"—somehow, miraculously, find one another. Together, they discover an isolated, nearly uninhabited cape, Cabo Polonio, which they claim as their secret sanctuary. Over the next thirty-five years, their lives move back and forth between Cabo Polonio and Montevideo, the city they call home, as they return, sometimes together, sometimes in pairs, with lovers in tow, or alone. And throughout, again and again, the women will be tested—by their families, lovers, society, and one another—as they fight to live authentic lives.

A genre-defining novel and De Robertis's masterpiece, Cantoras is a breathtaking portrait of queer love, community, forgotten history, and the strength of the human spirit. At once timeless and groundbreaking, Cantoras is a tale about the fire in all our souls and those who make it burn.
Praise For Cantoras: A novel…
Named a Finalist for the 2019 Kirkus Prize for Fiction
One of NPR's "Favorite Books of 2019"
One of the"5 Books Not to Miss" —USA Today
One of the "40 Biggest Books of the Season" —Entertainment Weekly
One of the "Nine New Books By Latinx Writers You've Got To Read" —Buzzfeed
One of the "Most Anticipated Books for 2019" —LitHub
One of the "33 Books You've Got To Read This Autumn" —Buzzfeed
One of the "36 New Books Of Fall 2019 You Need To Have On Your Autumn Reading List" —Bustle
One of the "Favorite Books for Fall 2019" —Alma
One of the "30 New Books of Queer and Feminist Interest to Get Excited About This Fall" —Autostraddle
Selected as a 'Well Read' Recommendation —Cinnamon Magazine

"Brazenly hopeful . . . The great success of this novel is that it shows how tyranny, even if you can hide from it by living a quiet life, is a thief of joy and love. De Robertis's precise, chilling insight into the daily agonies of life under a dictatorship rivals Ariel Dorfman's . . . Cantoras is bold and unapologetic, a challenge to the notion of 'normalcy' and a tribute to the power of love, friendship and political resistance. It's a revolutionary fable, ideal for this moment, offered with wisdom and care." —Dina Nayeri, The New York Times Book Review

"Sweeping and utterly breathtaking . . . Aside from the consistently engrossing narrative that effortlessly interweaves the story of each woman's personal successes and setbacks with Uruguay's complicated struggle to come into its own as a democratic republic, De Robertis' writing is reason alone to read this book. Like her fierce characters, her words pry and pull at the essence of not only what it feels like to be thwarted, condemned or quarantined because of your beliefs and identity, but also what it means to be a vulnerable yet empowered, infinitely beautiful and fully alive woman. Often, these sentences hit their target so directly and eloquently that they practically sing." —Alexis Burling, San Francisco Chronicle

"It's impossible not to fall in love with these fierce 'girlwomen'—queer, courageous, and adventurous—as they find freedom in their relationships with each other while living under a ruthless dictatorship." —Angie Cruz, Vanity Fair

"Carolina's writing, as always, blew me away. Cantoras is a stunning lullaby to revolution—and each woman in this novel sings it with a deep ferocity. Again and again, I was lifted, then gently set down again—either through tears, rage, or laughter. Days later, I am still inside this song of a story."—Jacqueline Woodson, National Book Award winner and author of Red at the Bone

"Cantoras is a wise, brilliantly compassionate, wide-ranging novel about women in Uruguay, and about the power and realities of love. Carolina De Robertis is a force: prepare to be astonished."—R. O. Kwon, author of The Incendiaries

"Breathtaking . . . Cantoras is a gem of a novel, shining in every creative facet . . . If this book were an opera, De Robertis would be deafened by curtain call after curtain call. It is, to say the least, a most memorable page turner that carries a siren call of hope" —Janet Levine, New York Journal of Books

"A lyrical, richly sensory novel about a group of renegade cantoras—slang for queer women—who claim a beach refuge during the worst years of the dictatorship in Uruguay, and beyond. Together they steal time from oppression of all kinds, unspooling the infinity of themselves. Pointedly relevant to our own dangerous age, Carolina De Robertis has gifted us a majestic work of song and imagination, a handbook to survival for us all."—Cristina García, author of Here in Berlin

"Searing . . . The author sensitively and singularly touches on themes of queerness, community, and perseverance."—David Canfield, Entertainment Weekly

"Over the course of 35 years, De Robertis charts the fortunes of these women as they fall in and out of love and navigate the country's tumultuous politics. That [Cantoras is] written in such lovely prose is an added bonus." —Tomi Obaro, Buzzfeed

"Cantoras is historical fiction at its best. A magical tale of women, love, political upheaval and the beautiful landscape of Uruguay, it is expansive in scope and daring in content." —Karin Greenberg, Woodbury Magazine

"Rich and luscious, De Robertis' writing feels like a living thing, lapping over the reader like the ocean. Carefully crafted and expertly observed, each sentence is an elegant gift . . . A stunning novel about queer love, womanhood, and personal and political revolution."—Kirkus (starred)

"Freedom—its presence and absence, the longing for it—colors every page of Carolina De Robertis' masterful, passionate and at times painful new novel . . . By the end of the novel, there is a sense that the reader has done more than simply peer in on the lives of strangers, that instead they have experienced something organic and deeply human—a dangerous, powerful kind of freedom." —Omar El Akkad, BookPage (starred)

"Sensuous . . . De Robertis does a fine job of probing the harsh realities of what it takes to carve out a life of freedom under an oppressive government."—Publishers Weekly

"I loved Cantoras. I rooted for these remarkable women during every step of their journey and found myself weeping in gratitude and happiness in the final pages."—Lisa See, author of The Tea Girl of Hummingbird Lane
 
"It felt like a blessing to read Carolina De Robertis's new novel, Cantoras. In this toxic era, her voice is what we need to bring us back to wholeness. Aside from that, it's a damn good read! A gift."—Luis Alberto Urrea, author of The House of Broken Angels
 
"A powerful paean to freedom. Cantoras is a work of great beauty—it pulses and glows and gathers its words like poetry. Most of all, it leaves the reader longing for a world in which to be oneself is no risk and requires no special courage."—Karen Joy Fowler, author of the Booker finalist We Are All Completely Beside Ourselves
 
"Tender, subversive, astonishing, so moving and thrilling. I'm so beguiled and stirred by this novel. It tells a story, about women in a grim time, that one feels couldn't have been told before, until Carolina De Robertis came along. But it delivers the rich satisfactions of a nineteenth-century political novel, as if Virginia Woolf had been inspired or infuriated by The Secret Agent, and let loose."—Francisco Goldman, author of Say Her Name
Knopf, 9780525521693, 336pp.
Publication Date: September 3, 2019
About the Author
CAROLINA DE ROBERTIS is a writer of Uruguayan origins and the author of The Gods of Tango, Perla, and the international best seller The Invisible Mountain. Her novels have been translated into seventeen languages and have garnered a Stonewall Book Award, Italy's Rhegium Julii Prize, a National Endowment for the Arts Fellowship, and numerous other honors. She is also a translator of Latin American and Spanish literature and editor of the anthology Radical Hope: Letters of Love and Dissent in Dangerous Times. In 2017, the Yerba Buena Center for the Arts named De Robertis on its 100 List of "people, organizations, and movements that are shaping the future of culture." She teaches at San Francisco State University and lives in Oakland, California, with her wife and two children.

carolinaderobertis.com
or
Not Currently Available for Direct Purchase