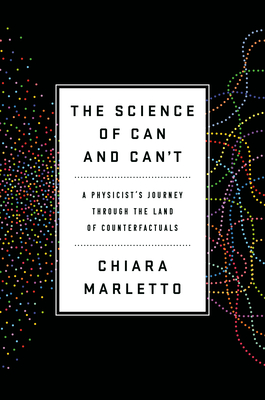 The Science of Can and Can't
A Physicist's Journey through the Land of Counterfactuals
Hardcover

* Individual store prices may vary.
Description
A luminous guide to how the radical new science of counterfactuals can reveal that the scope of the universe is greater, and more beautiful, than we ever imagined

There is a vast class of things that science has so far almost entirely neglected. They are central to the understanding of physical reality both at an everyday level and at the level of the most fundamental phenomena in physics, yet have traditionally been assumed to be impossible to incorporate into fundamental scientific explanations. They are facts not about what is (the actual) but about what could be (counterfactuals).

According to physicist Chiara Marletto, laws about things being possible or impossible may generate an alternative way of providing explanations. This fascinating, far-reaching approach holds promise for revolutionizing the way fundamental physics is formulated and for providing essential tools to face existing technological challenges--from delivering the next generation of information-processing devices beyond the universal quantum computer to designing AIs. Each chapter in the book delineates how an existing vexed open problem in science can be solved by this radically different approach and it is augmented by short fictional stories that explicate the main point of the chapter. As Marletto demonstrates, contemplating what is possible can give us a more complete and hopeful picture of the physical world.
Praise For The Science of Can and Can't: A Physicist's Journey through the Land of Counterfactuals…
Praise for The Science of Can and Can't:

"[A] revolutionary recasting of physics . . . Marletto's contributions to 'constructor theory' reconcile what we think of as physical laws with the open-ended possibilities thrown up by biology and information theory. It is a paradigm that, for all its rigor, re-enchants the world and enriches our place in it." —New Scientist

"[A] cerebral yet intellectually satisfying journey with a simple description of the two kinds of counterfactuals in physics . . . Marletto's style resembles a frank conversation with the reader. Sophisticated concepts in physics, like information and knowledge, are explained using clear analogies to everyday life." —Booklist

"[A] lyrical yet complex debut . . . References to Greek mythology, Shakespeare, chess, and Legos add life to her survey . . . Marletto's love of physics shines through . . . Those with an interest in physics will appreciate her passion and her provocative approach." —Publishers Weekly

"[T[here's plenty of food for thought for those interested in the processes of conceptual breakthrough [in The Science of Can and Can't]." —Kirkus Reviews

"Marletto has a clear, sharp and imaginative style of explaining science . . . [The Science of Can and Can't] will open the doors to a dazzling, deep set of new concepts and ideas that will change and affect deeply the way you look at the world. Let her story unfold. It will be an open-ended exploration of the endless possibilities that the laws of physics allow for." —David Deutsch, author of The Beginning of Infinity 

"Hugely ambitious, Chiara Marletto is the herald for a revolutionary new direction for physics. This book is essential reading for anyone concerned with the future of physics." —Lee Smolin, author of Life of the Cosmos

"I enjoyed this book very much, not least because of the freshness of its approach to a subject that can easily become hard for the non-scientific mind to grasp. The theory of 'can and can't' is an intriguing way of describing problems that are not only scientific (it describes very well what a storyteller does, for instance), and Marletto's account of some things I thought I more or less understood (the nature of digital information, for one) illuminated them from an angle that showed them more clearly than I'd seen them before." —Philip Pullman
Viking, 9780525521921, 272pp.
Publication Date: May 4, 2021
About the Author
Chiara Marletto is a research fellow at Wolfson College and the University of Oxford Department of Physics. Her main research focus is theoretical physics, but she enjoys dabbling in theoretical biology, epistemology, and Italian literature. This is her first book.