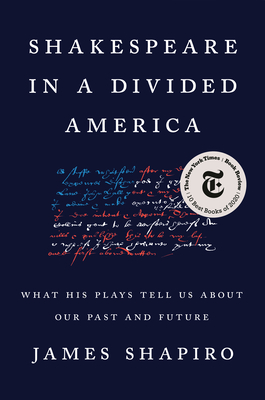 Shakespeare in a Divided America
What His Plays Tell Us About Our Past and Future
Hardcover

* Individual store prices may vary.
Other Editions of This Title:
Paperback (3/9/2021)
Description
One of the New York Times Ten Best Books of the Year

A New York Times Notable Book

From leading scholar James Shapiro, a timely exploration of what Shakespeare's plays reveal about our divided land, from Revolutionary times to the present day

The plays of William Shakespeare are rare common ground in the United States. They are read at school by almost every student, staged in theaters across the land, and long valued by conservatives and liberals alike. For well over two centuries, Americans of all stripes—presidents and activists, writers and soldiers—have turned to Shakespeare's works to explore the nation's fault lines, including such issues as manifest destiny, race, gender, immigration, and free speech. In a narrative arching across the centuries, from Revolutionary times to the present day, leading scholar James Shapiro traces the unparalleled role of Shakespeare's four-hundred-year-old tragedies and comedies in illuminating the many concerns on which American identity has turned. Reflecting on how Shakespeare has been invoked—and at times weaponized—at pivotal moments in our past, Shapiro takes us from President John Quincy Adams's disgust with Desdemona's interracial marriage to Othello, to Abraham Lincoln's and his assassin John Wilkes Booth's competing obsessions with the plays, up through the fraught debates over marriage and same-sex love at the heart of the celebrated adaptations Kiss Me, Kate and Shakespeare in Love. His narrative culminates in the 2017 controversy over the staging of Julius Caesar in Central Park, in which a Trump-like leader is assassinated.
 
Deeply researched, and timely, Shakespeare in a Divided America reveals how no writer has been more closely embraced by Americans, or has shed more light on the hot-button issues in our history. Indeed, it is by better understanding Shakespeare's role in American life, Shapiro argues, that we might begin to mend our bitterly divided land.
Praise For Shakespeare in a Divided America: What His Plays Tell Us About Our Past and Future…
"[A] terrific new book . . . If Jill Lepore and the late Tony Judt had collaborated, this taut, swift and insightful tract might have been the offspring . . . Among all the fine words currently being spilled examining the American mess, James Shapiro has outshone many of our best political pundits with this superb contribution to the discourse. He upped the wattage simply by bouncing his spotlight off a playwright 400 years dead who yet again turns out to be, somehow, us."—David Ives, New York Times Book Review
 
"Shapiro treats us to one deep-dive vignette after another, most of which center on Shakespearean nuggets from America's past that have vanished from view even among seasoned fans of this country's neglected cultural curios." —Bookforum

"Elegant, engaging, and enlightening, Shakespeare in a Divided America is a not-at-all guilty pleasure in this winter of our discontent." —Psychology Today

"Entertaining and accessible . . .Shapiro makes the case that arguments about the Bard's plays have long reflected our conflicted beliefs as a nation about hot-button issues like immigration, adultery, homosexuality and interracial love." —Associated Press

"Shapiro presents eight cases of Shakespeare's impact in a perpetually culture-clashing U.S. ...Filling out each chapter with vivid context, Shapiro could hardly be more engaging." —Booklist

"Impeccably researched, [Shakespeare in a Divided America] focuses on how key figures in American history have experienced Shakespeare . . . A thought-provoking, captivating lesson in how literature and history intermingle."—Kirkus Reviews

"Fascinating [...] Chock-full of approachable and engaging critical analyses, this work will pique the curiosity of both Shakespeareans and anyone interested in American culture."—Library Journal 

"Shapiro's wit and well-sourced anecdotes enliven his incisive analysis of more than a century's worth of American history. Written with broad appeal and expert insight, this sparkling account deserves to be widely read." —Publishers Weekly, starred review

"In two landmark books, James Shapiro explored the depth of Shakespeare's engagement in the contested issues of his own time.  Now, in the brilliantly conceived Shakespeare in a Divided America, Shapiro deftly demonstrates the playwright's intimate presence in the culture and politics of the New World.  From the racist anxieties focused on Othello in the 1830s to the bitter left-right divide focused on Julius Caesar in our own time, Shakespeare's works have been uncannily central to our national imagination. This richly researched book is a continual revelation both about Shakespeare and about ourselves."—Stephen Greenblatt, author of Will in the World: How Shakespeare Became Shakespeare

"James Shapiro excels at bringing Shakespeare's works and worlds to life for our time. Now, in this fascinating book, he ingeniously explores how unending disagreements over the plays illuminate our national past as well as the present. Selecting powerful stories where history and literature meet, he spares his readers none of America's violent passions -- or Shakespeare's."—Sean Wilentz, George Henry Davis 1886 Professor of American History at Princeton University and author of The Rise of American Democracy: Jefferson to Lincoln 

"With the lightest touch and the most formidable scholarship, James Shapiro, once again, proves himself to be an irresistible storyteller. And what an exhilarating and disturbing tale he has to tell. Here is proof that Shakespeare's power remains undiminished in our divided and unhappy world."—Simon Russell Beale
Penguin Press, 9780525522294, 320pp.
Publication Date: March 10, 2020
About the Author
James Shapiro is currently the Larry Miller Professor of English and Comparative Literature at Columbia University, where he has taught since 1985. In 2011, he was inducted into the American Academy of Arts and Sciences. He has written several award-winning books on Shakespeare, and his most recent book, The Year of Lear: Shakespeare in 1606, was awarded the James Tait Black Prize as well as the Sheridan Morley Prize. His essays and reviews have appeared in the New York Times, the Guardian, and the London Review of Books, among other places. He has been awarded fellowships from the National Endowment for the Humanities, the Guggenheim Foundation, and The New York Public Library's Dorothy and Lewis B. Cullman Center for Scholars and Writers. He serves on the board of directors of the Royal Shakespeare Company, and he is currently the Shakespeare Scholar in Residence at the Public Theater in New York City.