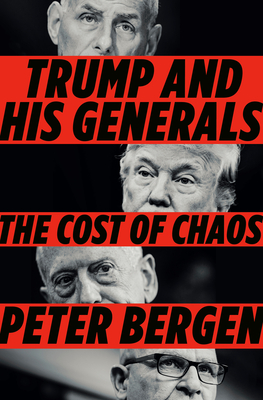 Trump and His Generals
The Cost of Chaos
Hardcover

* Individual store prices may vary.
Other Editions of This Title:
Digital Audiobook (12/9/2019)
Paperback (4/19/2022)
Paperback, Large Print (12/24/2019)
Description
From one of America's preeminent national security journalists, an explosive, news-breaking account of Donald Trump's collision with the American national security establishment, and with the world

It is a simple fact that no president in American history brought less foreign policy experience to the White House than Donald J. Trump. The real estate developer from Queens promised to bring his brash, zero-sum swagger to bear to cut through America's most complex national security issues, and he did. If the cost of his "America First" agenda was bulldozing the edifice of foreign alliances that had been carefully tended by every president from Truman to Obama, then so be it.

It was clear from the first that Trump's inclinations were radically more blunt force than his predecessors'. When briefed by the Pentagon on Iran and the Strait of Hormuz, he exclaimed, "The next time Iran sends its boats into the Strait: blow them out of the water! Let's get Mad Dog on this." When told that the capital of South Korea, Seoul, was so close to the North Korean border that millions of people would likely die in the first hours of any all-out war, Trump had a bold response, "They have to move." The officials in the Oval Office weren't sure if he was joking. He raised his voice. "They have to move!"

Very quickly, it became clear to a number of people at the highest levels of government that their gravest mission was to protect America from Donald Trump. Trump and His Generals is Peter Bergen's riveting account of what happened when the unstoppable force of President Trump met the immovable object of America's national security establishment--the CIA, the State Department, and, above all, the Pentagon. If there is a real "deep state" in DC, it is not the FBI so much as the national security community, with its deep-rooted culture and hierarchy. The men Trump selected for his key national security positions, Jim Mattis, John Kelly, and H. R. McMaster, were products of that culture: Trump wanted generals, and he got them. Three years later, they would be gone, and the guardrails were off.

From Iraq and Afghanistan to Syria and Iran, from Russia and China to North Korea and Islamist terrorism, Trump and His Generals is a brilliant reckoning with an American ship of state navigating a roiling sea of threats without a well-functioning rudder. Lucid and gripping, it brings urgently needed clarity to issues that affect the fate of us all. But clarity, unfortunately, is not the same thing as reassurance.
Praise For Trump and His Generals: The Cost of Chaos…
"As Bergen, the author of several books on national security, shows, Donald Trump's relationship to the American military is fraught because he has no understanding of the martial virtues and seems to assume that soldiering is simply a matter of violence, even uncaged brutality." —The New York Times (Editor's Choice, week of Jan. 9)

"America is on the brink of war with Iran, largely as a result of President Trump's reckless decision to assassinate Iranian military leader Qassem Soleimani. An excellent way to understand how and why this happened is to read Peter Bergen's new book, Trump and His Generals: The Cost of Chaos (Penguin Press) . . . Now, after the killing of Soleimani, Bergen's book reads like an all-too prescient guidebook of how Trump would take America to war in the Middle East." —Rolling Stone
 
"Bergen provides a deeply informed study, written with clarity and flair. Reflecting fresh research and nearly 100 interviews with some key players, his retelling of Trump's foreign policy skillfully synthesizes what's already known and adds gossipy tidbits. . . . it is the best single account of Trump's foreign policy to date." —The Washington Post
 
"Timely . . . insightful . . . Through meticulously documented interviews and research, the author amply shows how the Trump administration has stubbornly stuck with this free-wheeling playbook of slash and burn." —Kirkus

"A fair and comprehensive overview of Trump's foreign policy." —Max Boot, Foreign Affairs
Penguin Press, 9780525522416, 400pp.
Publication Date: December 10, 2019
About the Author
Peter Bergen is a vice president at New America in Washington, DC, as well as national security analyst for CNN, where he writes a weekly online column. He is also a professor and codirector of the Center on the Future of War at Arizona State University and has held teaching positions at the Kennedy School of Government at Harvard University and at the School of Advanced International Studies at Johns Hopkins University.

Bergen is the author of five previous books about national security, including three New York Times bestsellers and four Washington Post nonfiction books of the year. In 1997, as a producer for CNN, Bergen produced Osama bin Laden's first television interview, in which bin Laden declared war against the United States for the first time to a Western audience.

He lives in Washington, DC, with his wife, documentary producer Tresha Mabile, and their children, Pierre and Grace.
Coverage from NPR