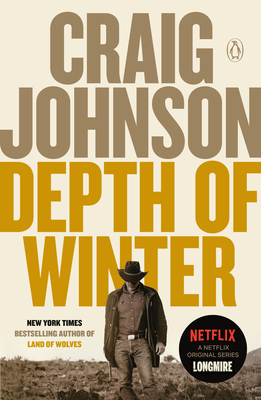 Depth of Winter (Paperback)
A Longmire Mystery
Penguin Books, 9780525522492, 304pp.
Publication Date: August 27, 2019
Other Editions of This Title:
Compact Disc (9/4/2018)
Hardcover (9/4/2018)
Library Binding, Large Print (9/5/2018)
* Individual store prices may vary.
Description
"It's the scenery—and the big guy standing in front of the scenery—that keeps us coming back to Craig Johnson's lean and leathery mysteries."
 —The New York Times Book Review

In the new Longmire novel, Walt must journey into the northern Mexican desert alone to save his daughter Cady—from the New York Times bestselling author of Land of Wolves

Welcome to Walt Longmire's worst nightmare. Winter is creeping closer, but for Sheriff Longmire this one is looking to be harsh in a way to which he is wholly unaccustomed. He has found himself in the remotest parts of the northern Mexican desert, a lawless place where no horse or car can travel, where no one speaks his language or trusts an outsider, far from his friends and his home turf back in Wyoming. But desperate times call for desperate measures. Tomas Bidarte, the head of one of the most vicious drug cartels in Mexico, has kidnapped Walt's beloved daughter, Cady. The American government is of limited help and the Mexican one even less so. Armed with his trusty Colt .45 and a father's intuition, Walt must head into the 110-degree heat of the desert, one man against an army.
About the Author
Craig Johnson is the New York Times bestselling author of thirteen full-length novels in the Longmire mystery series, as well as three works of short fiction featuring the beloved sheriff. His acclaimed books have won the Western Writers of America's Spur Award, the Will Rogers Medallion Award for fiction, the Watson Award for a mystery novel with the best sidekick, and the Wyoming Historical Association's Book of the Year award. They have been named best books of the year by Publishers Weekly and Library Journal. Spirit of Steamboat was chosen as the first One Book Wyoming selection. The series has been adapted for television by Warner Bros. as the hit show Longmire, now an original program on Netflix. Johnson lives in Ucross, Wyoming, population twenty-five.
Praise For Depth of Winter: A Longmire Mystery…
Praise for Depth of Winter

"Harrowing . . . Johnson is in fine form."
 —Publishers Weekly (starred)

"This is a rip-roaring adventure, and if Longmire seems uncannily able to recover from blows to the head and other injuries that would disable a lesser man, well, that's what it takes to defeat this 'monster among monsters.' The sheriff as the spirit of Quixote, riding a mule to the rescue."
—Kirkus Reviews

"Crack dialogue, smart humor, mystical realism, strong sense of place and colorful, complex characters."
 —Shelf Awareness

"It's a new setting for Longmire, but old scores are settled in this page-turner fans will love."
 —Library Journal

"This is one hell of a book. . . Depth of Winter is a great new novel by the fabulous Craig Johnson. For longtime fans of the Walt Longmire series, this book will, without doubt, be a true gem to read."
 —Fresh Fiction


Praise for Craig Johnson and the Longmire series

"Like the greatest crime novelists, Johnson is a student of human nature. Walt Longmire is strong but fallible, a man whose devil-may-care stoicism masks a heightened sensitivity to the horrors he's witnessed."
—Los Angeles Times

"Johnson's trademarks [are] great characters, witty banter, serious sleuthing, and a love of Wyoming bigger than a stack of derelict cars."
—The Boston Globe

"Stepping into Walt's world is like slipping on a favorite pair of slippers, and it's where those slippers lead that provides a thrill. Johnson pens a series that should become a 'must' read, so curl up, get comfortable, and enjoy the ride."
—The Denver Post 

"Johnson's hero only gets better—both at solving cases and at hooking readers—with age."
—Publishers Weekly