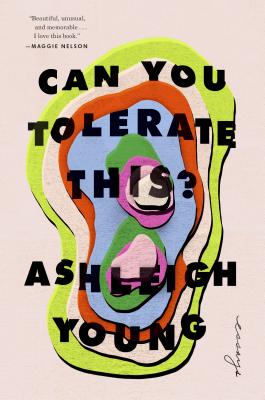 Can You Tolerate This?
Essays
Hardcover

* Individual store prices may vary.
Other Editions of This Title:
Digital Audiobook (7/2/2018)
Paperback (7/2/2019)
Paperback (8/1/2017)
Description
A dazzling - and already prizewinning - collection of essays on youth and aging, ambition and disappointment, Katherine Mansfield tourism and New Zealand punk rock, and the limitations of the body.

Youth and frailty, ambition and anxiety, the limitations of the body and the challenges of personal transformation: these are the undercurrents that animate acclaimed poet Ashleigh Young's first collection of essays. In Can You Tolerate This?--the title comes from the question chiropractors ask to test a patient's pain threshold--Young ushers us into her early years in the faraway yet familiar landscape of New Zealand: fantasizing about Paul McCartney, cheering on her older brother's fledging music career, and yearning for a larger and more creative life. As Young's perspective expands, a series of historical portraits--a boy who grew new bone wherever he was injured, an early French postman who built a stone fortress by hand, a generation of Japanese shut-ins--strike unexpected personal harmonies, as an unselfconscious childhood gives way to painful shyness in adolescence. As we watch Young fall in and out of love, undertake an intense yoga practice that masks an eating disorder, and gradually find herself through her writing, a highly particular psyche comes into view: curious, tender, and exacting in her observations of herself and the world around her.

Can You Tolerate This? presents a vivid self-portrait of an introspective yet widely curious young woman, the colorful, isolated community in which she comes of age, and the uneasy tensions--between safety and risk, love and solitude, the catharsis of grief and the ecstasy of creation--that define our lives.
Praise For Can You Tolerate This?: Essays…
"A lovely, profound debut that spins metaphors of its own creation and the segmented identity of the essayist, that self-regarding self."  —Alice Bolin, New York Times Book Review (Editors' Choice)

"An edgy, vibrant portrait of electricity in language and the body in crisis . . . In exacting sentences [Young] probes the body's mysteries . . . She sees to the marrow of our humanity with a kind of MRI vision. In Young's hands the lyric essay transforms into something rich and strange, a sea change of form. Can You Tolerate This? is an assured debut from a prodigiously talented, empathic writer." —Minneapolis Star Tribune
 
"Wry, confessional, understated and often hilarious. Each piece lifts you up and deposits you in a place you never expected to find yourself. They startle with their immediacy and candor; they offer comfort even as they ask you to see things anew. . . Young, like the best essayists, writes with humorous self-regard about her own lived small moments, which reveal as much about us as they do about her. The intimacy of her stories creates a connection, making even a foreign place feel like home." —Washington Post
 
"Like a Lena Dunham from Down Under, Young's writing explores fragility and resilience with a visceral, bodily focus. Her essays are both grounded in particulars—there are ruminations on Katherine Mansfield, arm hair, and the oppression of attempting to work in the same space as someone else—and universal." —Vogue
 
"This debut essay collection is arriving stateside with a heap of acclaim and some major awards already behind it. Kiwi-born Young first meditates on her own experiences, particularly relating to aging and community, before expanding to bring alive an eclectic range of historical figures." —Entertainment Weekly
 
"The essays of Ashleigh Young's Can You Tolerate This? are lithe, sure-footed things, some companionable, wild-eyed new species of familiar that leads us to their considerations with tenderness and nerve." —Tin House
 
"As this essay collection proves, there's no topic that Ashleigh Young can't render brilliantly." —Refinery 29
 
"Cool, ambivalent pieces about human limits and the monstrousness and beauty to be found both within and beyond them . . . These are thoughtful, searching [essays], both open to the world and temperamentally uneasy. They handle their subjects with generosity and a restlessness that seeps in like floodwater." —The New Yorker
 
"Young's voice is soothing, unsure, and searching as she narrates her childhood in provincial New Zealand and pokes into the lives of those who populated it—her father, her brother, her chiropractor. Can You Tolerate This? asks its titular question at every turn, and the answer always seems to be yes." —The Paris Review
 
"Smart, funny, insightful and unexpected . . . the perfect summer reading. I love it." —The Guardian
 
"A roaming, wry, raw, poignant collection of thoughts on what is tolerable, fair and possible in this life." —Electric Literature
 
"Riveting, dazzling . . . A stunning book that demonstrates Young's phenomenal ability to bridge the line between inner reflection and outward observation." —Bustle

"An essay collection that evades cliché . . .  the book's supporting cast is richly populated with eccentric outsiders." —The Times Literary Supplement (London)
 
"Perceptive and smart…written with the tenderness and precision of a dentist who doesn't use anesthesia." —LitHub
 
"Ashleigh Young's compelling, exhilarating book of essays…center around the body, our first, last, and always home in the world, and the ways in which its limitations force us to find accommodations, force us to come to terms with our own strengths and frailties, as well as those of the people—all those other frail, strong bodies—around us." —NYLON

"With the most elegant, evocative prose [Young] seems so wise about so many things I could hardly believe she was real. A wonderful book, an irresistible woman." —The Big Issue

"A compelling combination of personal essays about coming of age in New Zealand and observational historical essays. Don't miss this opportunity to get to know Ashleigh Young and the world around her." —HelloGiggles
 
"Young's defining strengths are honesty, sharp observational skills, and sensitivity shorn of sentimentality... She can arrest you with a glorious passage, a searching perception, or exquisitely apt metaphors and similes… Young has said that her essays emerge from feelings of awkwardness about herself and her place in the world, but with this collection and those to follow, the world of this promising New Zealander is about to become wider." —Kirkus Reviews

"From the first sentence onward, you know Ashleigh Young is here to deliver cool, compelling, surprising sentences, which add up to beautiful, unusual, and memorable essays. I love this book."  —Maggie Nelson, author of The Argonauts and The Red Parts

"Tender, witty, and endowed with a penetrating emotional acuity, Ashleigh Young's evocative essays gaze out into the world, searching it for moments of connection and clues to the true nature of our curious, fragile humanity.  This is a book to hold close and fall in love with." —Alexandra Kleeman, author of You Too Can Have a Body Like Mine and Intimations

"In prose witty and tender, Ashleigh Young sings the body problematic, as well as the questions of how to live in it: both with others and in solitude. This book made me feel less alone."  —Melissa Broder, author of So Sad Today and The Pisces

"Yes! This is what I've wanted essays to be—character studies, maps, shrines, elegies, these forms that are mysterious, synaptic creatures. At the center of each of Ashleigh Young's tender studies of isolation and place there is a heart, how it pulses." —Kate Zambreno, author of Heroines and Green Girl
 
"Ashleigh Young's Can You Tolerate This? should be required reading for every woman. In this stunning and unforgettable collection, Young grapples with the question so many women face on a daily basis: how much can our bodies take? A fierce and unsentimental look at the power and pain and beauty and struggle that are the costs and benefits of being embodied." — Emily Rapp Black, author of The Still Point of the Turning World and Poster Child

Riverhead Books, 9780525534037, 256pp.
Publication Date: July 3, 2018
About the Author
Ashleigh Young is the author of the award-winning essay collection Can You Tolerate This?, as well as a critically acclaimed book of poetry, Magnificent Moon. The recipient of a 2017 Windham- Campbell Prize in Nonfiction and an Ockham New Zealand Book Award, among other honors, Young is an editor at Victoria University Press and teaches creative writing at the International Institute of Modern Letters.