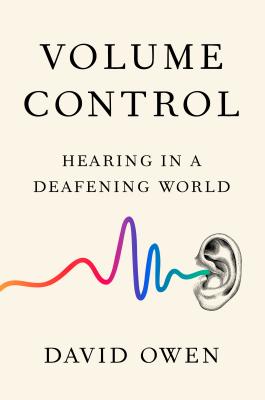 Volume Control
Hearing in a Deafening World
Hardcover

* Individual store prices may vary.
Other Editions of This Title:
Paperback (10/27/2020)
Library Binding, Large Print (3/1/2020)
Description
The surprising science of hearing and the remarkable technologies that can help us hear better

Our sense of hearing makes it easy to connect with the world and the people around us. The human system for processing sound is a biological marvel, an intricate assembly of delicate membranes, bones, receptor cells, and neurons. Yet many people take their ears for granted, abusing them with loud restaurants, rock concerts, and Q-tips. And then, eventually, most of us start to go deaf.

Millions of Americans suffer from hearing loss. Faced with the cost and stigma of hearing aids, the natural human tendency is to do nothing and hope for the best, usually while pretending that nothing is wrong. In Volume Control, David Owen argues this inaction comes with a huge social cost. He demystifies the science of hearing while encouraging readers to get the treatment they need for hearing loss and protect the hearing they still have.

Hearing aids are rapidly improving and becoming more versatile. Inexpensive high-tech substitutes are increasingly available, making it possible for more of us to boost our weakening ears without bankrupting ourselves. Relatively soon, physicians may be able to reverse losses that have always been considered irreversible. Even the insistent buzz of tinnitus may soon yield to relatively simple treatments and techniques. With wit and clarity, Owen explores the incredible possibilities of technologically assisted hearing. And he proves that ears, whether they're working or not, are endlessly interesting.
Praise For Volume Control: Hearing in a Deafening World…
"[Volume Control] is the best primer I've ever read on sound and hearing, and full of advice for people of any age to consider. . . . [Owen] gives us a wonderful insight into the world of the hard of hearing and deaf." —Wall Street Journal

"An informative, sympathetic and eye-opening book." —AARP

"Informative and entertaining. . . . In clear, appealing prose, Owen explains how loud sounds—machinery, live music, etc.—can leave people no longer noticing smoke alarms, sirens, gunshots, and backup signals. . . he makes earwax interesting. . . . The book brims with useful advice." —Kirkus Reviews (starred review)

"Owen's writing and thinking about the nature of ears, sounds, and communication are lively. . . . Volume Control will remain relevant for decades to come." —Pacific Standard

"Timely and informative. . . . This well-researched and accessible introduction to the complicated subject of hearing loss is highly recommended for all science readers, not just those experiencing hearing impairments." —Library Journal (starred review)

"Accessible and surprisingly entertaining. . . this work addresses an important issue for the growing pool of aging baby boomers." —Booklist

"Owen, a New Yorker staff writer, wrestles with the complexities of the human ear in this informative…illuminating account of human hearing." —Publishers Weekly

"In Volume Control David Owen brings his superb skills as a reporter and storyteller to the increasingly urgent issue of hearing loss. The baby-boomers are aging—and so are their ears. Fortunately, and probably because of this demographic trend, both science and commerce are at last paying attention to this invisible but epidemic problem. Owen is an erudite and entertaining guide not only to the new technologies that make hearing aids better and more affordable, but to the myriad byways and curiosities he encounters in his research." —Katherine Bouton, author of Smart Hearing and Shouting Won't Help

"David Owen aptly addresses the medical, emotional, and social aspects of hearing loss, along with some surprising revelations about technology and hearing aids. He presents the latest information in a way that makes you want to keep reading." —Barbara Kelley, executive director, Hearing Loss Association of America

"As this book makes clear, most of us will encounter hearing loss at some point in our lives;, we all stand to gain from reading Volume Control for practical reasons alone. But David Owen brims with a curiosity that's beautifully matched by his journalistic alacrity. How many times I beamed with sheer delight simply to follow the author down one fascinating path after another." —Leah Hager Cohen, author of Strangers and Cousins

"A wide-ranging exploration of our vital sense of hearing, and the consequences when it wanes. Owen makes accessible not only the fascinating biology of hearing, but the complexities of remedying its loss." —Jerome Groopman, Dina and Raphael Recanati Professor of Medicine at Harvard Medical School and author of The Anatomy of Hope
Riverhead Books, 9780525534228, 304pp.
Publication Date: October 29, 2019
About the Author
David Owen is a staff writer for The New Yorker and the author of more than a dozen books. He lives in northwest Connecticut with his wife, the writer Ann Hodgman.
Coverage from NPR
or
Not Currently Available for Direct Purchase