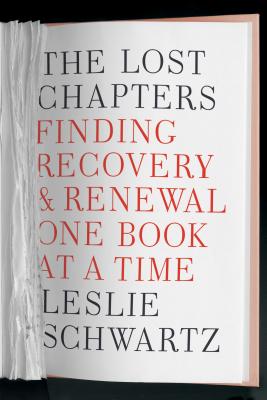 The Lost Chapters (Hardcover)
Finding Recovery and Renewal One Book at a Time
Blue Rider Press, 9780525534631, 272pp.
Publication Date: July 10, 2018
* Individual store prices may vary.
Description
Leslie Schwartz's powerful, skillfully woven memoir of redemption and reading, as told through the list of books she read as she served a 90 day jail sentence

In 2014, novelist Leslie Schwartz was sentenced to 90 days in Los Angeles County Jail for a DUI and battery of an officer. It was the most harrowing and holy experience of her life.

Following a 414-day relapse into alcohol and drug addiction after more than a decade clean and sober, Schwartz was sentenced and served her time with only six months' sobriety. The damage she inflicted that year upon her friends, her husband, her teenage daughter, and herself was nearly impossible to fathom. Incarceration might have ruined her altogether, if not for the stories that sustained her while she was behind bars--both the artful tales in the books she read while there, and, more immediately, the stories of her fellow inmates. With classics like Edith Wharton's Ethan Frome to contemporary accounts like Laura Hillenbrand's Unbroken, Schwartz's reading list is woven together with visceral recollections of both her daily humiliations and small triumphs within the county jail system. Through the stories of others--whether rendered on the page or whispered in a jail cell--she learned powerful lessons about how to banish shame, use guilt for good, level her grief, and find the lost joy and magic of her astonishing life.

Told in vivid, unforgettable prose, The Lost Chapters uncovers the nature of shame, rage, and love, and how instruments of change and redemption come from the unlikeliest of places.
About the Author
Leslie Schwartz is the author of two literary novels, Jumping the Green, winner of the James Jones Literary Society Awardfor Best First Novel and Angels Crest. In addition to her novels, Schwartz has published short stories, articles, essays and book reviews in The Los Angeles Times, Poets & Writers, Teachers & Writers, Sonora Review, and the online journal Narratively Speaking. A past president of the board of directors for PEN USA, she has taught writing at UCLA Extension, the University of Iowa's Summer Writing Festival, Vroman's Ed, and Homeboy Industries. Schwartz lives in Los Angeles.
Praise For The Lost Chapters: Finding Recovery and Renewal One Book at a Time…
Praise for The Lost Chapters:

"Schwartz's razor-sharp observations on life behind bars, the prison system and the women caught in an endless cycle of abuse, addiction and incarceration is captivating and tremendously moving. Her sobering tale is beautifully told."
—Shelf Awareness (starred review)

"The author's heartfelt story of self-acceptance and redemption will captivate readers with its honesty, vulnerability, and array of memorable characters." 
—Publishers Weekly (starred review)

"[An] intimate and affecting memoir…Schwartz demonstrates her gift as a storyteller as she shows us what it looks and feels like to be behind bars...sublime and even exalting."
—Jewish Journal

"What an incredible book. Leslie Schwartz's story would be a page turner on its own, but she's also crafted an elegant tribute to literature and all its transcendent powers. The Lost Chapters is honest, erudite, and infused with just the right proportions of shock, awe, humor and grace. I read it with unceasing admiration and haven't stopped thinking about it since."
—Meghan Daum, author of The Unspeakable
 
"A deeply affecting memoir of incarceration. How large a finite piece of time can be, and what infinities are contained within it. Schwartz's relationships in jail were the most moving parts of the book, revealing the deeper tragedy—how our system of incarcerating poor and non-white people has robbed the world of these defiant, beautiful and wild spirits. Schwartz has produced a real life-changer of a book. This is time more than served, it's time redeemed."
—Janet Fitch, author of White Oleander and The Revolution of Marina M.

"It is not likely that you have read a memoir like this before. Rich in grace, vividly written and it ushers us all into a re-thinking of transformation, shame, and the glorious connective tissue of our shared humanity. The weaving of literature and the wisdom of the trustworthy guides at the margins will alter your heart and restore you to the exquisite mutuality possible for us all."
—Greg Boyle, author of Tattoos on the Heart and Barking to the Choir
 
"Brave, bold, honest, raw -- this book cracks open conversations about addiction and incarceration and, in just 247 pages, makes them infinitely more complex. Aided by the 21 books she read during six weeks in county jail, Leslie Schwartz dives deep beneath the facts of her story to bring back nuggets of wisdom and insight. This isn't just a story of hardship; it's also a story of atonement, transcendence and grace, and of a passionate love for words. Scenes from this book will burrow in and stay with you for a long, long time."
—Hope Edelman, author of Motherless Daughters and The Possibility of Everything

"An absorbing, emotionally raw memoir."
—Kirkus