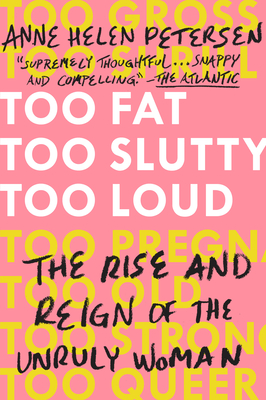 Too Fat, Too Slutty, Too Loud (Paperback)
The Rise and Reign of the Unruly Woman
Plume, 9780525534723, 304pp.
Publication Date: August 7, 2018
Other Editions of This Title:
Digital Audiobook (6/19/2017)
Hardcover (6/20/2017)
* Individual store prices may vary.
Description
**One of NPR's Best Books of 2017** 

"Petersen's gloriously bumptious, brash ode to nonconforming women suits the needs of this dark moment. Her careful examination of how we eviscerate the women who confound or threaten is crucial reading if we are ever to be better."—Rebecca Traister, New York Times bestselling author of All the Single Ladies

NOW WITH A NEW FOREWORD BY THE AUTHOR

From celebrity gossip expert and BuzzFeed culture writer Anne Helen Petersen, a bold, accessible, and analytical look at how female celebrities are pushing society's boundaries 
 
You know the type: the woman who won't shut up, who's too brazen, too opinionated—too much. Sometimes she's the life of the party; other times she's the center of gossip. She's the unruly woman, and she's on eof the most provocative, powerful forms of womanhood today.

There have been unruly women for as long as there have been boundaries of what constitutes acceptable "feminine" behavior, but there's evidence that she's on the rise--more visible and less easily dismissed. In Too Fat, Too Slutty, Too Loud, Anne Helen Petersen uses the lens of "unruliness" to explore the ascension of contemporary pop culture powerhouses, from Serena Williams to Kim Kardashian to Hillary Clinton. Petersen explores why the public loves to love (and hate) these controversial figures, each of who has been conceived as "too" something: too queer, too strong, too honest, too old, too pregnant, too shrill, too much. With its brisk, incisve analysis, Too Fat, Too Slutty, Too Loud is a conversation-starting book on what makes and breaks famous women today.

"Must-read list."—Entertainment Weekly
Named one of Cosmopolitan's "Books You Won't Be Able to Put Down This Summer" 
Selected as one of Amazon's "Best Books of the Month"
A Refinery29 Editors' Pick
About the Author
ANNE HELEN PETERSEN received her PhD in media studies from the University of Texas, where she studied the industrial history of the gossip industry. Today, she writes about culture, celebrity, and feminism for BuzzFeed News. Her first book, Scandals of Classic Hollywood, was featured in The Boston Globe, Time, NPR's Pop Culture Happy Hour, Bitch, the New York Post, and The Rumpus. She lives in Brooklyn.
Praise For Too Fat, Too Slutty, Too Loud: The Rise and Reign of the Unruly Woman…
"Petersen interrogates our culture with precision and nuance."
—NPR, Best Books of 2017

"Supremely thoughtful...snappy and compelling...[Petersen's essays] highlight the paradoxical expectations American culture places on women, in particular, the mixed messages it sends: the 'you can do anything,' rubbing awkwardly against the 'you can't do everything.'" 
—Megan Garber, The Atlantic

"A timely and essential read...Petersen's analytical skills are as vigorous [and] her prose and reporting are entertaining."
—Keziah Weir, ELLE

"Deeply thoughtful… after a few chapters of Petersen's cautious, intelligent optimism, [the subtitle] feels instead like an instruction, a warning, a promise, a threat. Rise and reign. Maybe we could."
—Annalisa Quinn, NPR

"Cultural critic extraordinaire Anne Helen Petersen pens a love letter to women who go against the grain in this collection of incisive essays."
—Maris Kreizman, Vulture

"Petersen writes with equal amounts of rigor and empathy...her point feels like a warning bell: Our cultural lens on celebrity women reflects back on women en masse. We don't have to love their unruliness, but we need to change the attitudes that so narrowly define them." 
—Andi Zeisler, Bitch 

"Anne Helen Petersen's gloriously bumptious, brash ode to non-conforming women suits the needs of this dark moment. Petersen's careful examination of how we eviscerate the women who confound or threaten is crucial reading if we are ever to be better." 
—Rebecca Traister, New York Times bestselling author of All the Single Ladies

"In a time when women are under constant attack, I am so grateful for Anne Helen Petersen's sharp and topical book. Petersen nails the magnetism of women who break boundaries and the punishment that often comes along with it. All women will see a bit of themselves in the 'unruly.'"
—Jessica Valenti, New York Times bestselling author of Sex Object

"Too Fat, Too Slutty, Too Loud could not be coming out at a more perfect time. As society is reacting to and still grappling with the ever-changing understanding of feminism, Petersen's book holds a mirror up and shows us how we view women and ourselves. It's equal parts rallying cry and heady examination; and it's my new best friend, who empowers me to kick butt in life."
—Phoebe Robinson, New York Times bestselling author of You Can't Touch My Hair 

"Too Fat, Too Slutty, Too Loud is an oasis in a sea of hot takes, a set of crisp essays on the provocateurs who fascinate and enrage us. With warmth and wit, Anne Helen Petersen celebrates the power of being just a little too much, seeking the rebel inside the trainwreck."
—Emily Nussbaum, critic at The New Yorker

"Bold and empowering...an engaging exploration of the women celebrities who are defying stereotypes and redefining what it means to be female."
—Bustle 

"Too Fat, Too Slutty, Too Loud is the best kind of celebrity gossip book: it's a book that shows us what celebrity gossip says about us. It demands to know why we are so obsessed with the ways in which these unruly women perform their femininity — and what it finds is not flattering to a society that likes to insist that sexism is over."
—Constance Grady, Vox

"[Petersen's] research and observations are eye-opening...but the best part of the book is Petersen's devotion to intersectionality, which is all too often missing from discussions about feminism. For anyone who considers themselves a feminist, this book is a must-read."
—Meghan DeMaria, Refinery 29

"[A] trenchant and intersectional analysis of the celebrity narratives we create around famous women who, in some way, defy the cultural scripts of classed and raced femininity … [Too Fat, Too Slutty, Too Loud] will be appreciated by anyone seeking to understand the vicious social judgement that women—particularly high-profile, successful women—continue to face in our era."
—Anna J. Clutterbuck-Cook, Library Journal

"[Petersen] analyzes how modern female celebrities are pushing boundaries and challenging expectations, provoking an important discussion. If you're a feminist with a capital 'F,' Too Fat, Too Slutty, Too Loud: The Rise and Reign of the Unruly Woman will make you cheer from the inside out."
—Elizabeth Enteman, HelloGiggles 

"Anne Helen Petersen's Too Fat, Too Slutty, Too Loud is a sharp analysis of how contemporary female celebrities are pushing the boundaries of acceptable behavior for women as defined by our society."
—Jarry Lee, Buzzfeed 

"Thought-provoking...Through incisive analysis of the ways in which contemporary society polices femininity, Petersen reveals the fraught relationship between women and celebrity. A sharp, compelling collection of social and cultural criticism."
—Kirkus

"Here is a book whose delight in its own wonkiness is infectious, and whose deep empathy for its subjects is also matched with fair-minded critique…. Petersen provides a fresh glimpse at how we might imagine our nation's rebuilding."
—Megan Burbank, The Portland Mercury

Select praise for the author's previous book, Scandals of Classic Hollywood:

"Engaging...Petersen is an author for our age."
—The Boston Globe

"Clear and convincing...intelligent analysis [written] with the verve of an enthusiast."
—LA Times

"Terrific and thoughtful and fascinating."
—NPR's Pop Culture Happy Hour

"Smart, relevant, and fun...think TMZ with a PhD." 
—Bitch 

"Compulsively readable."
—The Rumpus

"Insightful."
—TIME Magazine

"By delving into why we love, hate or love to hate different faces in our media stream, Petersen gives the reader a chance to reflect on our own biases and opinions on the societal roles people are supposed to play."
—Richmond News