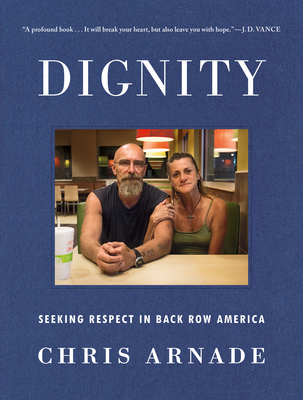 Dignity
Seeking Respect in Back Row America
Hardcover

* Individual store prices may vary.
Other Editions of This Title:
Digital Audiobook (6/3/2019)
Description
NATIONAL BESTSELLER

"A profound book.... It will break your heart but also leave you with hope." —J.D. Vance, author of Hillbilly Elegy

"[A] deeply empathetic book." —The Economist

With stark photo essays and unforgettable true stories, Chris Arnade cuts through "expert" pontification on inequality, addiction, and poverty to allow those who have been left behind to define themselves on their own terms.

After abandoning his Wall Street career, Chris Arnade decided to document poverty and addiction in the Bronx. He began interviewing, photographing, and becoming close friends with homeless addicts, and spent hours in drug dens and McDonald's. Then he started driving across America to see how the rest of the country compared. He found the same types of stories everywhere, across lines of race, ethnicity, religion, and geography. 

The people he got to know, from Alabama and California to Maine and Nevada, gave Arnade a new respect for the dignity and resilience of what he calls America's Back Row--those who lack the credentials and advantages of the so-called meritocratic upper class. The strivers in the Front Row, with their advanced degrees and upward mobility, see the Back Row's values as worthless. They scorn anyone who stays in a dying town or city as foolish, and mock anyone who clings to religion or tradition as naïve.

As Takeesha, a woman in the Bronx, told Arnade, she wants to be seen she sees herself: "a prostitute, a mother of six, and a child of God." This book is his attempt to help the rest of us truly see, hear, and respect millions of people who've been left behind.
Praise For Dignity: Seeking Respect in Back Row America…
"Dignity is 'about' inequality in much the same way that James Agee's Let Us Now Praise Famous Men—a seminal study of tenant farmers in Alabama, illustrated with stark photographs by Walker Evans—was 'about' the Great Depression. Both works illuminate the reality of political and economic forces that might seem familiar in outline, by showing their effects on ordinary people."
–The Economist
 
"Like Orwell, Mr. Arnade spent a long time with the people he would write about, and he renders them sharply, with an eye for revelatory detail."
–The Wall Street Journal

"Dignity is not overtly political, but it's almost certainly going to be the most important political book of the year."
–Rod Dreher, author of The Benedict Option
 
"Dignity is one of the best nonfiction books published in my lifetime."
–Matthew Walther, The Week
 
"A careful, quiet, admirable effort to understand and chronicle the lives of people living in de-industrialized and impoverished communities across the country."
–Pacific Standard
 
"Candid, empathetic portraits of silenced men, women, and children."
–Kirkus

"Dignity is a profound book, taking us to parts of our country that many of our leaders never visit, and introducing us to people those same leaders don't know. It will break your heart but also leave you with hope, because Chris Arnade's 'back row America' contains not just struggle, but also perseverance, resilience, and love."
–J.D. Vance, author of Hillbilly Elegy

"Since the 2016 presidential election, pundits have been speculating about what's going on with America's underclass. Chris Arnade actually asked them. In dozens of detailed, sensitively rendered case studies, Arnade's subjects speak frankly about their lives, revealing that material resources and opportunities are sorely needed, but that the greater damage done to America's poor and suffering people may be interior, even spiritual. In that sense, Dignity—with all its tender focus on "back-row" people—says even more about America's elite, and what they've wrought."
–Elizabeth Bruenig, The Washington Post
 
"At times difficult to read, because it brings fully into view people who many would rather not see, Dignity guides us to forlorn places where our countrymen struggle to live lives of decency and self-respect, and calls for a deep reexamination of the kind of world that too often congratulates itself on its progress and enlightenment while keeping hidden the costs exacted upon the least among us."
–Patrick J. Deneen, Professor of Political Science, University of Notre Dame
 
 "The rise of populism drew long overdue attention to those forgotten and the left behind, only to reduce them to a political symbol over which vicious partisan battles are waged. Arnade's book brings our focus back to the dignity and lives of ordinary people, who are still just as forgotten and left behind."
–Angela Nagle, author of Kill All Normies

"Chris Arnade's remarkable journey from Wall Street banker to chronicler of 'back-row America' teaches some important lessons to those in 'the front row': Even—or especially—on the edge of poverty, abuse, and addiction, our fellow citizens yearn for the same sense of community and human connectedness that we all desire. In a culture that celebrates material wealth and credentials, the immaterial still reigns supreme: faith, honor, place, and friendship. In setting out to learn from others, Chris Arnade learned much about himself, and we can all learn from Dignity."
–Senator Tom Cotton
Sentinel, 9780525534730, 304pp.
Publication Date: June 4, 2019
About the Author
Chris Arnade is a freelance writer and photographer whose work has appeared in the New York Times, Atlantic, Guardian, Washington Post, Financial Times, and Wall Street Journal among many others. He has a PhD in physics from Johns Hopkins University and worked for twenty years as a trader at an elite Wall Street bank before leaving in 2012 to document addiction in the Bronx.