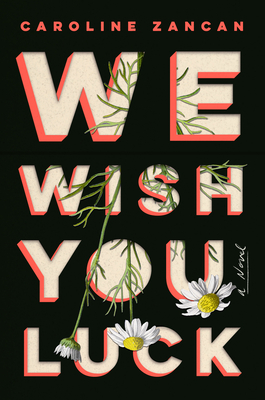 We Wish You Luck
A Novel
Hardcover

* Individual store prices may vary.
Other Editions of This Title:
Digital Audiobook (1/13/2020)
Paperback (1/12/2021)
Description
A Belletrist Book Club Selection 
Named a Best Book of 2020 by goop, ELLE and Vanity Fair
Named a Most Anticipated Book of 2020 by The Millions, Lit Hub, Marie Claire

An exhilarating novel about a group of students who take revenge on a wunderkind professor after she destroys one of their own-- a story of collective drive to create, sabotage, and ultimately, to love.

It doesn't take long for the students on Fielding campus to become obsessed with Hannah, Leslie and Jimmy. The three graduate students are mysterious, inaccessible, and brilliant. Leslie, glamorous and brash, has declared that she wants to write erotica and make millions. Hannah is quietly confident, loyal, elegantly beautiful, and the person they all want to be; and Jimmy is a haunted genius with no past. After Simone - young, bestselling author and erstwhile model - shows up as a visiting professor, and after everything that happened with her, the trio only become more notorious.

Love. Death. Revenge. These age-old tropes come to life as the semesters unfold. The threesome came to study writing, to be writers, and this is the story they've woven together: of friendship and passion, of competition and envy, of creativity as life and death. Now, they submit this story, We Wish You Luck, for your reading pleasure.
Praise For We Wish You Luck: A Novel…
"Caroline Zancan's wizardry is difficult to summarize: her prose is precise, deft, cutting—summing up a glance, an intent, a person's inner weather with perfect efficiency, and making it look easy. We Wish You Luck is a book for anyone who's ever had literature change their life. It makes the undeniable case for the power of words on a page—their power to make us, and to break us apart completely."
—Rachel Khong, author of Goodbye, Vitamin

"A twisted campus novel told in the third person, which collectively expresses the perspective of three ambitious, brilliant students.... It's a rollicking read that offers a sharp take on the creative process, revenge, and envy." —Elle

"Elegant and enthralling" —Newsweek

"A classic tale of revenge and redemption, as well as love and friendship, and success and ambition.... Zancan adeptly describes the naked wanting, aspirations, and work that are part of the MFA experience, but she also shows how devastating cruelty or even mere criticism can be depending on how it is received and the recipient's mindset. The novel's characters are multi-dimensional..." —Bust

"Zancan does a wonderful job of describing the characters who populate this program, with excellent pacing and a momentum that turns the MFA life into a gripping story of professional and personal revenge." —The Millions (Most Anticipated List)

"Immersive and atmospheric, easy to stick with... We Wish You Luck is a clever take down of the systems and privileges of writing programs and the academicification of creative writing." —BookRiot
 
"So unbelievably satisfying." —HelloGiggles
 
"Literary catnip...young writers, bad teachers, revenge, poetry. A Eugenides-esque chorus of students narrate the events of their time at a low residency MFA program in Vermont." —Emily Temple, Lit Hub

"[An] elaborate revenge plot, which I just had to see through to the last dark deed." —Kiki Koroshetz, Goop

"[I]nventive, addictive.... Zancan excels at portraying the claustrophobia and competitiveness that can arise when someone is near others who share the same goals. This ambitious novel about love and revenge reads like a thriller, while asking probing questions about what it means to make art and how artists influence each other, for better or worse." —Publishers Weekly

"[C]aptures the fraught environment of almost-grown-ups on campus in sharp, unsparing detail and with lyrical momentum.... [A]sks intriguing questions about power, complicity, and the urge to tell someone else's story." —Kirkus

"Zancan weaves together an extraordinary story peopled by fascinating characters who are not easily forgotten. She explores the communal process of literary production and creates a palpable tension between creation and destruction that will keep readers engaged." —Booklist

"A seductive and tightly controlled literary revenge story. With a dash of The Secret History, We Wish You Luck is a wonderful, hypnotic novel about craft, narrative, and the stakes of literary production." —Lydia Kiesling, author of The Golden State
 
"We Wish You Luck is a thrilling tale, a puzzle that isn't so much assembled as revealed by its crafty chorus of We. I loved watching the story unfold, and I loved never knowing if the collective impulse was to create or destroy. A smart, fun read."
—Lindsay Hunter, author of Eat Only When You're Hungry and Ugly Girls

"A coming-of-age story filled with fascinating, richly imagined characters, Zancan tells the story of writers and their intricate, at times darkly ruinous desires. It's rare to describe a book about writing as 'addictive,' but that's exactly what Zancan has done here." 
—Hala Alyan, author of Salt Houses
Riverhead Books, 9780525534938, 320pp.
Publication Date: January 14, 2020
About the Author
Caroline Zancan is the author of the novel Local Girls. She is a graduate of Kenyon College and holds an MFA from the Bennington Writing Seminars. A Senior Editor at Henry Holt, she lives in Maplewood, New Jersey, with her husband and their children.
or
Not Currently Available for Direct Purchase