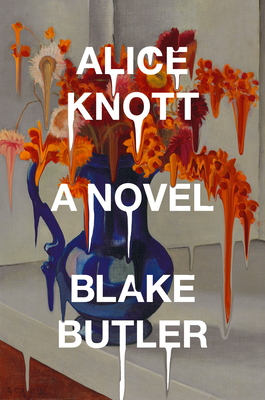 Alice Knott
A Novel
Hardcover

* Individual store prices may vary.
Other Editions of This Title:
Digital Audiobook (7/6/2020)
Description
Named one of the Best Books of 2020 by Refinery29

A hypnotic, wildly inventive novel about art, violence, and endurance

Alice Knott lives alone, a reclusive heiress haunted by memories of her deceased parents and mysterious near-identical brother. Much of her family's fortune has been spent on a world-class collection of artwork, which she stores in a vault in her lonely, cavernous house. One day, she awakens to find the artwork destroyed, the act of vandalism captured in a viral video that soon triggers a rash of copycat incidents. As more videos follow and the world's most priceless works of art are destroyed one by one, Alice finds that she has become the chief suspect in an international conspiracy—even as her psyche becomes a shadowed landscape of childhood demons and cognitive disorder.

Unsettling, almost physically immersive, Alice Knott is a virtuoso exploration of the meaning of art and the lasting afterlife of trauma, as well as a deeply humane portrait of a woman whose trials feel both apocalyptic and universal.
Praise For Alice Knott: A Novel…
Praise for Alice Knott:

"There's an exceptional amount of intention and control on display in the telling of this story. . . . Don't expect a conventional reading experience. Alice Knott is a meditation on art and perception whose form seems to serve as both a meta-comment on the function of the novel, and a challenge to the expectations that a reader should bring to one. It's rare for me to enjoy and value a book on those terms, but this one worked for me. And even more to the point, I respected it for insisting that I rise to its challenge." —The New York Times Book Review

"Alice Knott signals Blake Butler as our most imaginative writer." —The Believer

"Is this the first great quarantine novel? . . . . Blake Butler's new novel Alice Knott was written well before the emergence of COVID-19, yet it resonates so strongly with life under lockdown that one would be forgiven for thinking otherwise. . . . Alice Knott often provokes the same question that watching the news in 2020 tends to provoke: How real is this?" —The Nation

"Timely and bold . . . [Butler's] fiction exhibits an alarmingly masterful grasp of language that effectively haunts readers. . . . The writing is challenging and transgressive, but it is also dripping with perfectly rendered imagery of the macabre. . . . Alice Knott uses language to carve through the darkness. Here, like with his earlier work[,] Butler has proven himself to be a cartographer of the psyche. A camera pointed on masked individuals drenching a painting with kerosene before setting a match to it; the modern American home, idyllic and clandestine on its exterior while inside, familiar spaces like bedrooms become war zones, morphing and shifting like a body flexing and contorting: These are the sorts of images that Butler leaves behind in your mind, never to be erased." —The New York Observer

"[A] tangle of cosmic pandemonium . . . For all its sleek neo-Gothicism and terrifying speculation on and remote past and near future of the human mind, Alice Knott carries within it the old-style haunting and paranormal shenanigans of a Poe-like captivity tale." —The Atlanta Journal-Constitution 

"A remarkable accomplishment . . . [Butler's] constant worrying at what's genuinely personal, struggling to detach it from the endless play of light across wall and screen, strikes me as an undeniably contemporary project." —John Domini, Los Angeles Review of Books

"Read this beautifully unsettling novel and prepare to be ravished—and ravaged—as it winds its way inside your psyche, snake-like and persistent. . . . Blake Butler's latest is a meditation on trauma and art, creation and destruction. . . . It's a profound, exuberant disturbance, just what you want all art to be." —Refinery29

"Stunning and impressive . . . With the novel's humor, arresting voice, and pastiche of conspiracy, art, and paranoia, Butler brings to mind the work of Pynchon and DeLillo as he explores the complexity of artistic achievement and the unreliability of our own minds." —ZYZZYVA

"A masterpiece. . . . I keep trying to come up with my favorite bits in the book . . . the precision of descriptions . . . the grainy-video feel of the atmosphere . . . the way it feels like you might be losing your mind when you read it, the small bits of emotion and feeling that made me feel deeply sad, the hauntology of the whole thing, or maybe the end, where I said out loud 'don't do it' and then he did it. I loved it all." —World Literature Today

"Butler is a master of the American dystopic, language-driven novel, and here returns with his penchant for mining the unsettling national psyche, delving so deeply into its unconscious that the resulting delirium is uncannily close to truth." —The Millions

"Heartbreaking and heady . . . [Butler's] manipulation of language is a thing of wonder, and the emotions it inspires are more akin to what a person feels while listening to an intricate piece of music as opposed to reading a book." —LitReactor

"A bold and innovative existential mystery that moves us not towards resolution but deeper into the powerfully strange oceans of fractured memories, damaged love, and lost histories. This book is a thrill, a terror, a heartbreak." —Laura van den Berg 
 
"A strange and beguiling masterpiece, an immersive experience of psychic disorder that becomes ever more profound as you read on." —Alexandra Kleeman

"A beautifully constructed maze full of trick mirrors that reminds us of how we find ways to exist inside our realities even as they change." —Ilana Masad
 
"Devastatingly beautiful . . . . Alice Knott challenges us to remember how we might yet devote ourselves to life—and each other—differently." —Lidia Yuknavitch

"Alice Knott is a thrilling, subversive novel, part fever dream, part high-culture acid trip, part dystopian masterpiece. A dazzling, dangerous book." —Christopher Bollen
 
"Blake Butler is one of our most fearless insurgents against the numbing flow of contemporary life. With Alice Knott he's created a Lynchian fever dream about the voracious march of capitalism and the vulnerable place of art in our society, with vividly crisp sentences and syntax that could cut diamonds." —Catherine Lacey
 
"This book is an incantation—to read it is to be put under its spell. Alice Knott is ferocious, masterful, and truly unforgettable." —Chelsea Hodson

Praise for Blake Butler:

"A mastermind and visionary." —Ben Marcus 

"Our premier literary shaman." —Alissa Nutting

"[Butler's work is] wild but elegant and smart." —Roxane Gay

"An endlessly surprising, funny, and subversive writer." —Publishers Weekly

"A powerful force in contemporary literature." —3:AM Magazine

"[An] inventive and deeply promising young author."—Time Out New York

"Try Blake on. Lace him up. Wear him around your neck in wreaths." —Vice
Riverhead Books, 9780525535218, 320pp.
Publication Date: July 7, 2020
About the Author
Blake Butler is the author of acclaimed novels including 300,000,000, There Is No Year, and Scorch Atlas, as well as the nonfiction Nothing: A Portrait of Insomnia. His writing has appeared in The New York Times, The Believer, Bookforum, BOMB Magazine, and elsewhere. He lives in Atlanta, Georgia.
or
Not Currently Available for Direct Purchase