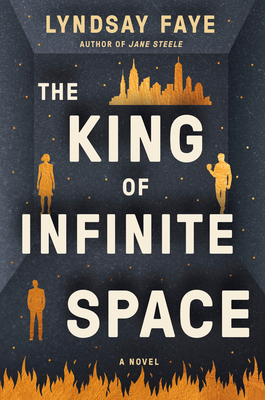 The King of Infinite Space
Hardcover

* Individual store prices may vary.
Other Editions of This Title:
Digital Audiobook (8/9/2021)
Paperback (9/6/2022)
Description
In this lush, magical, queer, and feminist take on Hamlet in modern-day New York City, a neuro-atypical philosopher, along with his best friend Horatio and artist ex-fiancé Lia, are caught up in the otherworldly events surrounding the death of his father.

Meet Ben Dane: brilliant, devastating, devoted, honest to a fault (truly, a fault). His Broadway theater baron father is dead--but by purpose or accident? The question rips him apart.

Unable to face alone his mother's ghastly remarriage to his uncle, Ben turns to his dearest friend, Horatio Patel, whom he hasn't seen since their relationship changed forever from platonic to something...other. Loyal to a fault (truly, a fault), Horatio is on the first flight to NYC when he finds himself next to a sly tailor who portends inevitable disaster. And who seems ominously like an architect of mayhem himself.

Meanwhile, Ben's ex-fiancé Lia, sundered her from her loved ones thanks to her addiction recovery and torn from her art, has been drawn into the fold of three florists from New Orleans--seemingly ageless sisters who teach her the language of flowers, and whose magical bouquets hold both curses and cures. For a price.

On one explosive night these kinetic forces will collide, and the only possible outcome is death. But in the masterful hands of Lyndsay Faye, the story we all know has abundant surprises in store. Impish, captivating, and achingly romantic, this is Hamlet as you've never seen it before.
Praise For The King of Infinite Space…
"Shakespeare devotees will be impressed at the variations Faye introduces to the play's plotline, and Faye's considerable descriptive gifts are on ample display...Fans and newcomers alike will delight in Faye's remarkable achievement."—Publishers Weekly (starred review)

"Faye's latest is not only a richly realized mash-up of mystery and fantasy, it's also a clever pastiche of Hamlet. . . [Ben and Horatio's] evolving relationship is brilliantly realized, as, for that matter, is the entire book, which is, alas, ever faithful to the original, which is, remember, a tragedy. The curtain falls."—Booklist (starred review)

"Lush and magical, thoughtful and provocative, The King of Infinite Space is a remarkable achievement, staying true to Shakespeare's tragic play in ways that will surprise and delight while reveling in neurodivergence, queer attraction and quantum physics….[T]his is a novel to stick with for its rewards of a surprising plot and Faye's delightful storytelling."—BookPage (starred review)

"Wildly imaginative. . . Faye perfectly juxtaposes corrosive ambition, jealousy, and madness against the ineffable strength of love over distance, time, and space. . . [Faye's] exciting new work should be especially appealing to readers who were intrigued by the reimaginings of Anne Tyler, Margaret Atwood, or Jeanette Winterson for the Hogarth Press Shakespeare project."—Library Journal

"Bardolators will enjoy the clever changes Faye rings on his storylines and characters. . . The ending is just as bloody as Shakespeare's and nearly as poignant. Smart and suspenseful; top-notch popular fiction."—Kirkus Reviews

"Sumptuous. . . Fans will delight in the many asides and references strewn throughout the text, and murder mystery buffs will be pleasantly surprised by the many different aspects of crime that turn up in this book. I am no great admirer of Hamlet myself, but even I was dazzled by Ms. Faye's masterful understanding of the original and by her ability to turn that understanding into something at once suspensefully fresh and relevant to our modern age."—Criminal Element

"[A] mind-bending update on the classic tragedy that cleverly keeps its spirit intact while modernizing relationships and plot points. . . Faye drops the Bard's best beats into a blender with thought experiments, existential dilemmas and some snicker-worthy double entendres, then sets it to delirious fun. . . An intriguing mix of the mystical and rational, The King of Infinite Space wears its heart on its sleeve down to its explosive and sentimental conclusion. . . [A] dazzling mesh of wit, philosophy and romance."—Shelf Awareness

"Lyndsay Faye is one of the most intelligent and versatile writers working today. Never before have her immense talents been on display than in the artsy, colorful and brilliant The King of Infinite Space."—Bookreporter.com



G.P. Putnam's Sons, 9780525535898, 384pp.
Publication Date: August 10, 2021
About the Author
Lyndsay Faye is the author of six critically acclaimed books: Jane Steele, which was nominated for an Edgar for Best Novel; Dust and Shadow; The Gods of Gotham, also Edgar-nominated; Seven for a Secret; The Fatal Flame; and The Paragon Hotel. Faye, a true New Yorker in the sense she was born elsewhere, lives in New York City.