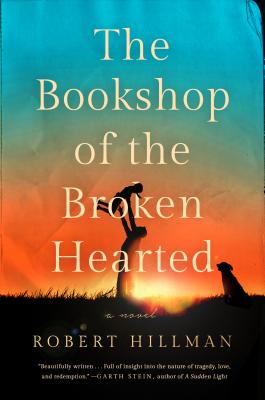 The Bookshop of the Broken Hearted (Hardcover)
G.P. Putnam's Sons, 9780525535928, 304pp.
Publication Date: April 9, 2019
Other Editions of This Title:
Digital Audiobook (4/8/2019)
Library Binding, Large Print (4/30/2019)
Paperback (4/7/2020)
* Individual store prices may vary.
Description
A tender and wise novel about love, family, and forgiveness in 1960s Australia, in which a lonely farmer finds his world turned upside down by a vibrant woman determined to open the first bookstore his town has ever seen--and to leave her haunting memories of the Holocaust far behind.

"Beautifully written . . . Full of insight into the nature of tragedy, love, and redemption."--Garth Stein, author of Racing in the Rain and A Sudden Light

"A poignant journey of unthinkable loss, love, and the healing capacity of the written word."--Ellen Keith, author of The Dutch Wife

"Reminds us of the redemptive power of sharing our stories. I will remember this novel for a long time to come."--Steven Rowley, author of Lily and the Octopus and The Editor

Can one unlikely bookshop heal two broken souls?

It is 1968 in rural Australia and lonely Tom Hope can't make heads or tails of Hannah Babel. Newly arrived from Hungary, Hannah is unlike anyone he's ever met--she's passionate, brilliant, and fiercely determined to open sleepy Hometown's first bookshop.

Despite the fact that Tom has only read only one book in his life, when Hannah hires him to install shelving for the shop, the two discover an astonishing spark. Recently abandoned by an unfaithful wife--and still missing her sweet son, Peter--Tom dares to believe that he might make Hannah happy. But Hannah is a haunted woman. Twenty-four years earlier, she had been marched to the gates of Auschwitz.

Perfect for fans of The Little Paris Bookshop and The Light Between Oceans, The Bookshop of the Broken Hearted cherishes the power of love, literature, and forgiveness to transform our lives, and--if we dare allow them--to mend our broken hearts.
About the Author
Robert Hillman is the author of The Bookshop of the Broken Hearted and the coauthor of The Honey Thief. He won Australia's National Biography Award in 2005 for his memoir The Boy in the Green Suit. He lives in Melbourne, Australia.
Praise For The Bookshop of the Broken Hearted…
"A triumphant examination of history, politics, literature, and the pall and sorrow of grief…Hillman's vivid observations of regional details, keen perceptions of local customs, absorbing storyline, and sympathetic characters make the novel impossible to put down." —Washington Independent Review of Books

"Gentle, emotive, and written with great affection for its beautifully-rendered characters, The Bookshop of the Broken Hearted reminds us of the redemptive power of sharing our stories. I will remember this novel for a long time to come."—Steven Rowley, author of Lily and the Octopus and The Editor  

"Reminds us how the reverberations of war can reach people in the unlikeliest of places....A poignant journey of unthinkable loss, love, and the healing capacity of the written word."—Ellen Keith, author of The Dutch Wife

"Every character in this story stole my heart, even the minor ones, including the sheep! There is wonderful, laugh-out-loud humor in these pages, there is anguish, there is frustration. But most of all there is hope and humanity. When I finished reading the book, I wept, not because I was sad, but because the story was so uplifting and so true, in the deepest sense of that word."—Elizabeth Berg, author of The Story of Arthur Truluv 

"A complex exploration of grief, faith, and restoration...in poignant, meditative, and stirring prose Hillman tells a heartrending and heartwarming tale of love and sacrifice."—Booklist (starred review)

"The compassion and grace that suffuse this novel are rarely captured in such beautiful language...I was enthralled."—Patti Callahan Henry, author of The Bookshop at Water's End

"What a brave and beautiful book this is, about all the human ways to heal a broken heart through unexpected love, resilient family, and, of course, timeless books."—Liam Callanan, author of Paris By the Book

"Hillman crafts a compelling tale, toggling among Tom's, Hannah's, and Peter's perspectives, as he delineates the stripping of each heart and draws together the ties that bind them together again. A heart-wrenching tale of love enduring all things in the face of evil."—Kirkus Reviews

"A beautifully written, nuanced tale of three lost souls who find in one another the comfort and solace they each need. I loved this disarmingly affecting novel. Read it and let it touch your soul as it has touched mine."—Garth Stein, author of The Art of Racing in the Rain and A Sudden Light

"Hillman is a storyteller of such spell-binding skill that readers will desire nothing more than to curl up in a quiet corner and devour this wise, warm, and transporting novel in one sitting."—Meg Donohue, author of Dog Crazy and Every Wild Heart

"Beautifully rendered, captivating and tender. I want to visit this bookshop."—Jean E. Pendziwol, author of The Lightkeeper's Daughters

"A gorgeous, heartfelt gem of a novel."—Jillian Cantor, author of In Another Time

"An uplifting exploration of how people rise above tragedy to find joy...An impressive, riveting tale of how two disparate and well-drawn people recover from soul-wrenching grief and allow themselves to truly love again."—Publishers Weekly

"I couldn't put this book down."—Wendy Welch, author The Little Bookstore of Big Stone Gap