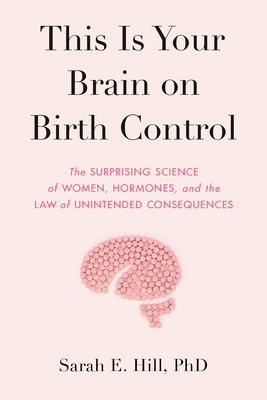 This Is Your Brain on Birth Control
The Surprising Science of Women, Hormones, and the Law of Unintended Consequences
Hardcover

* Individual store prices may vary.
Other Editions of This Title:
Digital Audiobook (9/30/2019)
Description
An eye-opening book that reveals crucial information every woman taking hormonal birth control should know

This groundbreaking book sheds light on how hormonal birth control affects women--and the world around them--in ways we are just now beginning to understand. By allowing women to control their fertility, the birth control pill has revolutionized women's lives. Women are going to college, graduating, and entering the workforce in greater numbers than ever before, and there's good reason to believe that the birth control pill has a lot to do with this. But there's a lot more to the pill than meets the eye.

Although women go on the pill for a small handful of targeted effects (pregnancy prevention and clearer skin, yay!), sex hormones can't work that way. Sex hormones impact the activities of billions of cells in the body at once, many of which are in the brain. There, they play a role in influencing attraction, sexual motivation, stress, hunger, eating patterns, emotion regulation, friendships, aggression, mood, learning, and more. This means that being on the birth control pill makes women a different version of themselves than when they are off of it. And this is a big deal. For instance, women on the pill have a dampened cortisol spike in response to stress. While this might sound great (no stress!), it can have negative implications for learning, memory, and mood. Additionally, because the pill influences who women are attracted to, being on the pill may inadvertently influence who women choose as partners, which can have important implications for their relationships once they go off it. Sometimes these changes are for the better . . . but other times, they're for the worse. By changing what women's brains do, the pill also has the ability to have cascading effects on everything and everyone that a woman encounters. This means that the reach of the pill extends far beyond women's own bodies, having a major impact on society and the world.

This paradigm-shattering book provides an even-handed, science-based understanding of who women are, both on and off the pill. It will change the way that women think about their hormones and how they view themselves. It also serves as a rallying cry for women to demand more information from science about how their bodies and brains work and to advocate for better research. This book will help women make more informed decisions about their health, whether they're on the pill or off of it.
Praise For This Is Your Brain on Birth Control: The Surprising Science of Women, Hormones, and the Law of Unintended Consequences…
"I love this book! You will look at taking hormones in an entirely new way after reading This is Your Brain on Birth Control. A must read for men and women." 
—Louann Brizendine M.D. author of The Female Brain and The Male Brain

"This is an urgently needed book that every woman should read. Most women are comfortable with the idea that, as some point in their lives, they'll be taking hormones. But few of us are aware that these same hormones also have an effect on our brains, and not always in a good way."
—Lisa Mosconi, PhD, Director of the Weill Cornell Women's Brain Initiative, and author of Brain Food

"This is Your Brain on Birth Control validates what generations of women have suspected since the introduction of the pill—birth control is doing a whole lot more in our bodies than simply preventing pregnancy. In this brilliant and witty exploration of what we know (and don't know) about birth control, Hill has provided sound evidence that is eye-opening, riveting, and a must read for all women and the people who care about them."
—Dr. Jolene Brighten, NMD, author of Beyond the Pill

"Evolutionary psychologist Sarah E. Hill's This Is Your Brain on Birth Control... explores the Pill's cascading effects on women's lives (it alters the body's response to stress and even whom you're attracted to)."
—ELLE, Reading List

"An evolutionary social psychologist at Texas Christian University, Hill looks beyond birth control to examine the effects of the Pill on women's brains—and on society."
—People, "Books Worth Reading"

"When Our Bodies, Ourselves debuted in 1970, it was deemed revolutionary for how it covered women's sexual and reproductive health. Fifty years later, Dr. Sarah E. Hill's This Is Your Brain on Birth Control feels just as important."
—BUST

"So many of us have taken birth control for decades. But do you really know how it affects your body? This fascinating, well-researched read sheds light on all the ways the pill impacts not only women's own bodies, but society and the world around them, too."
—HelloGiggles, #2 on "The 13 best new books to read in October as you watch the seasons change"

"Dr. Hill is a researcher in evolutionary psychology, and This Is Your Brain on Birth Control is an interrogation of the things you likely didn't hear about the pill during your appointment; namely, that the pill doesn't just regulate fertility, it influences everything a woman's hormones influence."
—InStyle
Avery, 9780525536031, 320pp.
Publication Date: October 1, 2019
About the Author
A leading researcher in the dynamic and rapidly expanding field of evolutionary psychology Sarah E. Hill completed her PhD at UT Austin and is now a professor at TCU. With more than fifty scientific publications and multiple prestigious research grants to her credit, Dr. Hill has become an authority on evolutionary approaches to psychology and health. She has been quoted in The New York Times, The Washington Post, Scientific American, and The Economist.